Posted by Susan J. Deep Red Stamps on Mar 29th 2021
Creating texture and special effects on a paper surface is actually easy to do. We have several water themed stamps that you can use to create stunning, tactile features especially for a birthday card or a gift tag to give someone. When a card has texture to it, either by stamp or folder embossing, it always make it more special.
Stamps featured in this post:
Coffee Productivity Rubber Stamp
Coffee With Friends Rubber Stamp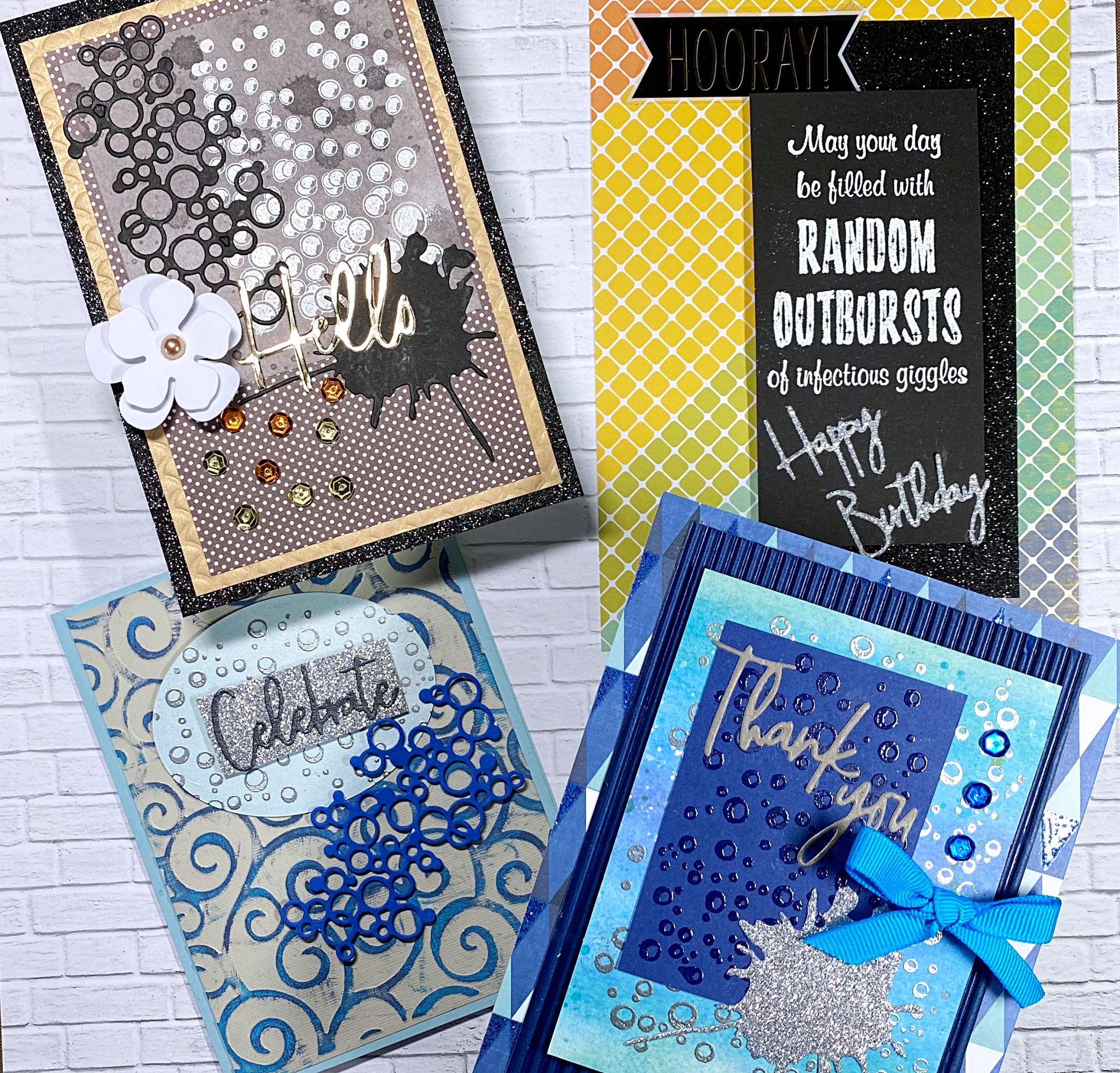 You can optionally just use colored ink pads to rubber stamp these cards, if you prefer.
Bubbly effects on a card say, 'fun' and are perfect for a birthday or celebration card. The four cards pictured above feature: Bubbles Rubber Stamp embossed in white (Hello Card), Random Outbursts Rubber Stamp also embossed in white onto black card stock (Rainbow Card). And Water Droplets Rubber Stamp used on both the bottom cards: embossed in silver on light blue card stock (Celebrate card) and again embossed in clear embossing powder on blue card stock. Additionally, the stamp is embossed in silver onto a blue watercolor paper background (Thank You card).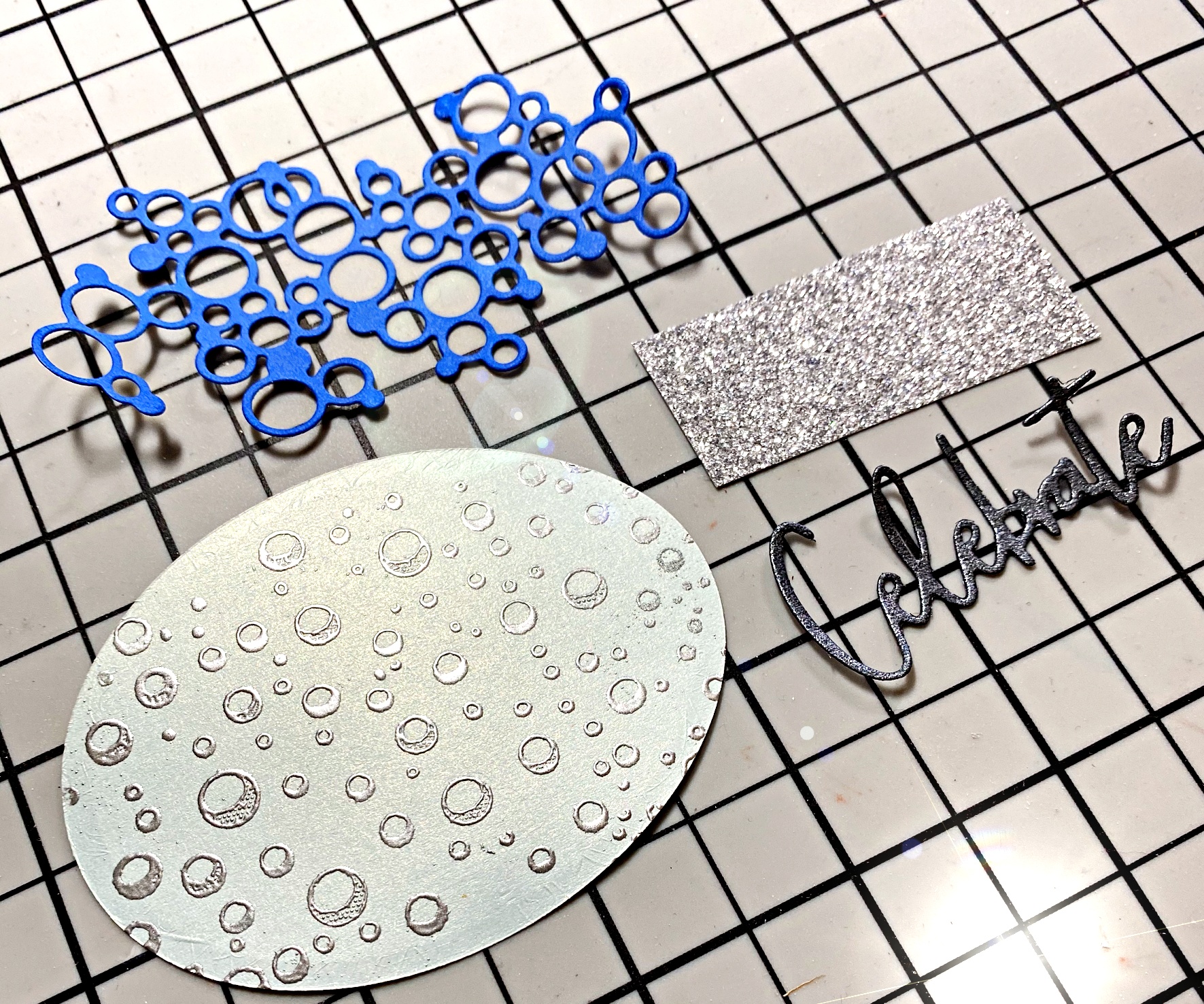 Above, Water Droplets Rubber Stamp embossed in silver onto light blue oval circle. The stamp measures approximately 3 inches wide by 2 inches tall and can be stamped right side up, upside down or sideways.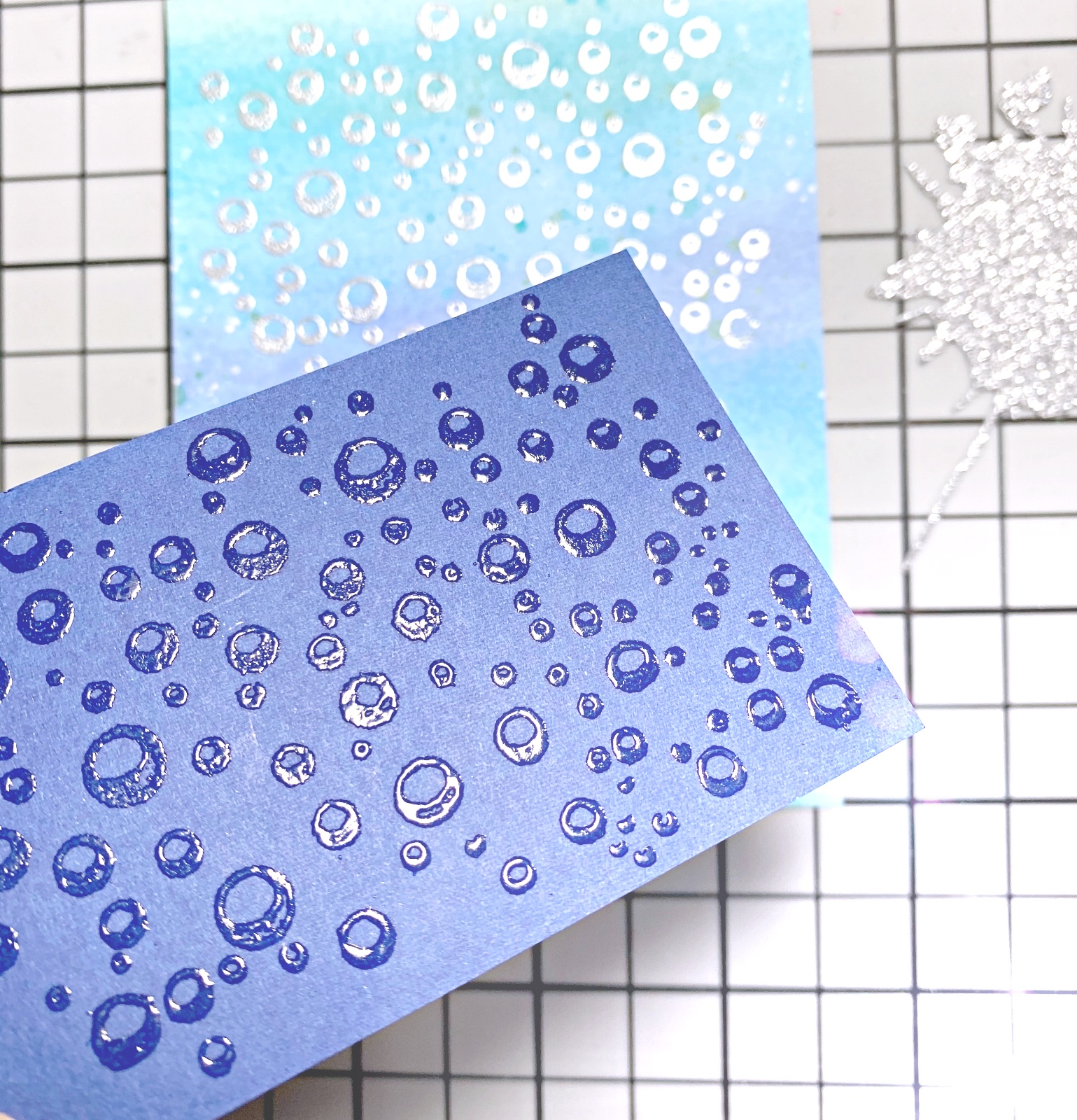 Our Water Droplets Rubber Stamp is one of the most versatile stamps you'll have in your collection. You will find yourself using it for many occasions. Above, is a layer of blue card stock with Water Droplets in clear embossing powder. Next layer, the Water Droplets is embossed in silver onto a blue watercolor paper. Blue corrugated paper mat s the top layers onto a card stock that features blue triangles.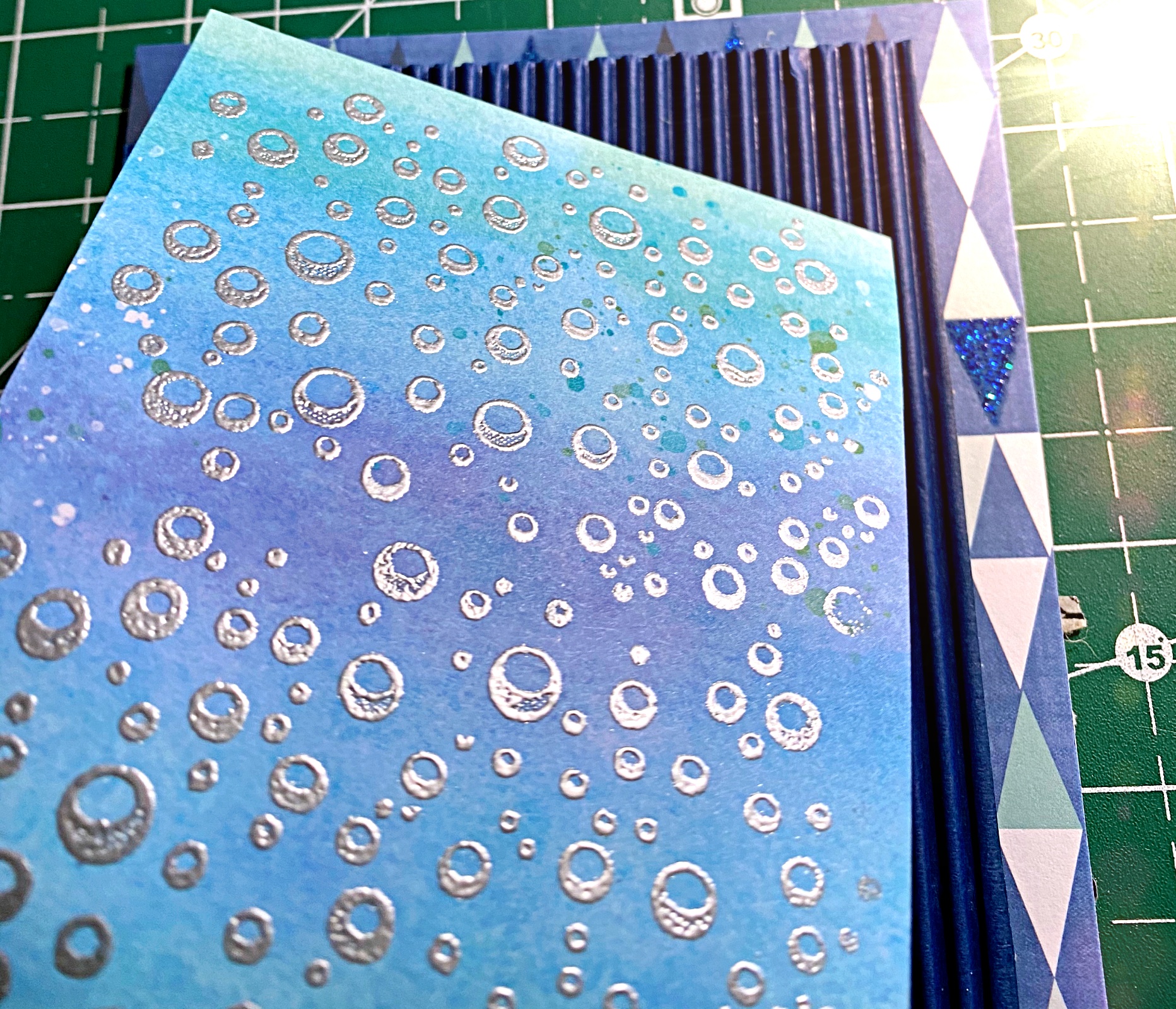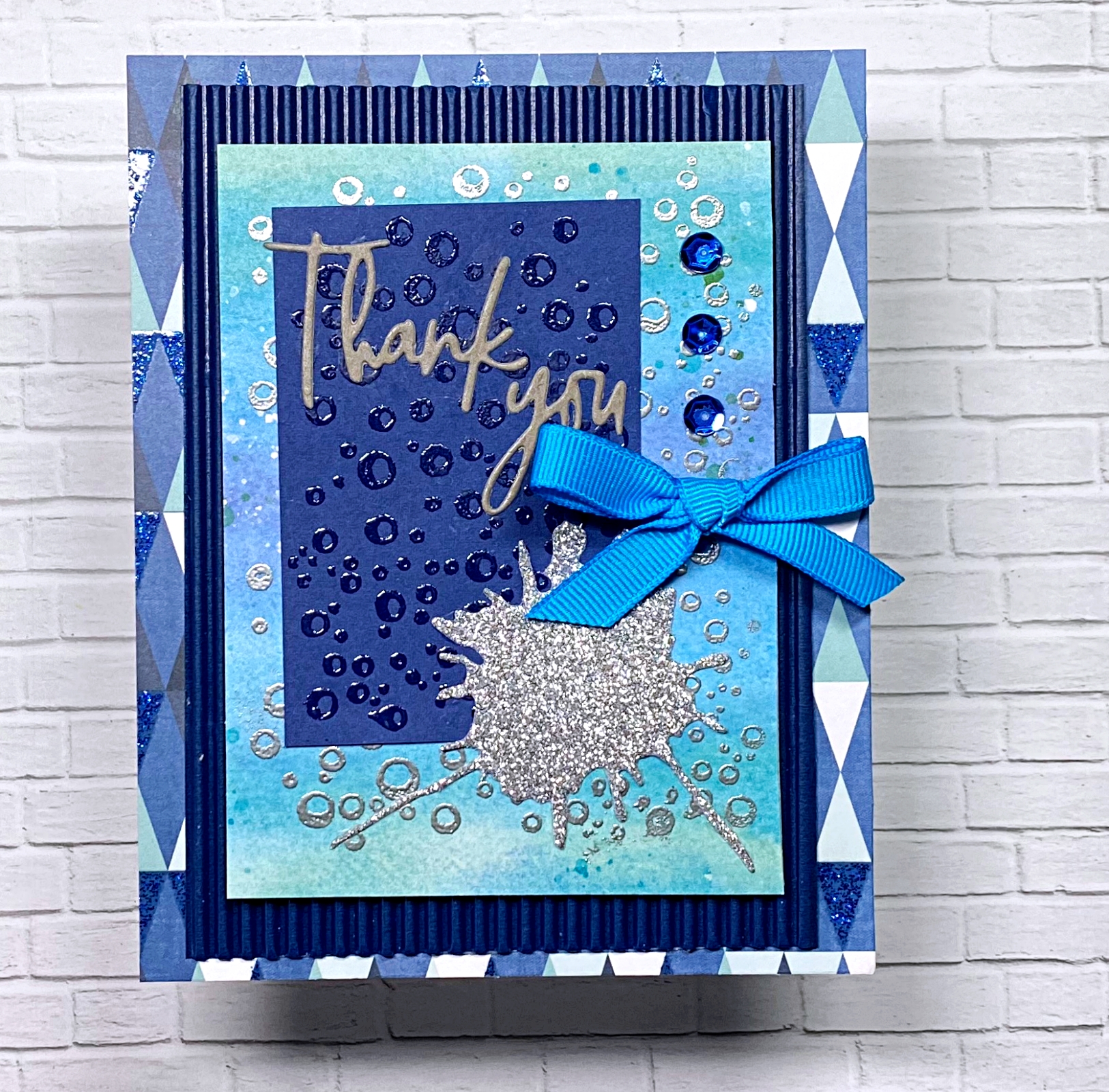 The best way to achieve a white design on black paper is to emboss. Below, is a closeup of a birthday card with our Random Outbursts Rubber Stamp embossed with white embossing powder onto a smooth, black card stock. Behind is a glittery black card stock cut out larger as a side, off center mat. Add the words, Happy Birthday from a die cut or sticker below the Random Outbursts design.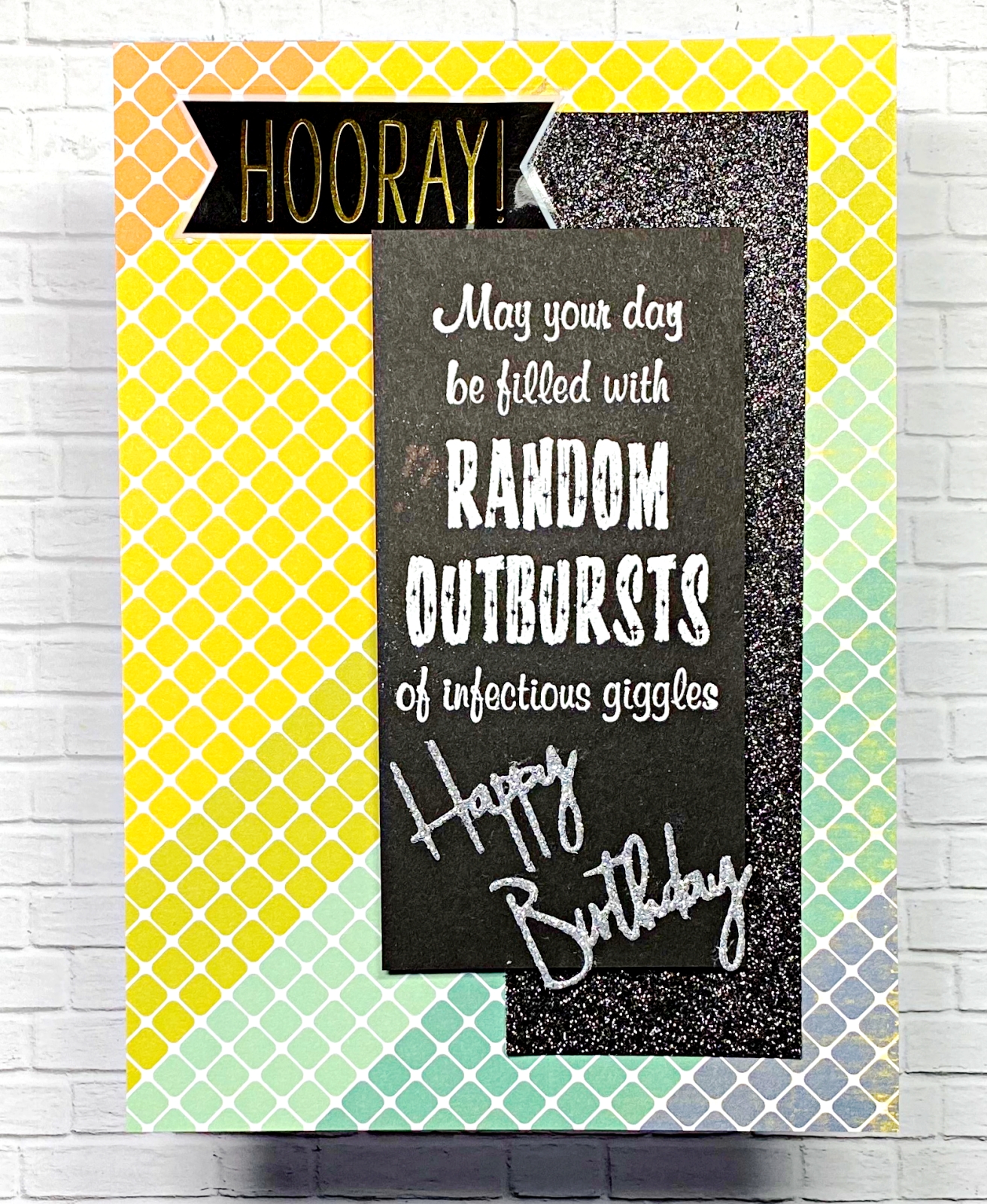 Our Bubbles Rubber Stamp can be stamped either right side up or upside down, either way actually looks fine. Below is the Bubbles Rubber Stamp embossed in white powder onto a grey, watercolor paper.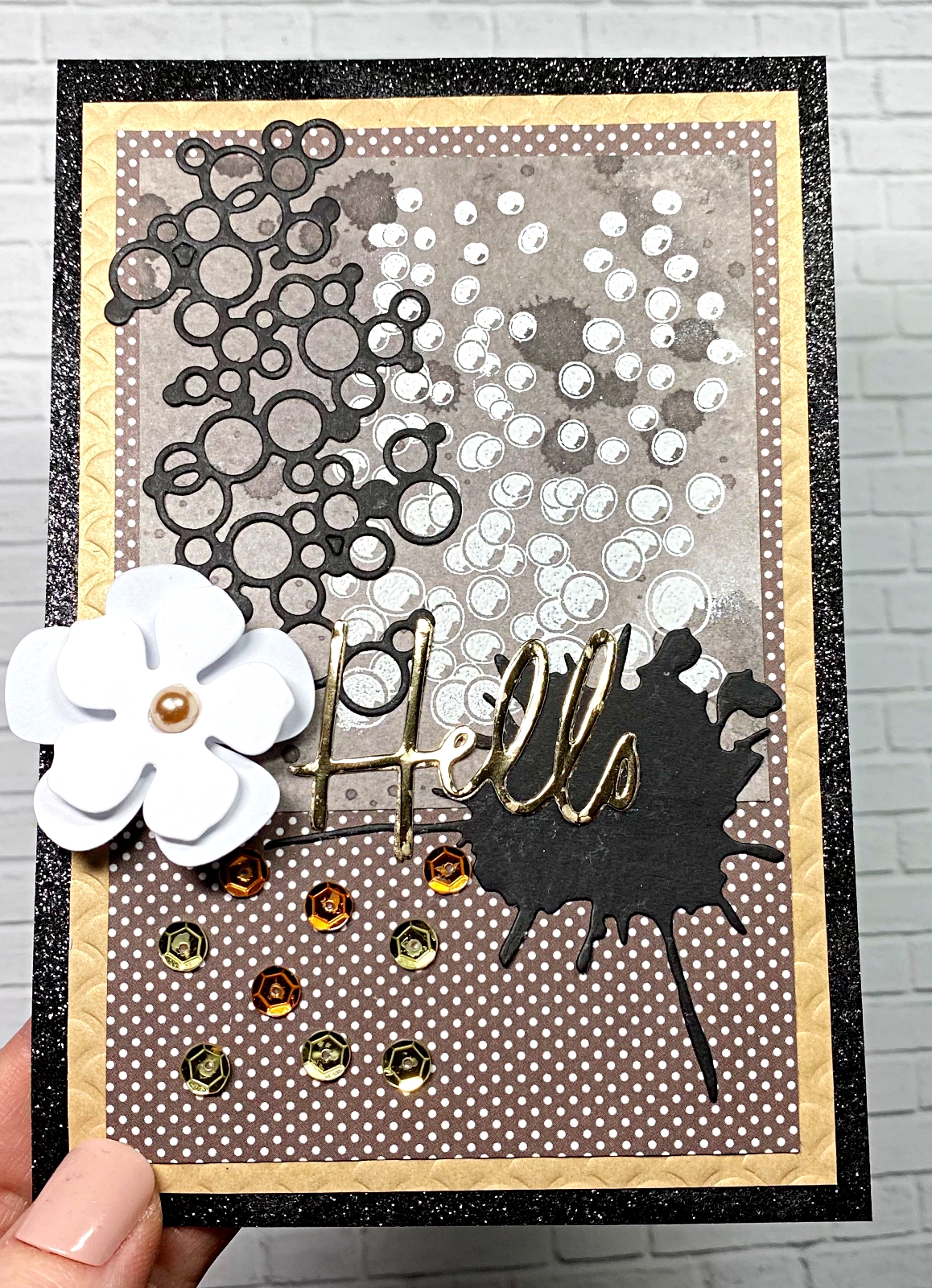 The Hello card features black, glittery card stock and a textured gold paper for the base and mat. Additionally, some sequins and a bubble shaped die cut. Shiny gold paper is used for the Hello die cut. The colors of this card make it universal for men, women...old and young. The versatile theme and colors of this card make it so you can put any sentiment on it and it will work for any occasion.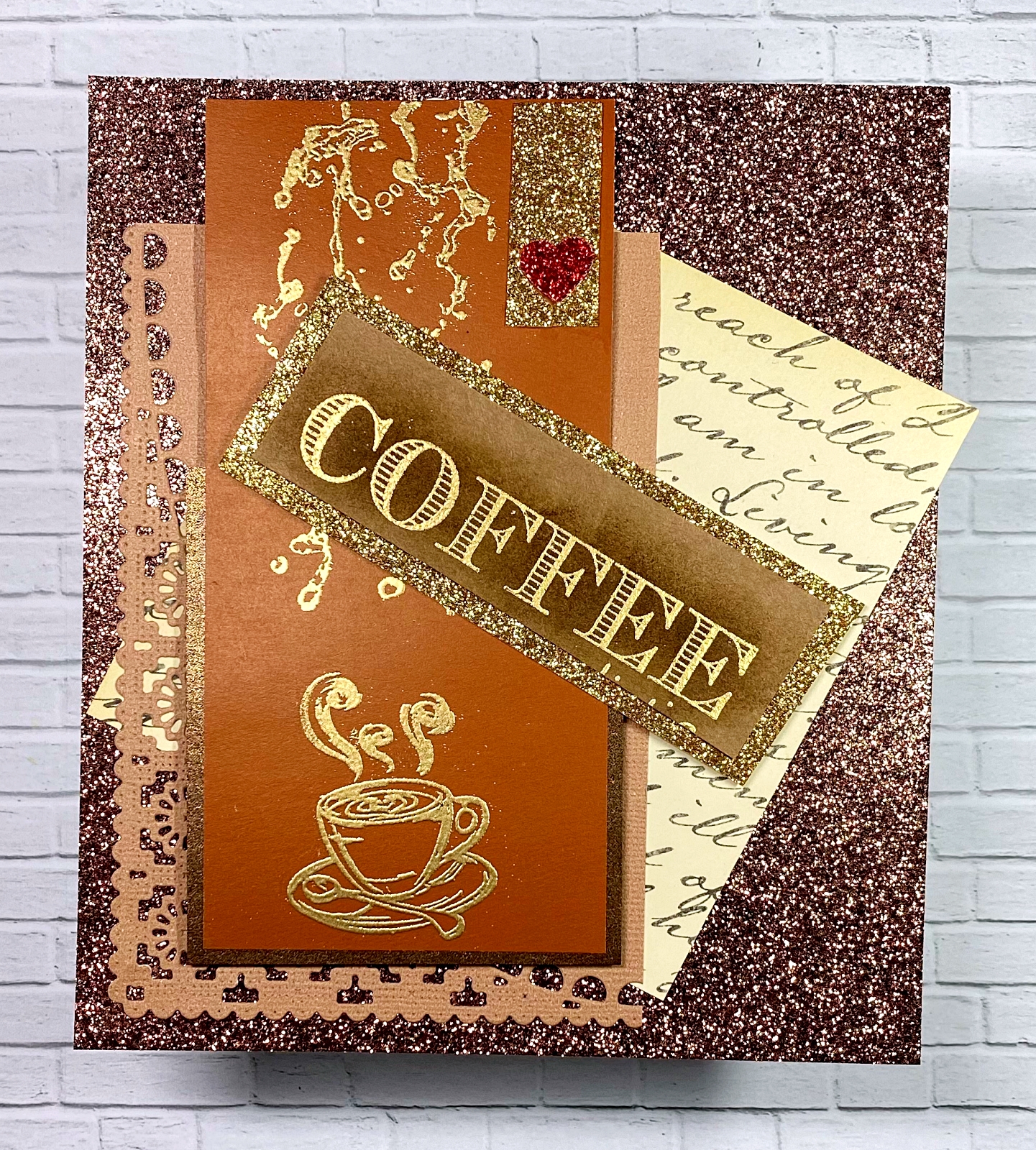 A card to celebrate coffee is made using our Water Splash Rubber Stamp embossed in gold onto a rust brown, shiny card stock. The coffee mug is from our Coffee with Friends Rubber Stamp.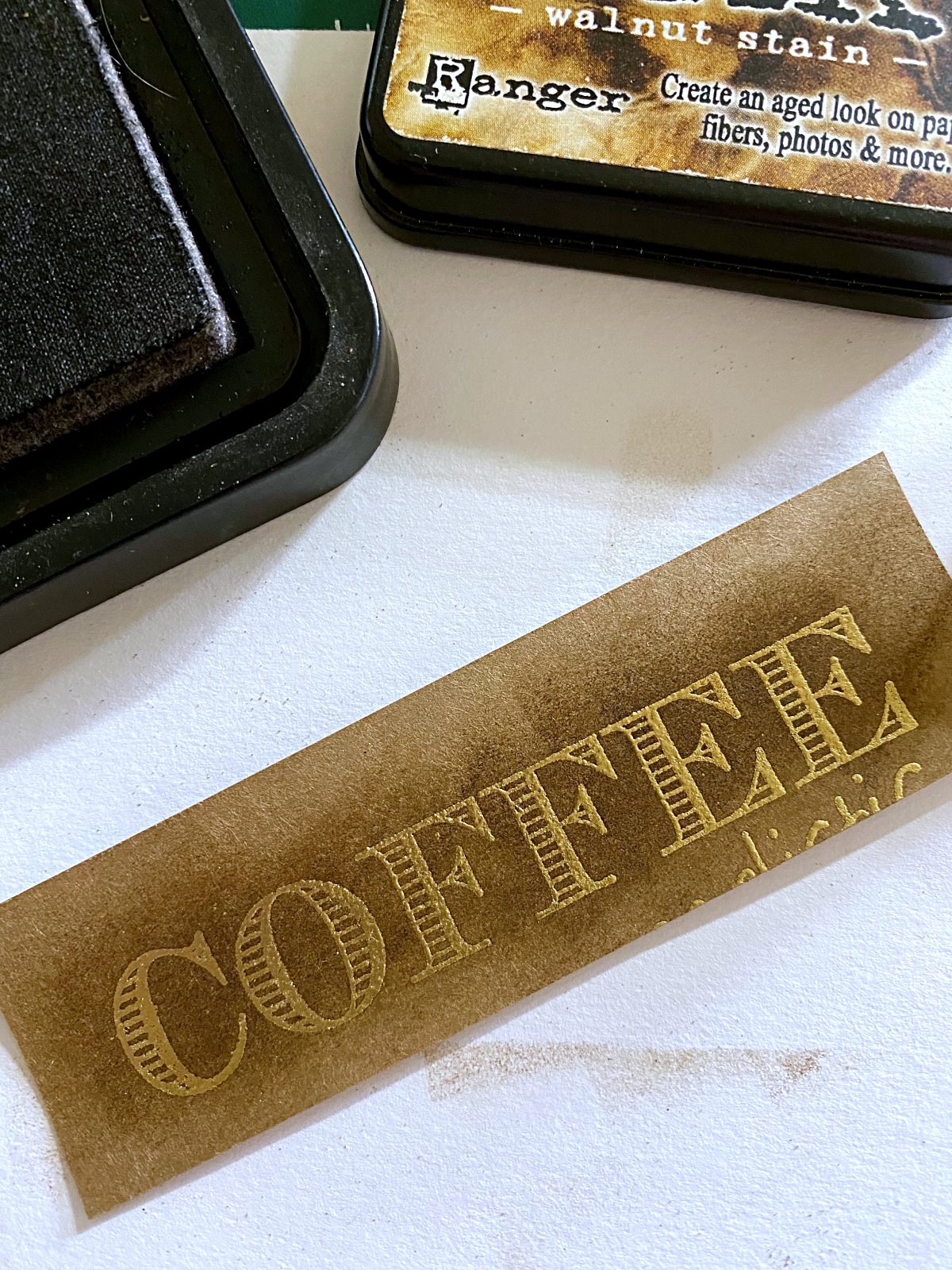 The big word, 'Coffee' is from our Coffee Productivity Rubber Stamp. I simply just stamped with the top part of the rubber stamp and trimmed the paper with the rest of the sentiment away. It isI embossed with gold onto a kraft colored card stock. Some dark brown ink is added with a sponge (Walnut Stain Distress Ink) to make the text stand out.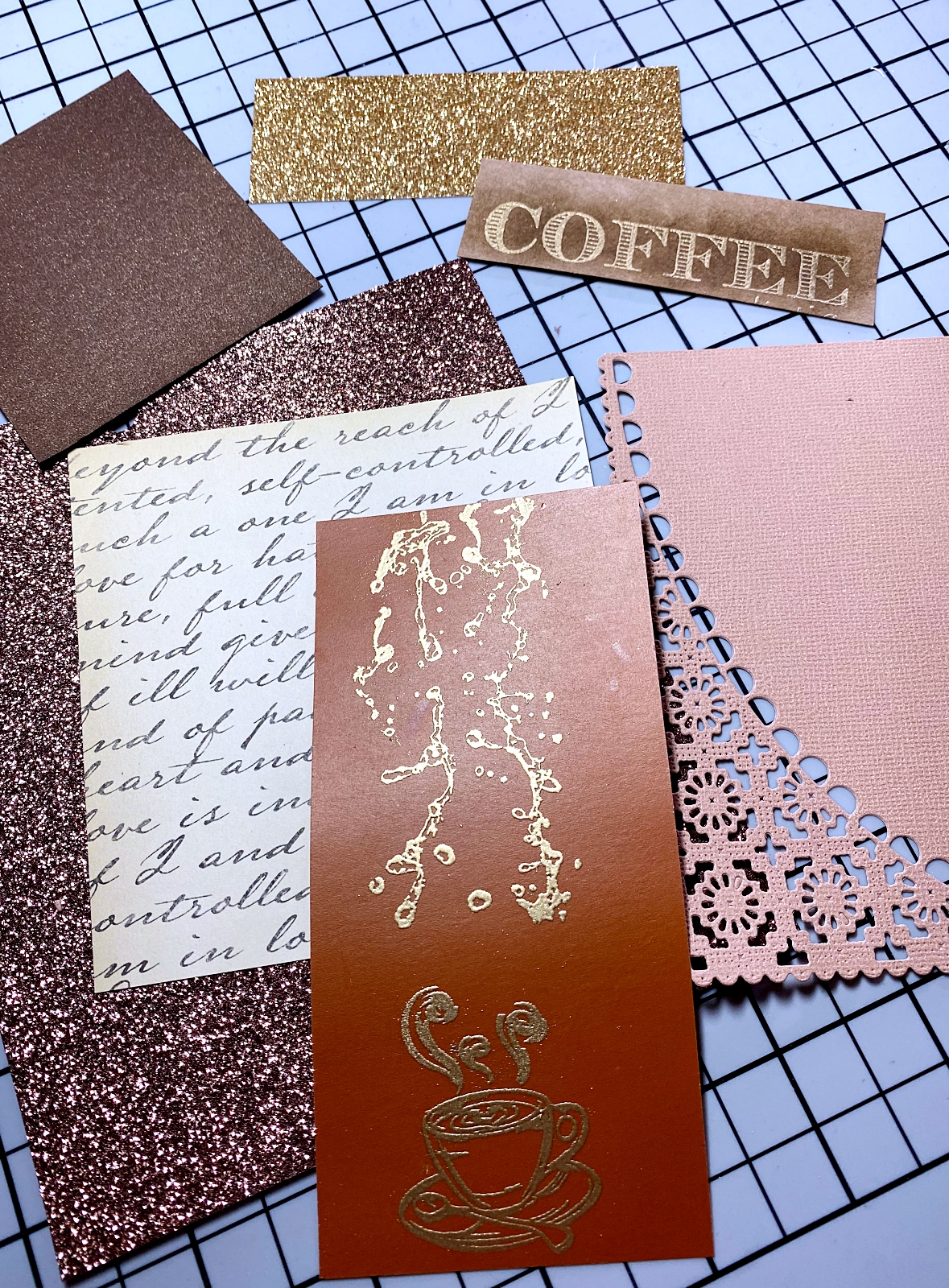 Using glitter card stock whenever I could for these projects, it matches nicely with the gold embossed and white embossed designs. I hope that you will decide to make your next birthday card with embossing. Or try it on a journal page devoted to coffee (or tea if you prefer). I guarantee it will bring a smile every time it is seen.