Posted by Susan J. Deep Red Stamps on Nov 6th 2023
In our rubber stamp catalog, we have many designs of clocks and many designs of wings. If you stamp these designs together, you get a wonderful theme: Time flies.... so be sure to do what you love! The common saying is that Time flies when you're having fun. Well, that is exactly what you'll have when you create ATCs with these rubber stamps.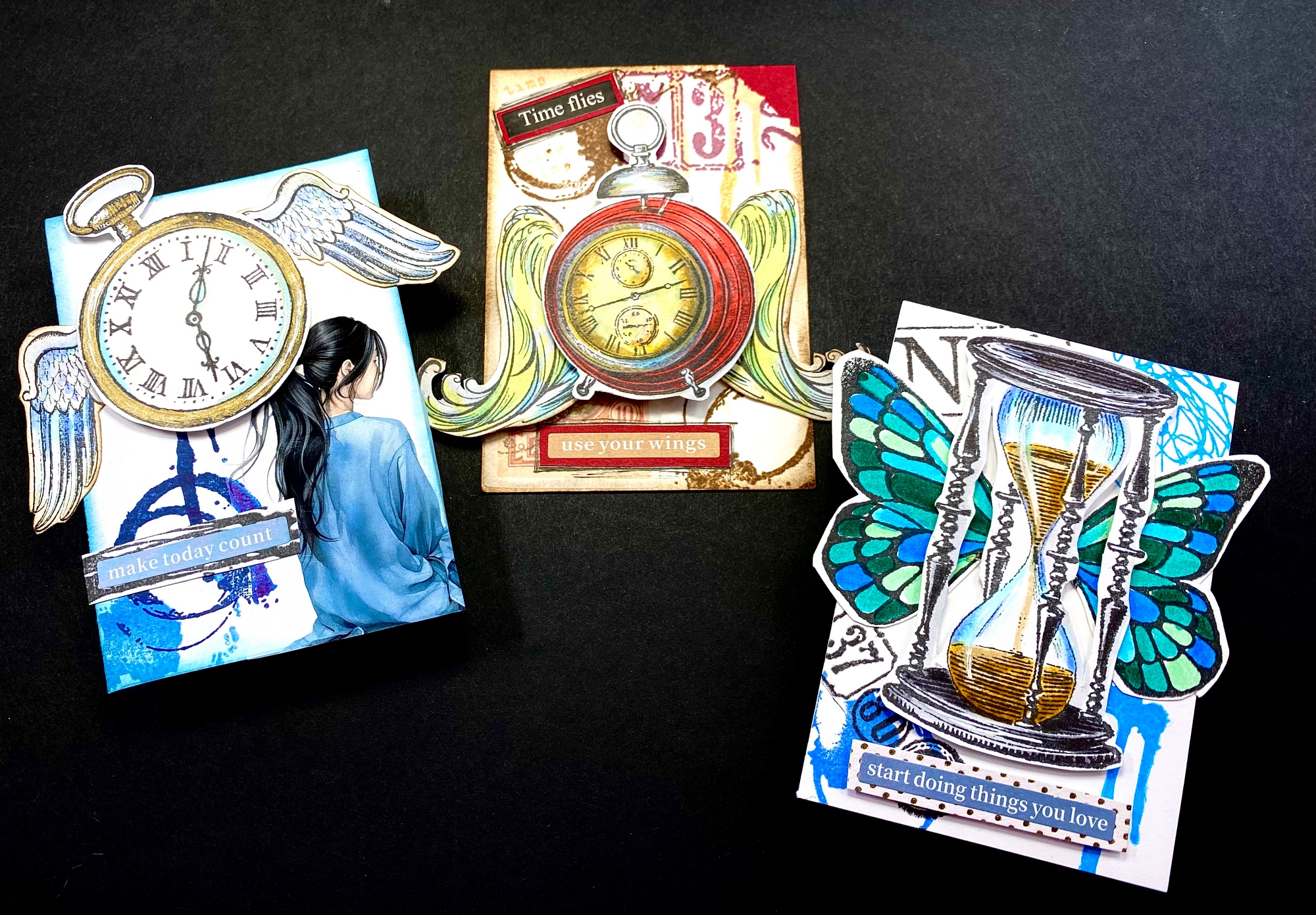 A standard ATC (artist trading card) measures 2.5 inches by 3.5 inches (6,35 cm x 8,89 cm).
From left to right above:
Make Today Count ATC
Time Flies...Use Your Wings ATC
Start Doing Things You Love ATC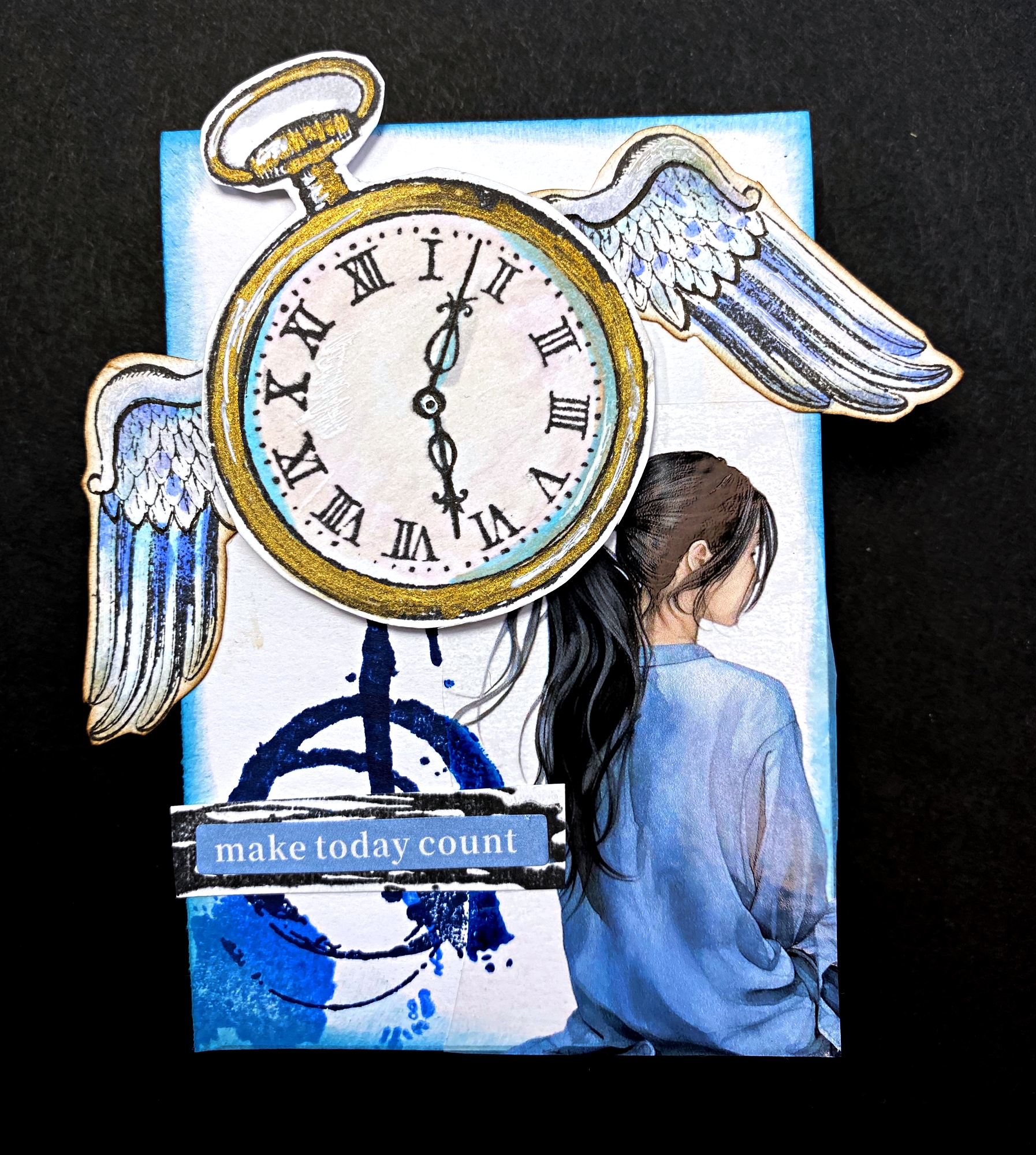 Above ATC features our Pocket Watch Rubber Stamp and one of the wings from Wings Collection Rubber Stamp Set. I colored in the pocket watch with a gold metallic marker and then various blue Tombow markers on the wing feathers.
Hint: when coloring in a watch face, you'll want to have a bit of shading in opposite curves, usually near the 4 o'clock and 11 o'clock areas.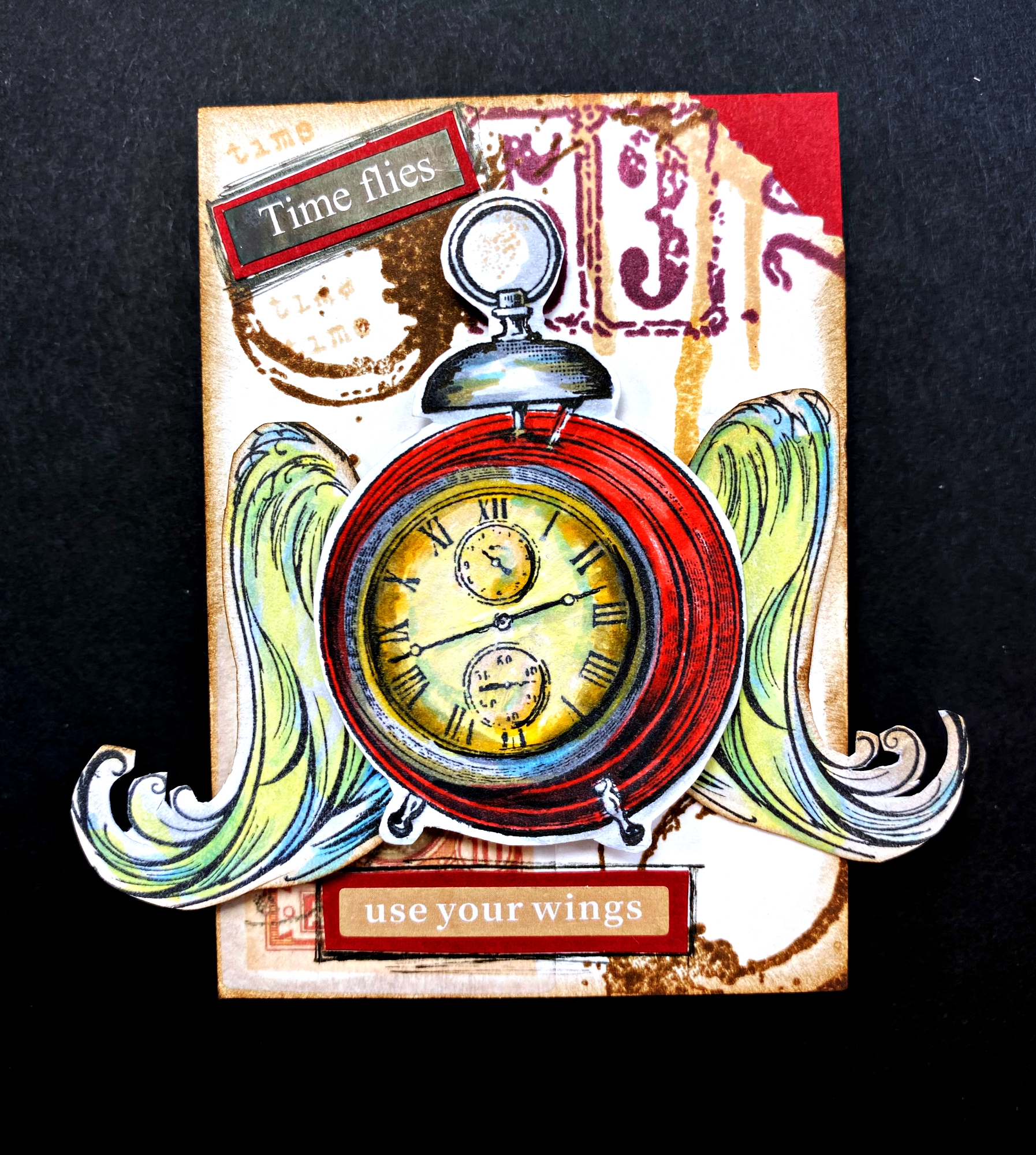 Above, Time Flies...Use your wings ATC features our Keep the Dream Alive Rubber Stamp (the vintage desk clock portion) and Angel Wings Rubber Stamp.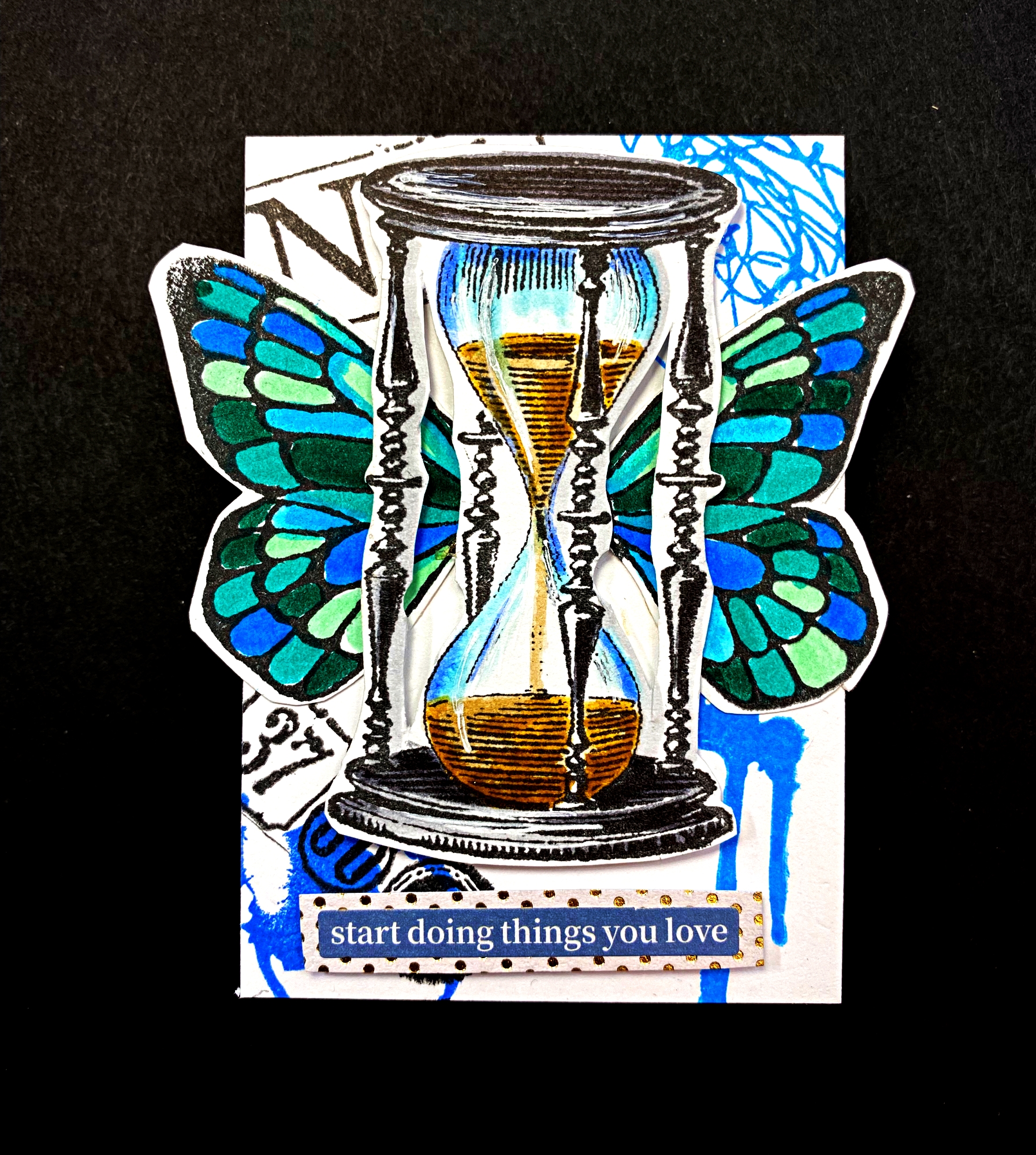 Above, Start Doing Things You Love ATC features our classic Hourglass Rubber Stamp and butterfly wings from our Butterflies Rubber Stamp Collection. I stamp with this particular butterfly stamp often because I love how you can color it in easily and it always looks good. I cut apart the butterfly stamped image so I just got the wings portion of it.
For each of these ATCs, I did a simple distress look, coffee spills, random number stamped background (misc. clear stamps) and stickers for the inspirational sayings. I used foam dots to make the center pieces stand out over the base, but that is optional. To make a flat ATC, simply adhere all your layers with a glue stick.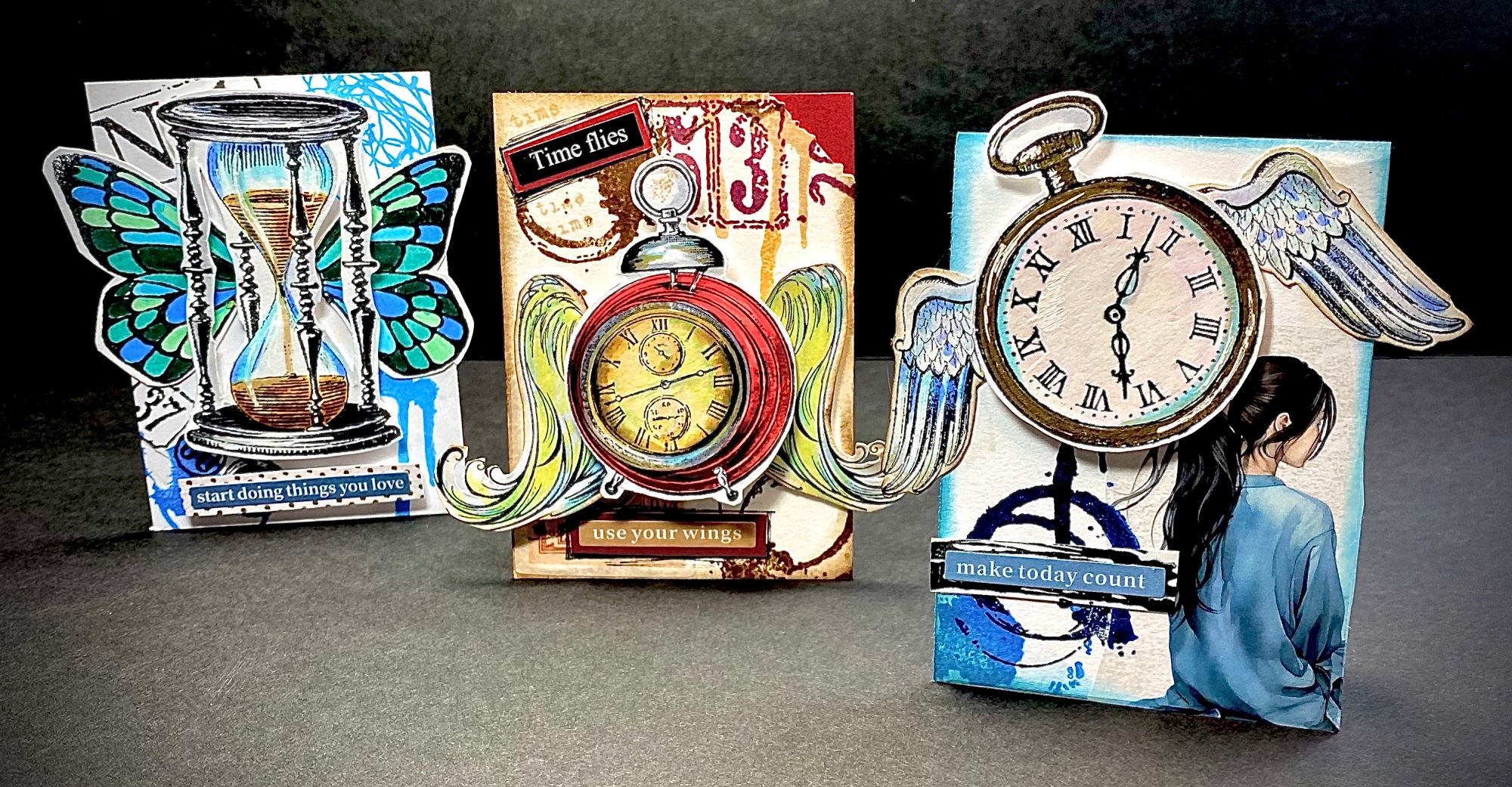 The Hourglass stamp is easy to color using tans for the sand and blues for the glass. For the watch face of the vintage desk clock (center ATC), I used some yellow and brown colors and repeated the same colors on the sub dials. For the pocket watch (right ATC) I colored the face with a subtle pink hue and added shading in grey under the clock hands.
The wing stamps....
Butterflies Rubber Cling Stamp (deepredstamps.com)
Angel Wings Rubber Stamp (deepredstamps.com)
Wings Rubber Cling Stamp (deepredstamps.com)
The timepiece stamps....
Keep the Dream Alive Rubber Cling Stamp (deepredstamps.com)
Hourglass Rubber Cling Stamp (deepredstamps.com)