Posted by Susan J. Deep Red Stamps on Jun 27th 2020
Well, they're not exactly stamps that play music, LOL (wouldn't that be funny). We have several fun, music-themed rubber stamps for your collection. If you're going to make a handmade card for a person who plays an instrument or just want to express love of music in a craft project or scrapbook page, our Baby Grand Piano Rubber Stamp or the Vintage 45 Rubber Stamp are a must to have!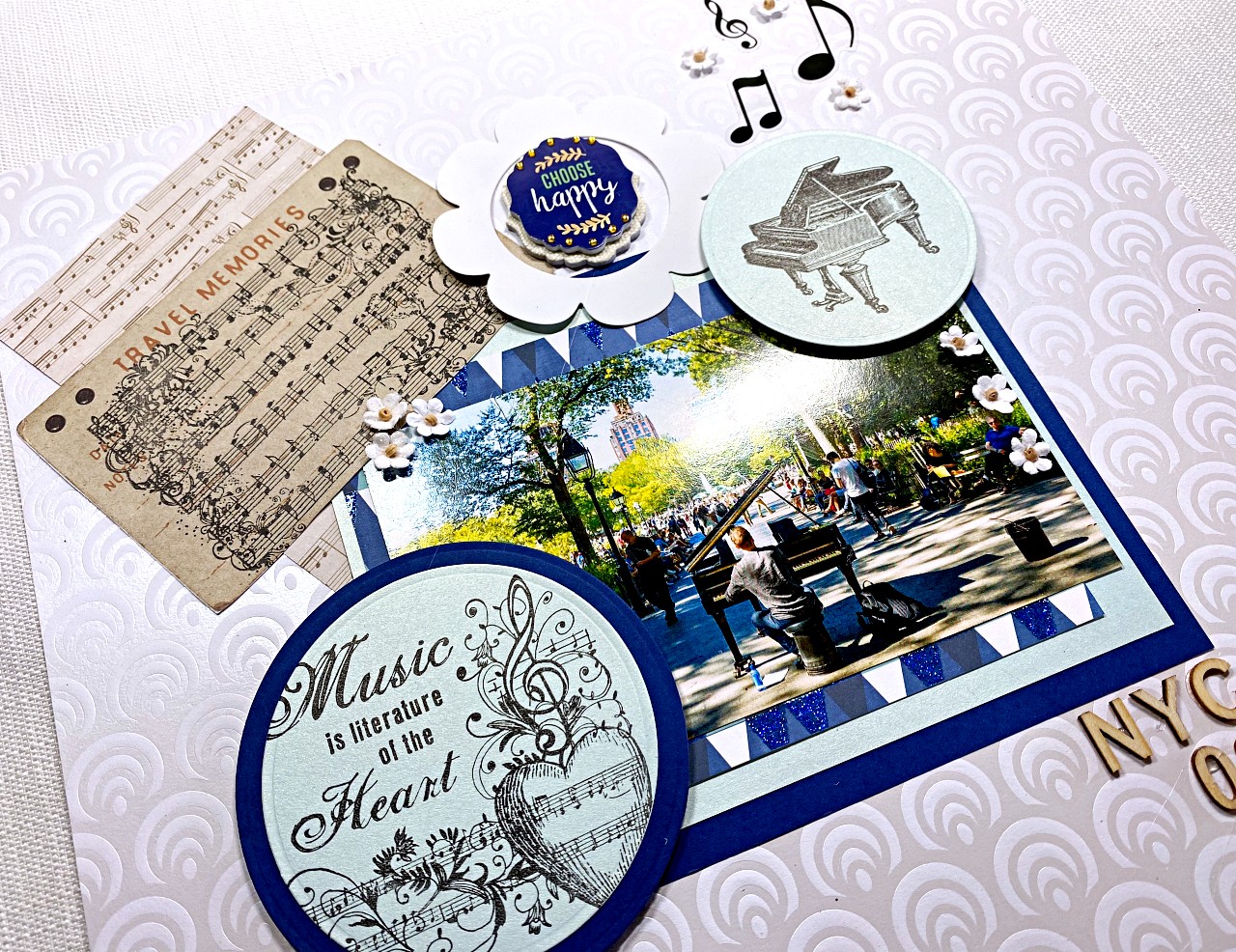 Above photo, a 12x12 scrapbook page of a piano player in Central Park. I added 3 of our music themed stamps to the page as embellishments. Music of the Heart Rubber Stamp was stamped onto a die cut circle cardstock. It is intentional that it all does not fit on the circle, but fills it instead. Our Music Flourish Rubber Stamp is stamped in black onto a vintage travel memories card and placed in the upper corner. The Baby Grand Piano Rubber Stamp is also stamped onto a die cut circle card stock. This stamp has so much detail and when stamped onto a light colored paper, you can see it all so well, so pretty!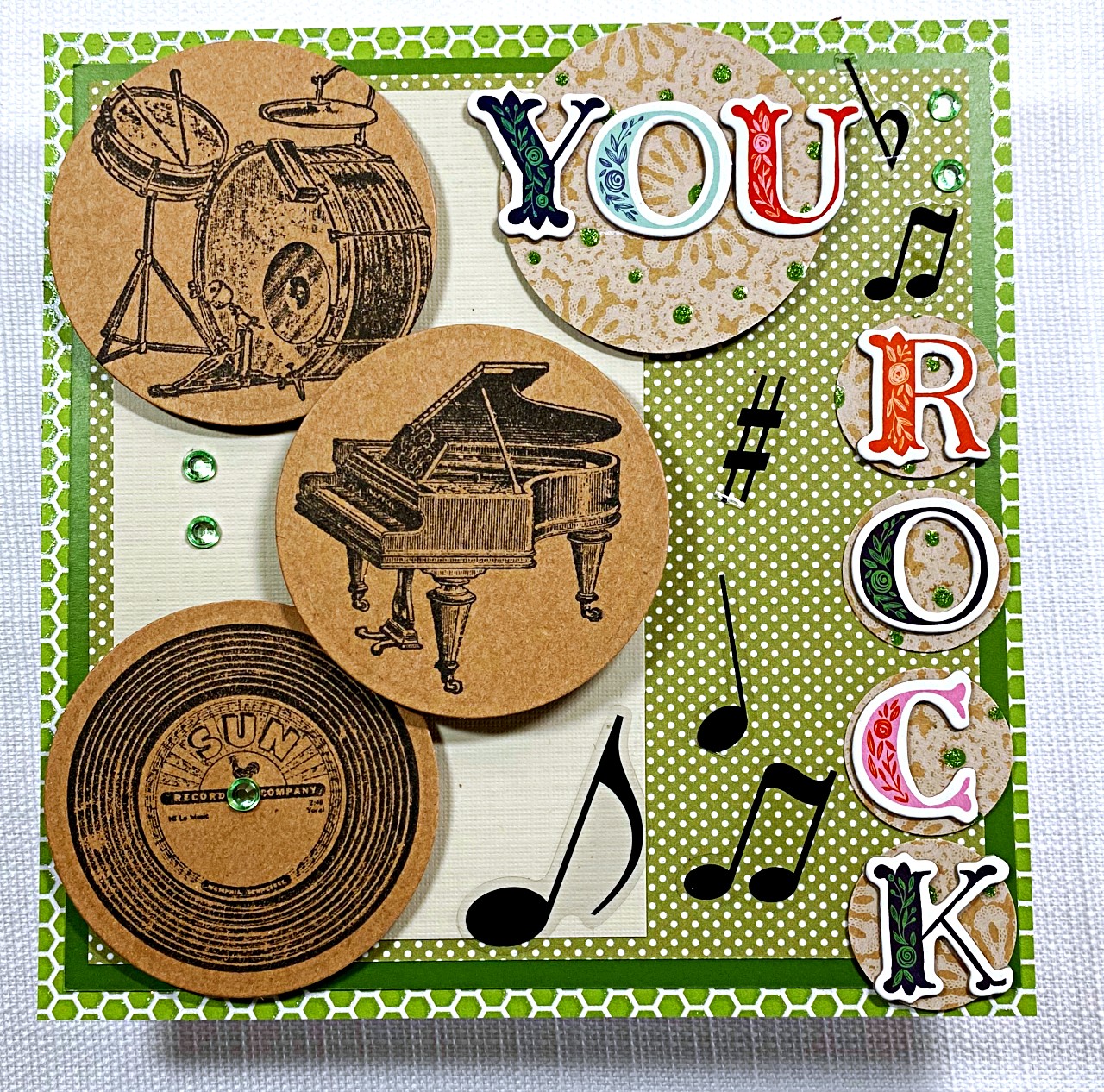 We also have a detailed vintage etching of a Drum Set Rubber Stamp. Here I took Drum Set, Baby Grand Piano and our Vintage 45 Rubber Stamp and stamped them onto a brown colored card stock. The circles were cut out with a punch. To add a sentiment to this card, I cut circles with a punch and placed letter stickers on them to spell out, 'You Rock'. I keep many types of alphabet stickers on hand for occasions like this! This would be a perfect card for a young adult that is musical or a good friend for a congratulations.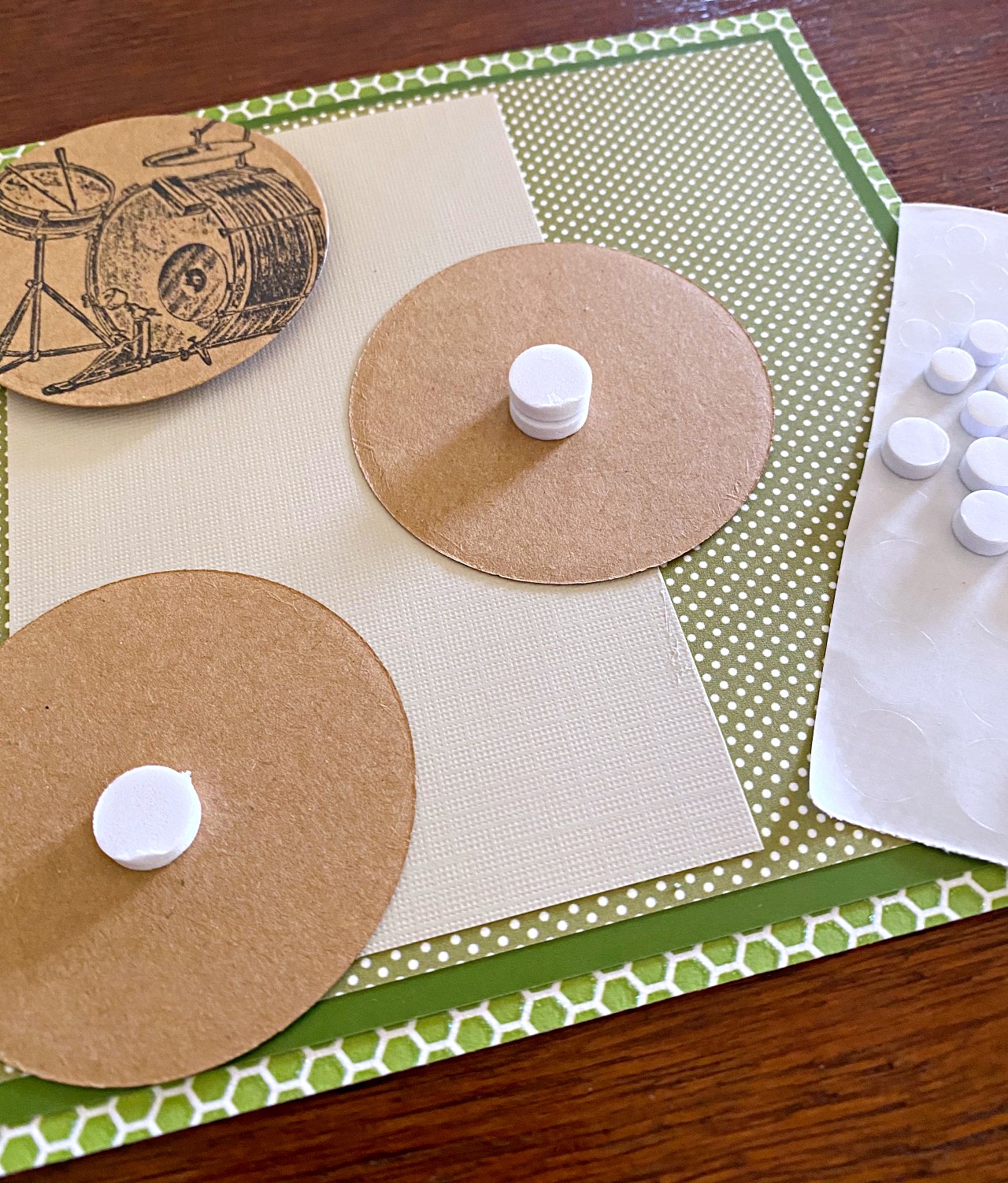 Hint: To vary the height of the stamped circles, add an extra foam cushion adhesive to the back, two instead of just one. The piano circle stands out above the others.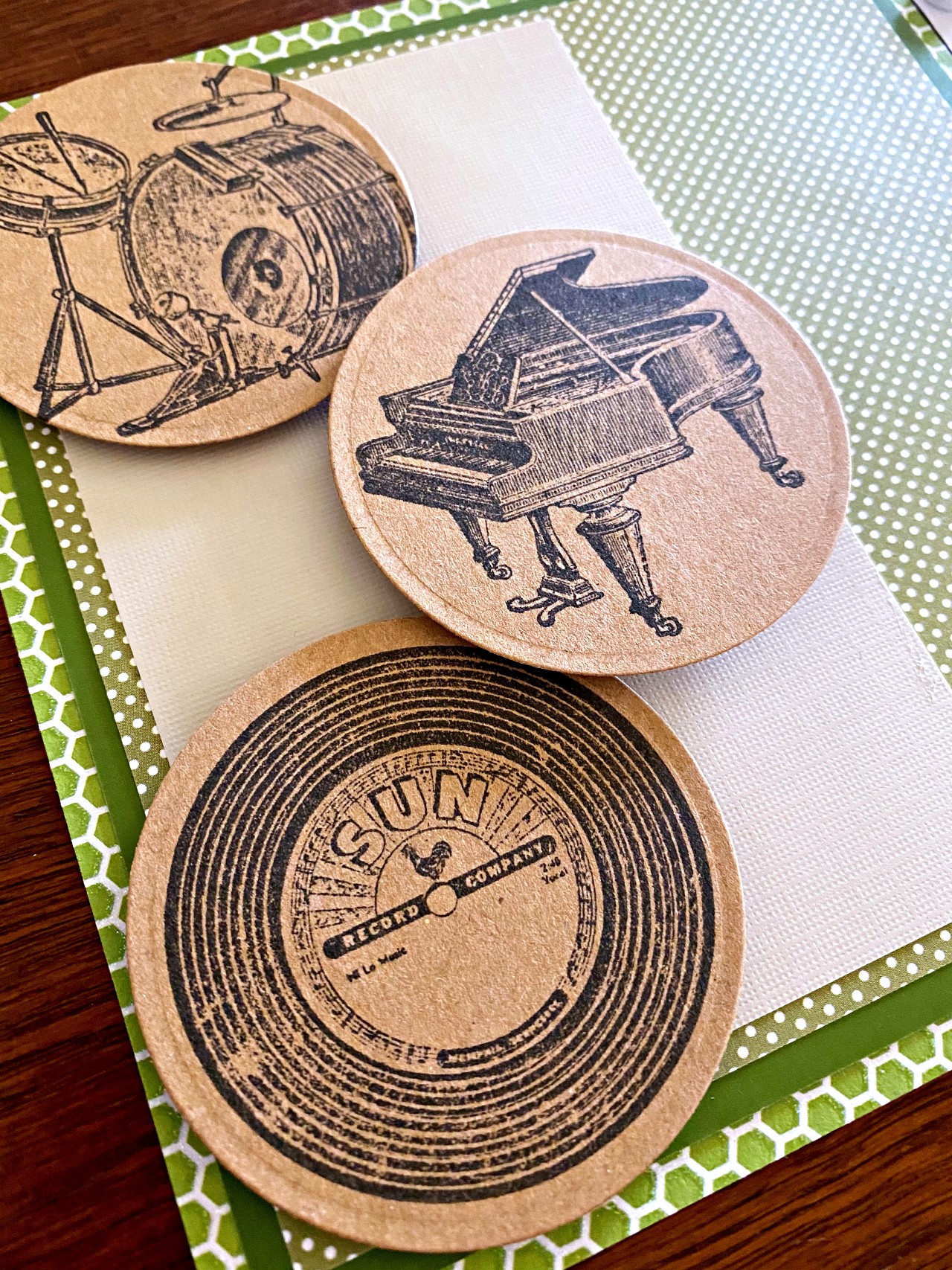 One of our most popular stamps is our Music Swirl Rubber Stamp. You can see it below stamped in black onto paper that already had writing for the background. A girl playing the piano is our Piano Solo Rubber Stamp. Her dress and paper mats match in shades of pink. A black and white checker bow compliments any shade of pink as seen in this 5x7 card.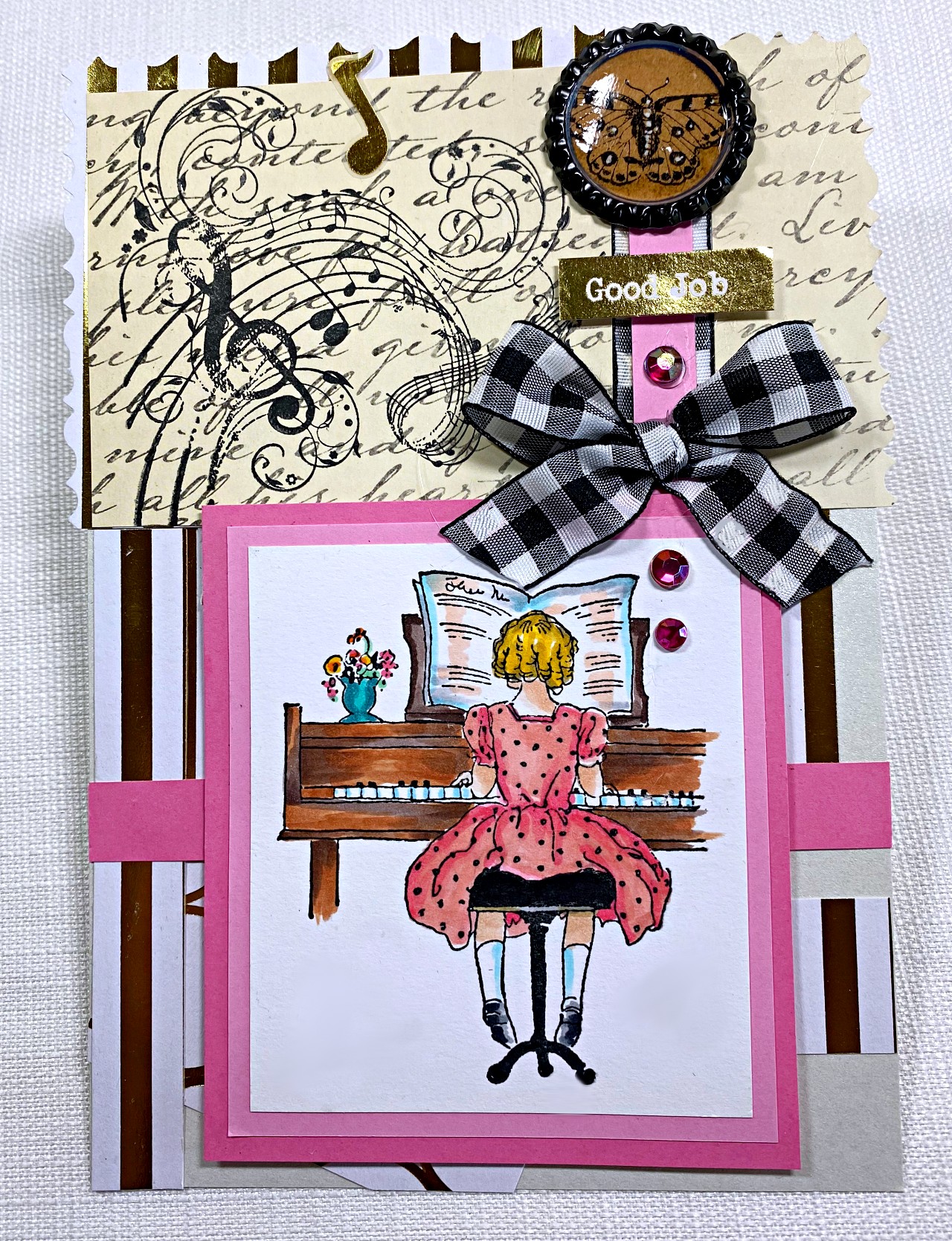 Below is our Music Swirl Rubber Stamp, Diamond Wire Rubber Stamp and one of my favorite stamps: Opera Playbill Rubber Stamp on an A2 sized card. The Opera stamp is actually larger than seen below, I just wanted the words, 'Opera' to be prominent on this card. Simple red, black, white and a tan colored music paper make this card stand out and a die cut bow in black bring a little formal-ness to it. Also, red corrugated paper is added to create thickness to the layers.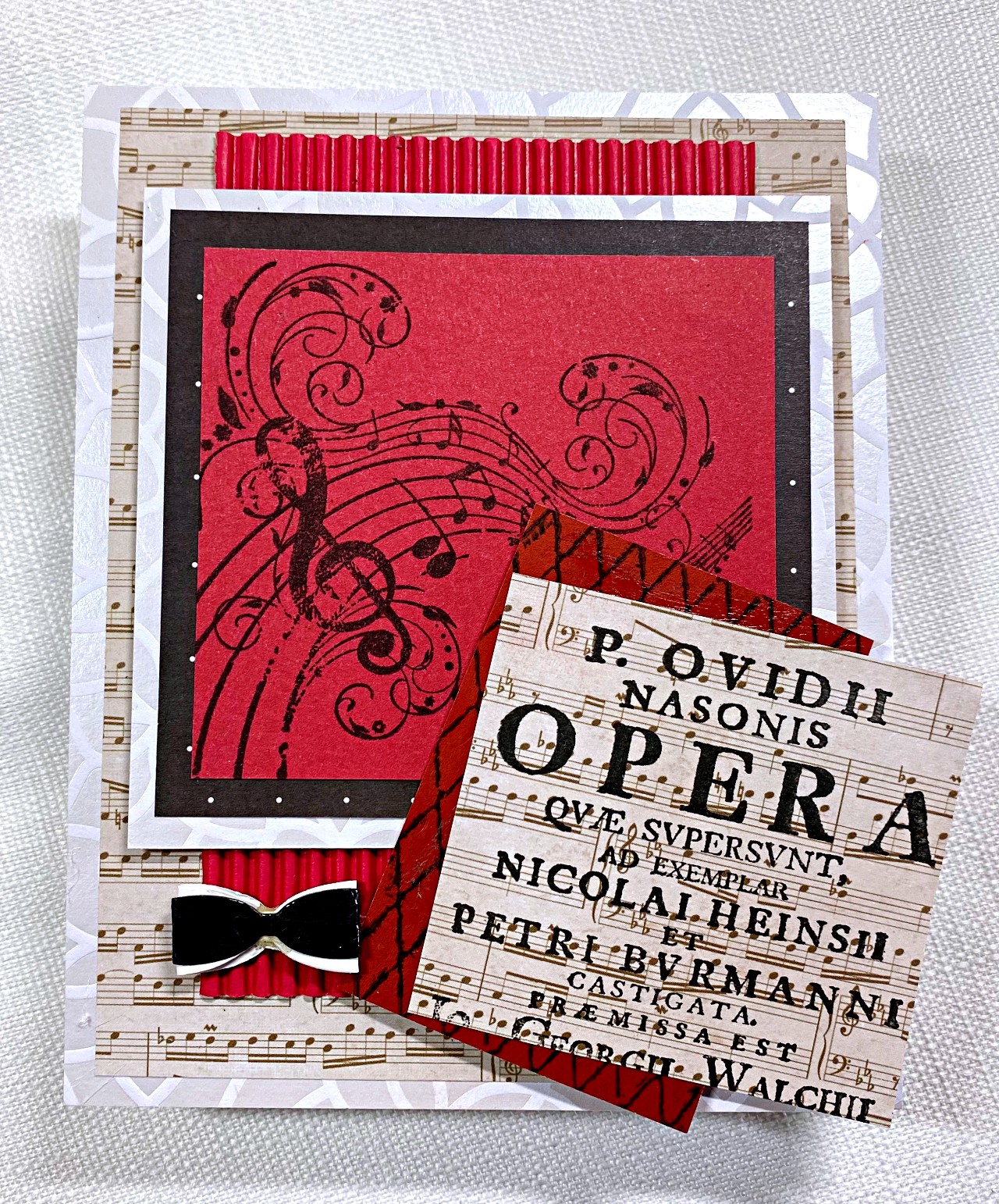 A focus on music themes would not be complete without a homage to Rock n Roll, that once-beloved, but now has-left-us-to-wonder-if-it-will-ever-come-back music genre. Our British Flag Grunge Rubber Stamp, Crown for Royalty and SWAK stamps made this 4x6 project a celebration of the 80's when bands like Def Lepard and Duran Duran were always played on the radio. The Rock n Roll is my design black card stock cut out with a Silhouette Cameo.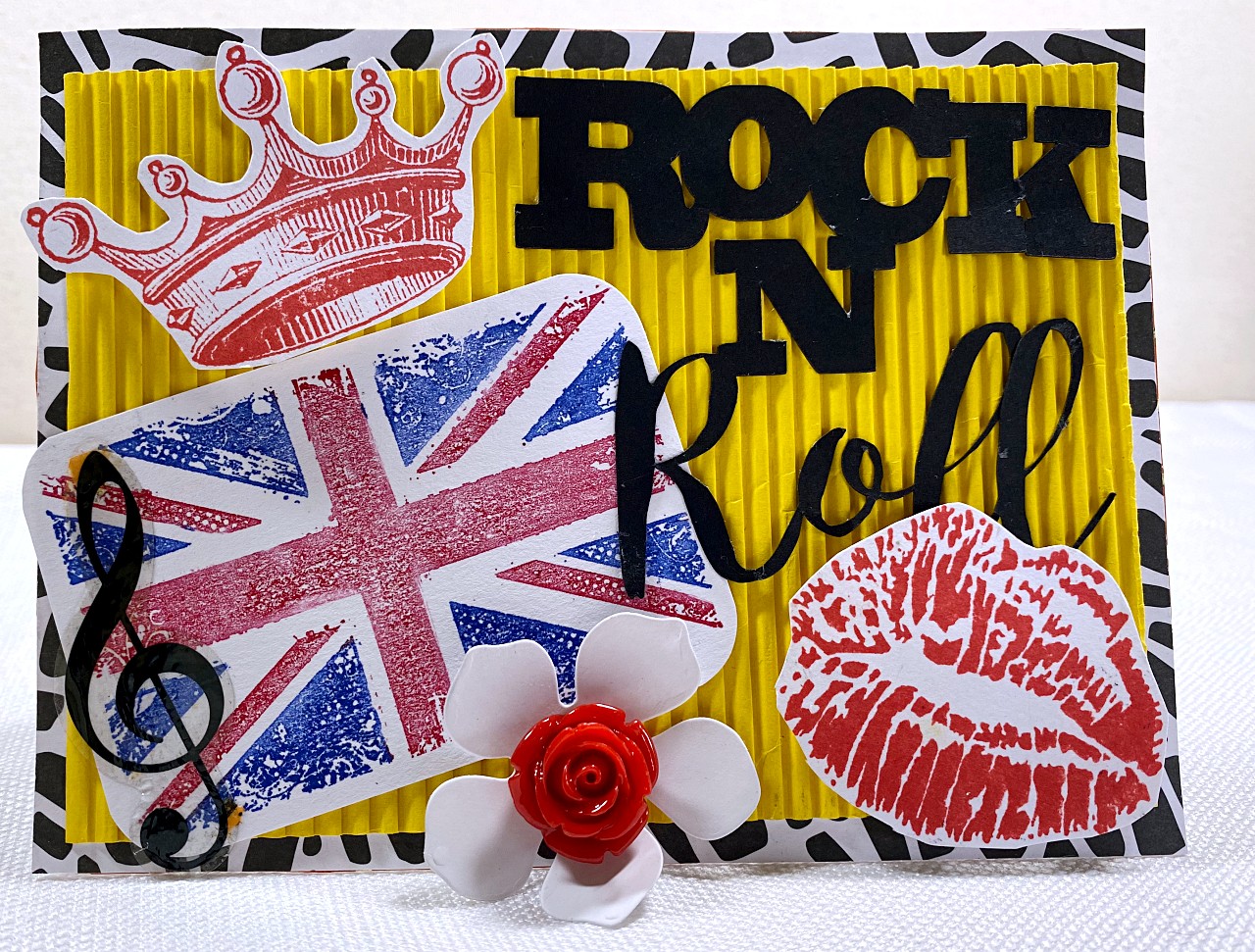 The British Flag Grunge Rubber Stamp was colored in with water based markers to get the 2 colors. The stamp measures almost 3 inches wide, and there is plenty of time to color in the pieces and then stamp onto paper. If you need to, spritz with a light mist of water before stamping to re-activate the ink on the stamp. I hope that these will inspire you to create a project with music in mind....and hopefully playing in the background the next time you're crafting :-)
Music of the Heart Rubber Stamp
British Flag Grunge Rubber Stamp