Posted by Susan J. Deep Red Stamps on Sep 30th 2022
We have created a Phantom of the Opera meets Twilight inspired card. This slimline card, with its red paint spattered effect has a fun and spooky theme: the story is that a formal soiree has gone awry on Halloween night. Below, let's see how easy it is to make this ghoulish card!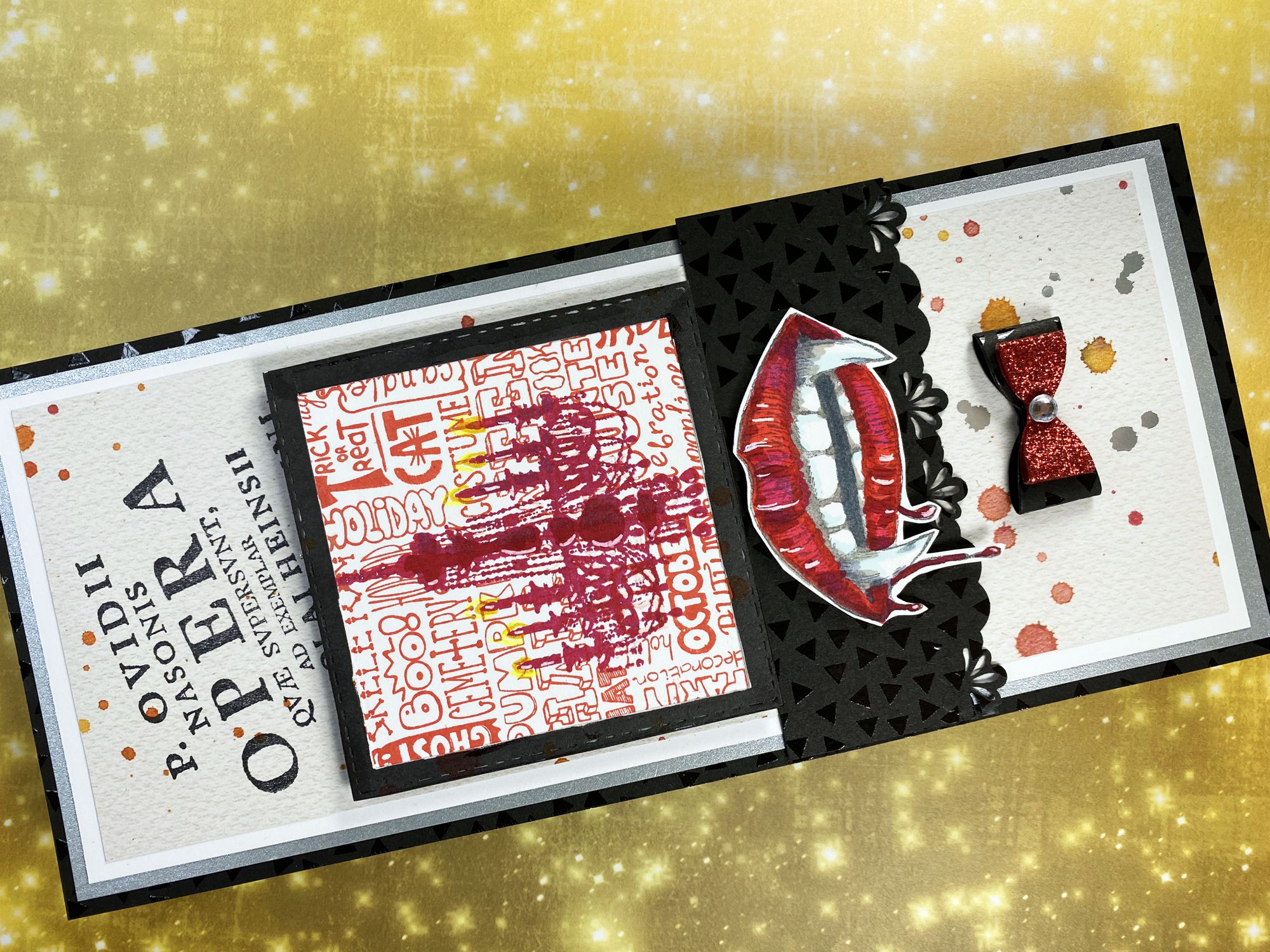 Our Vampire SWAK Rubber Stamp combined with our Chandelier Silhouette Rubber Stamp create a spooky setting wherever they are stamped.
Bows made of red glitter and black cardstock are added near the bottom of the card. Notice how they are placed below the SWAK design to look like a necktie.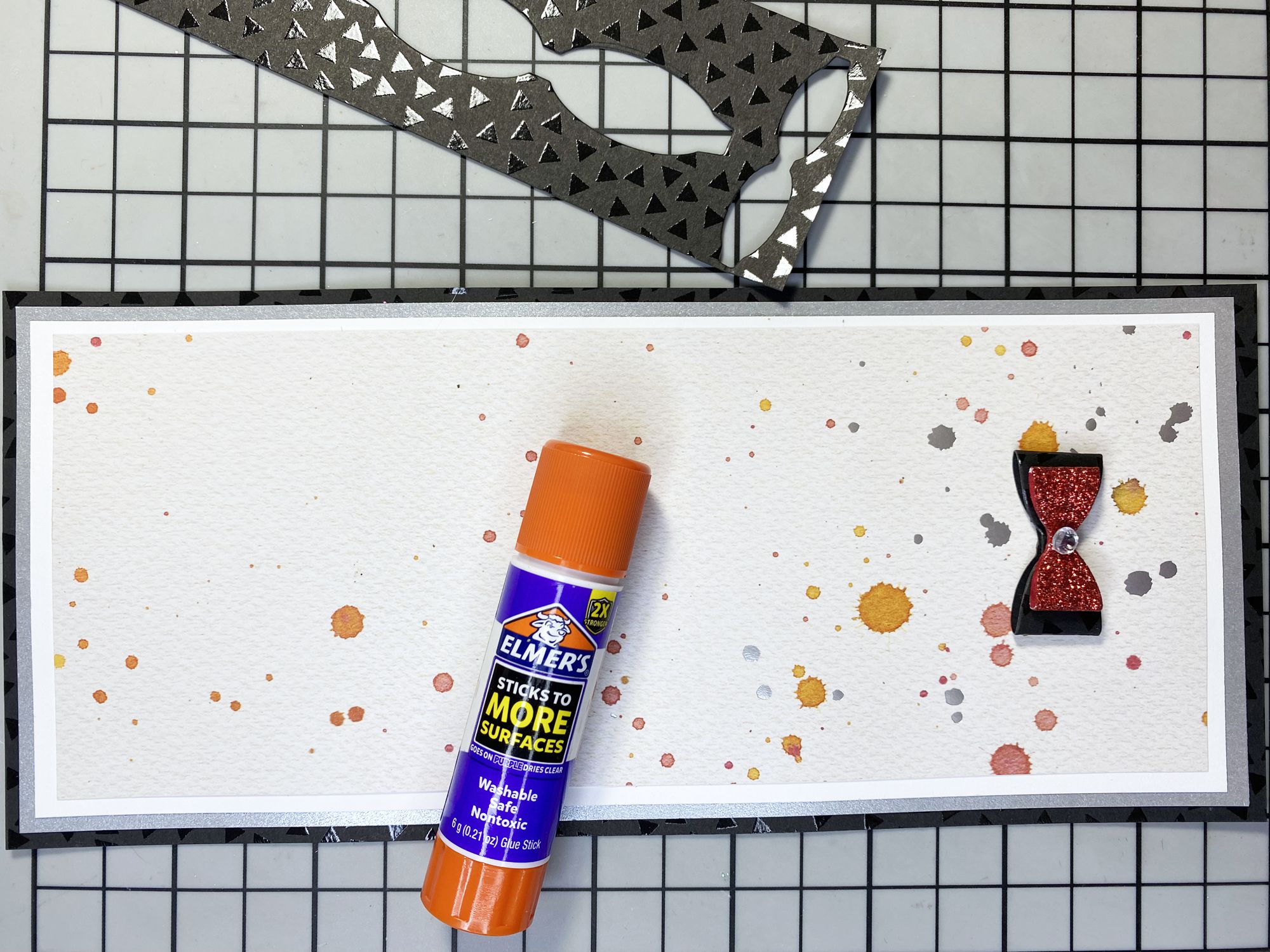 For the card base, we have 4 layers:
1) black cardstock,
2) silver cardstock,
3) white cardstock.
4) For the top layer, we have a red, orange and silver paint spattered cardstock. This was already done, but you can create your own with watercolor paints on white cardstock.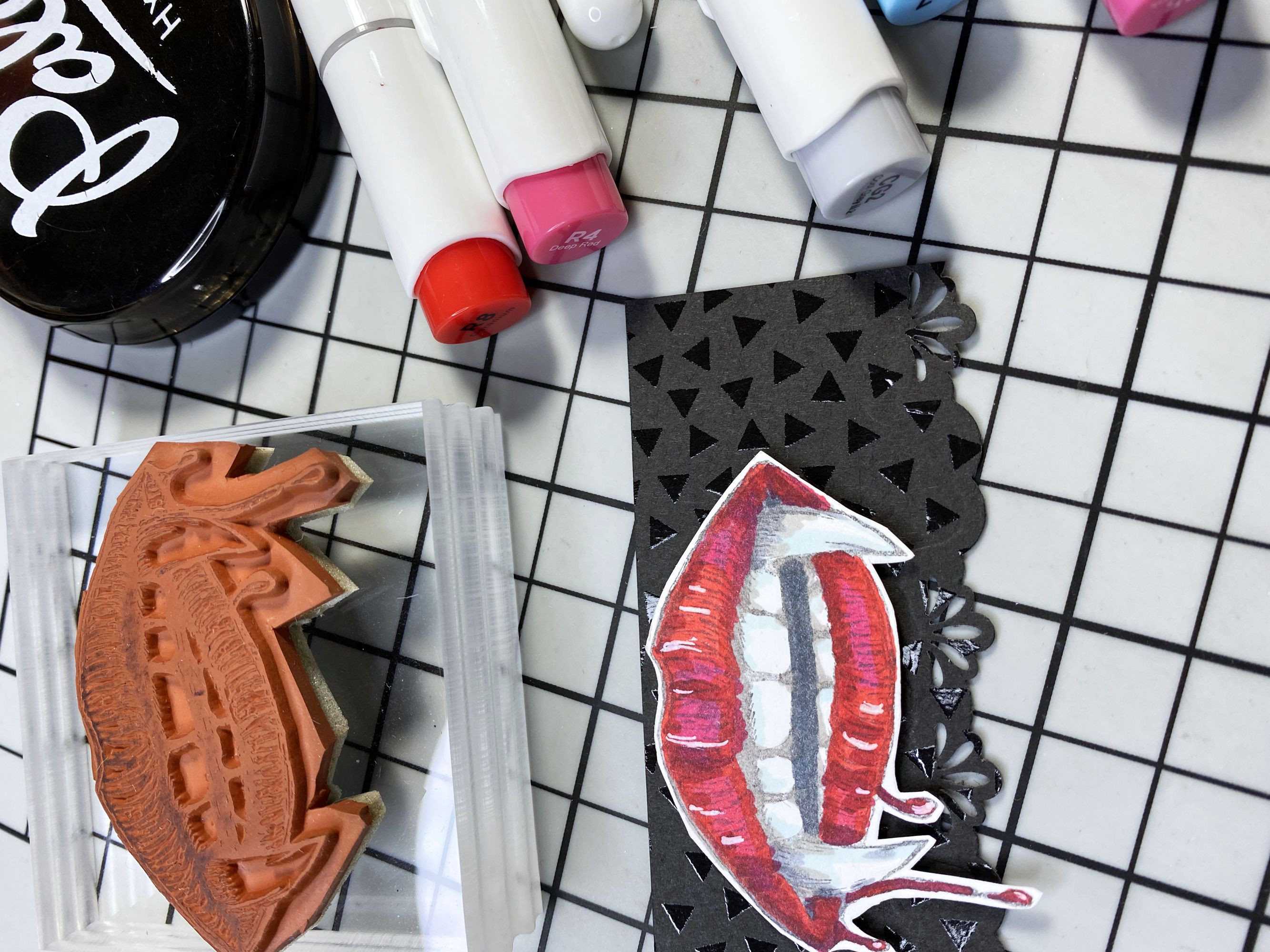 Our Vampire SWAK Rubber Stamp is just like a regular Sealed with a Kiss stamp, but it has vampire fangs and bloody drips.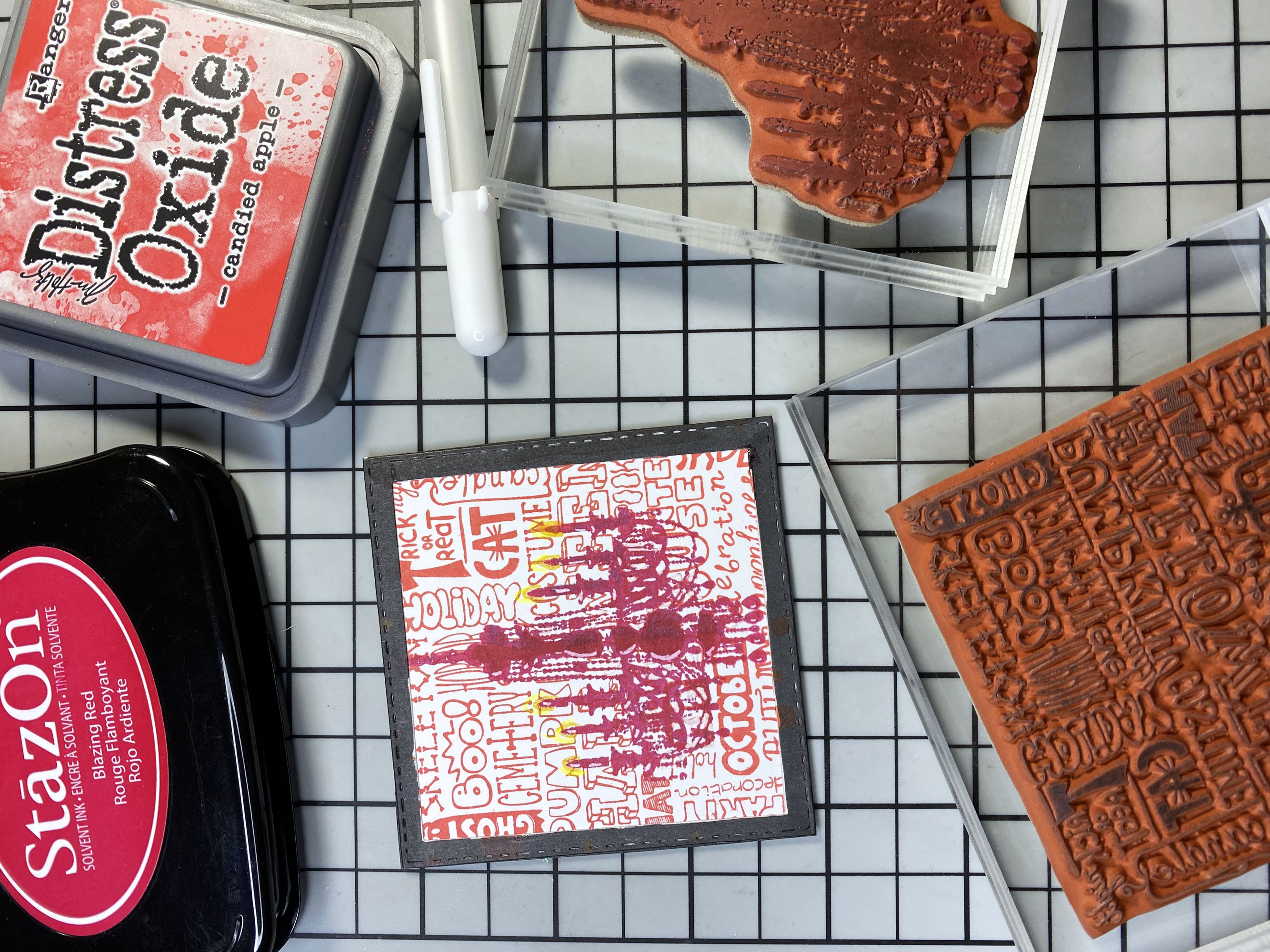 Our Halloween Background Rubber Stamp works well as a true background or as a centerpiece and measures about 3 inches x 3 inches in size. We stamped it in Candied Apple Distress Oxide. Then we stamped Chandelier Silhouette in Red StazOn ink on top.
We use a white gel pen to highlight the chandelier and yellow and orange gel pens around the light bulbs to create a glowing effect.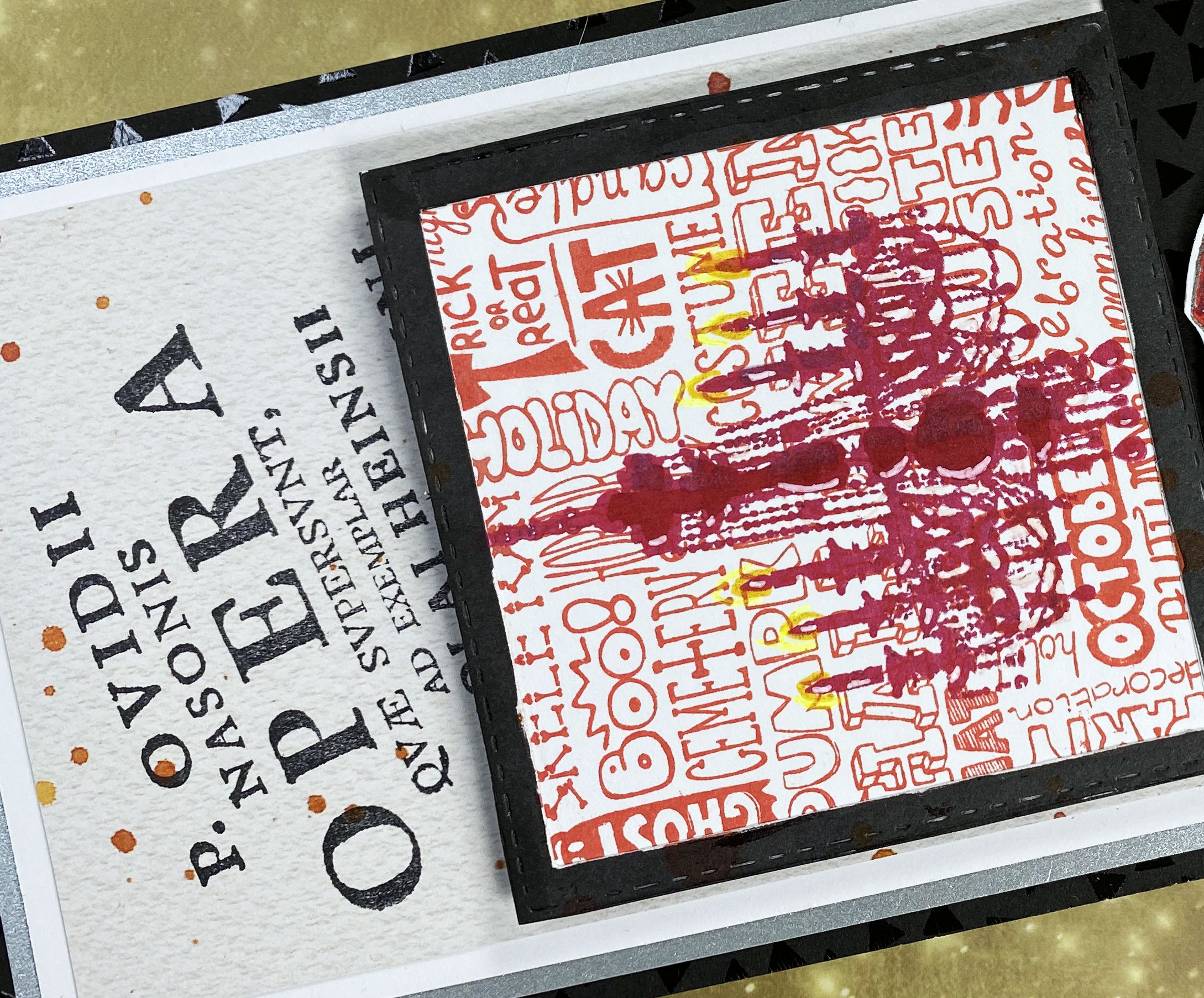 Above is a closeup of how the Chandelier Stamp looks when some simple color accents are added. It makes a fun effect when stamping similar colors like in this case, a lighter red ink and a darker red ink.
Also, our Opera Rubber Stamp is stamped on the background on the upper portion of the card.
Did you know that we carry 4 different sizes of acrylic blocks that accommodate all of our stamp sizes? Our Small Acrylic Block fits the Vampire SWAK Rubber Stamp.
Our Medium Acrylic Block fits the Chandelier Silhouette Rubber Stamp.
Our Large Acrylic Block fits our Halloween Background Rubber Stamp (and accommodates any stamps smaller)
Our Extra Large Acrylic Block fits the Opera Rubber Stamp (and accommodates any stamps smaller as well).