Posted by Susan J. Deep Red Stamps on Jul 12th 2022
Creating strips of tape that is stamped with designs is an easy project. All you need is a sheet of adhesive label paper, permanent ink and some awesome rubber stamps! Once you make these tape strips, you will be adding them to all of your projects. Below, we stamped a dragonfly border onto glossy label paper and added the strips to 3 different crafts: a journal page, a recipe card and a birthday card. The great thing is that you can color the 'tape' whatever color you like!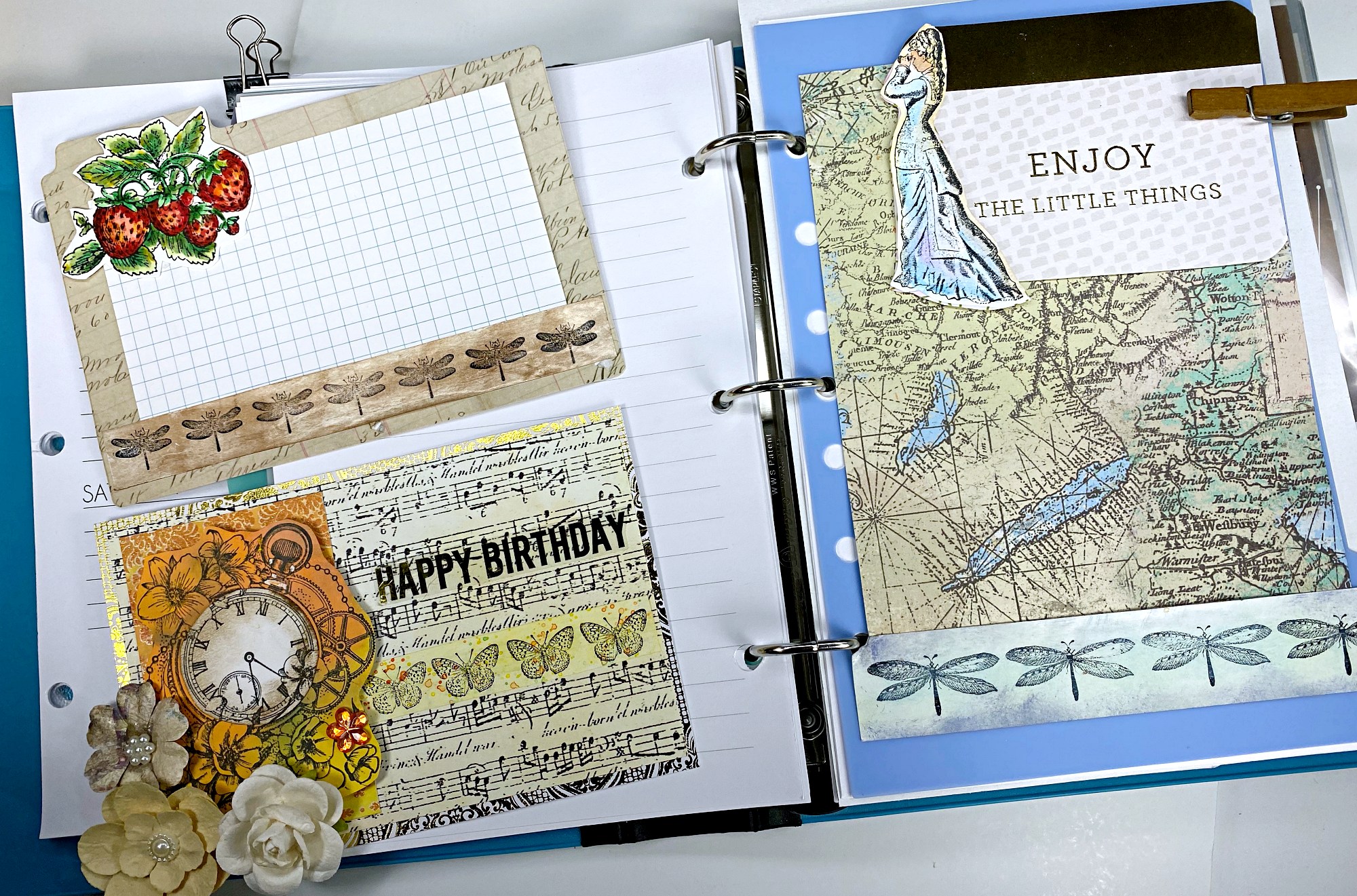 You will need:
An 8.5"x 11" sheet of label paper, can be white or clear, and can be a glossy or matte finish.
Ink pad, such as StazOn or Palette Hybrid ink
Dragonflies and More Rubber Stamp Set
Sponge dauber
Memento Dew Drop ink pads or Ranger Distressed Oxide ink pads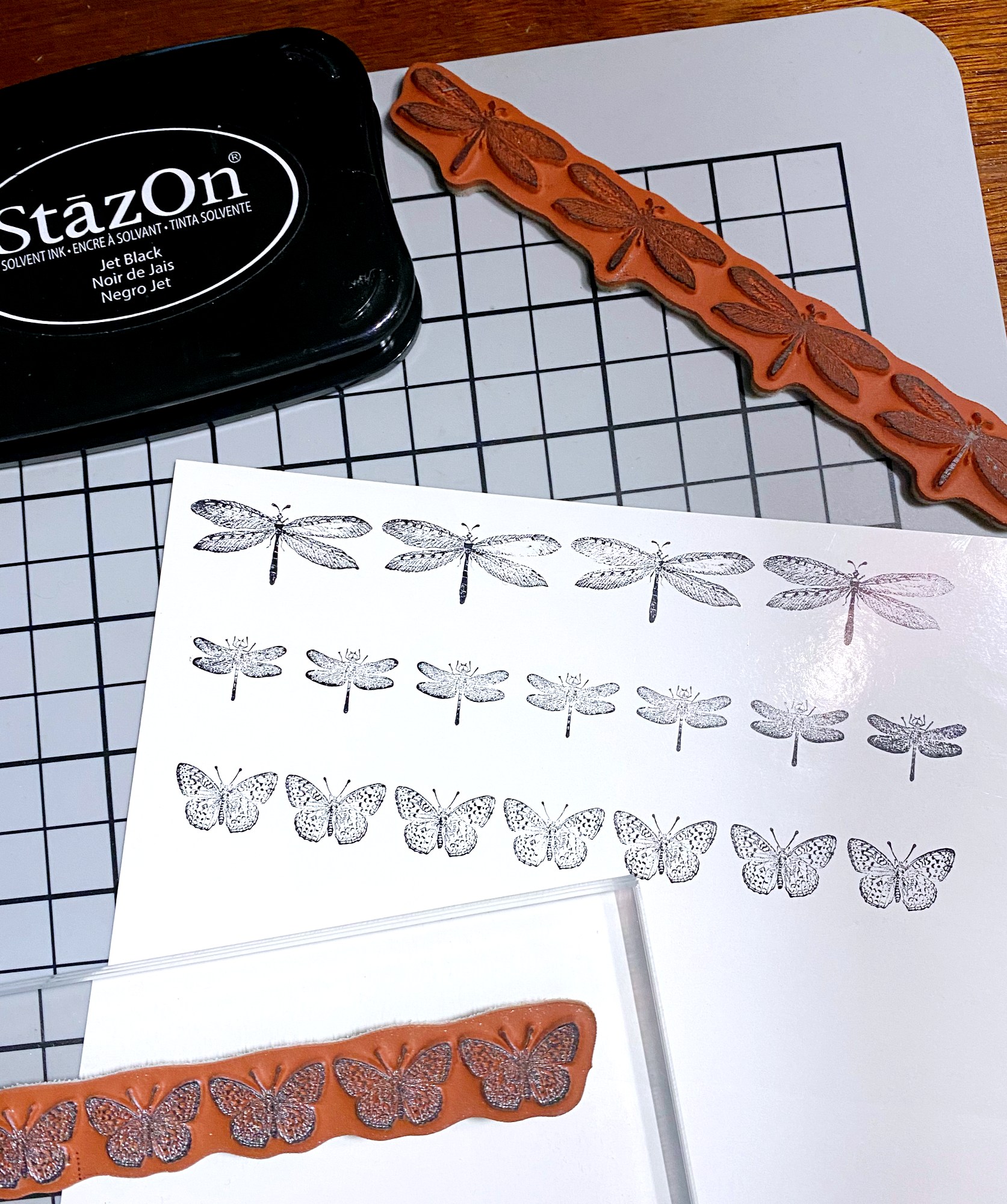 Our Dragonflies and More Rubber Stamp Set features 5 different border stamps, two of which are dragonflies. If using glossy label paper, I recommend using StazOn ink - it dries super fast and it won't smear if you are going to be adding color to the background.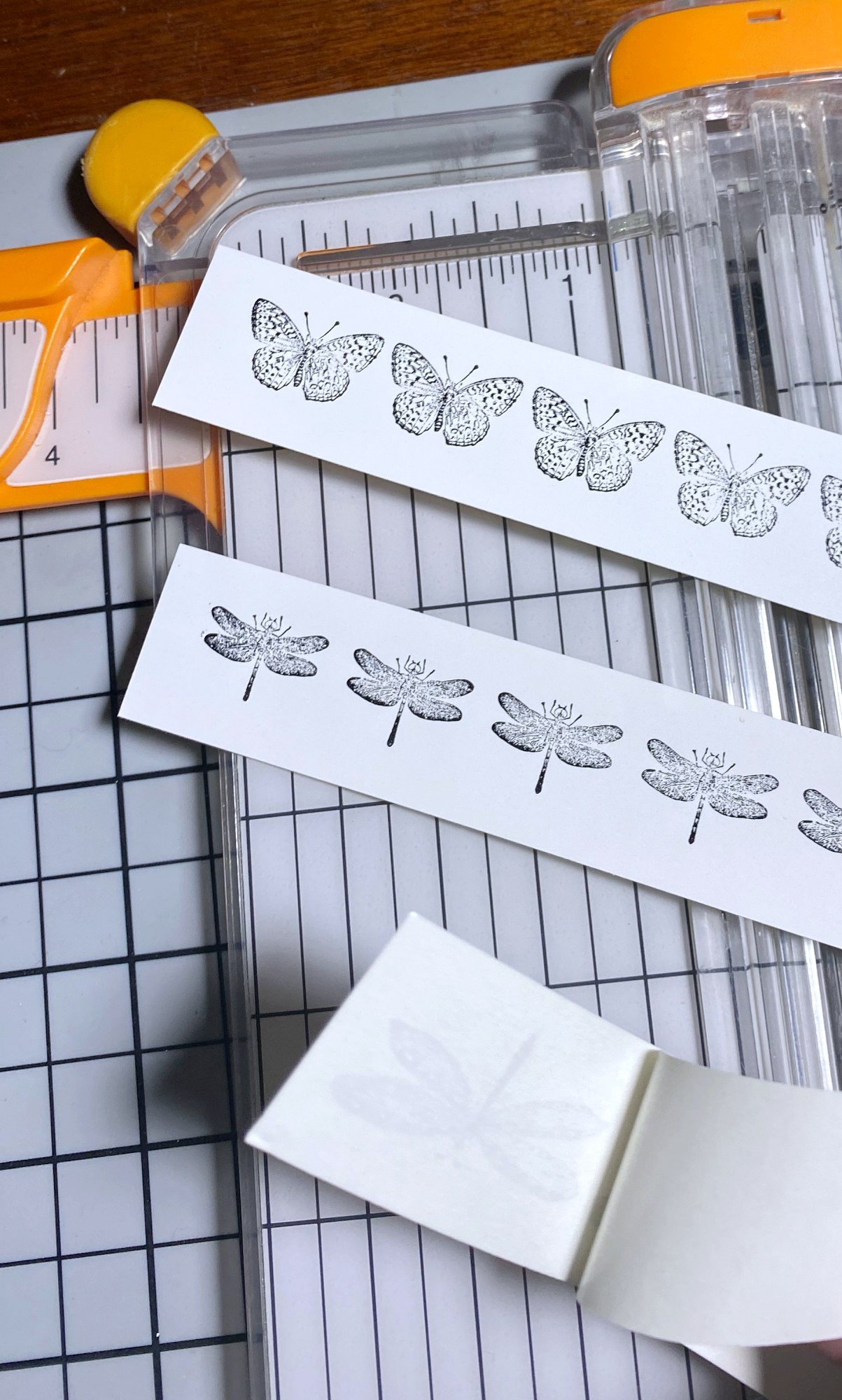 Cut the label paper using a paper slicer or by hand.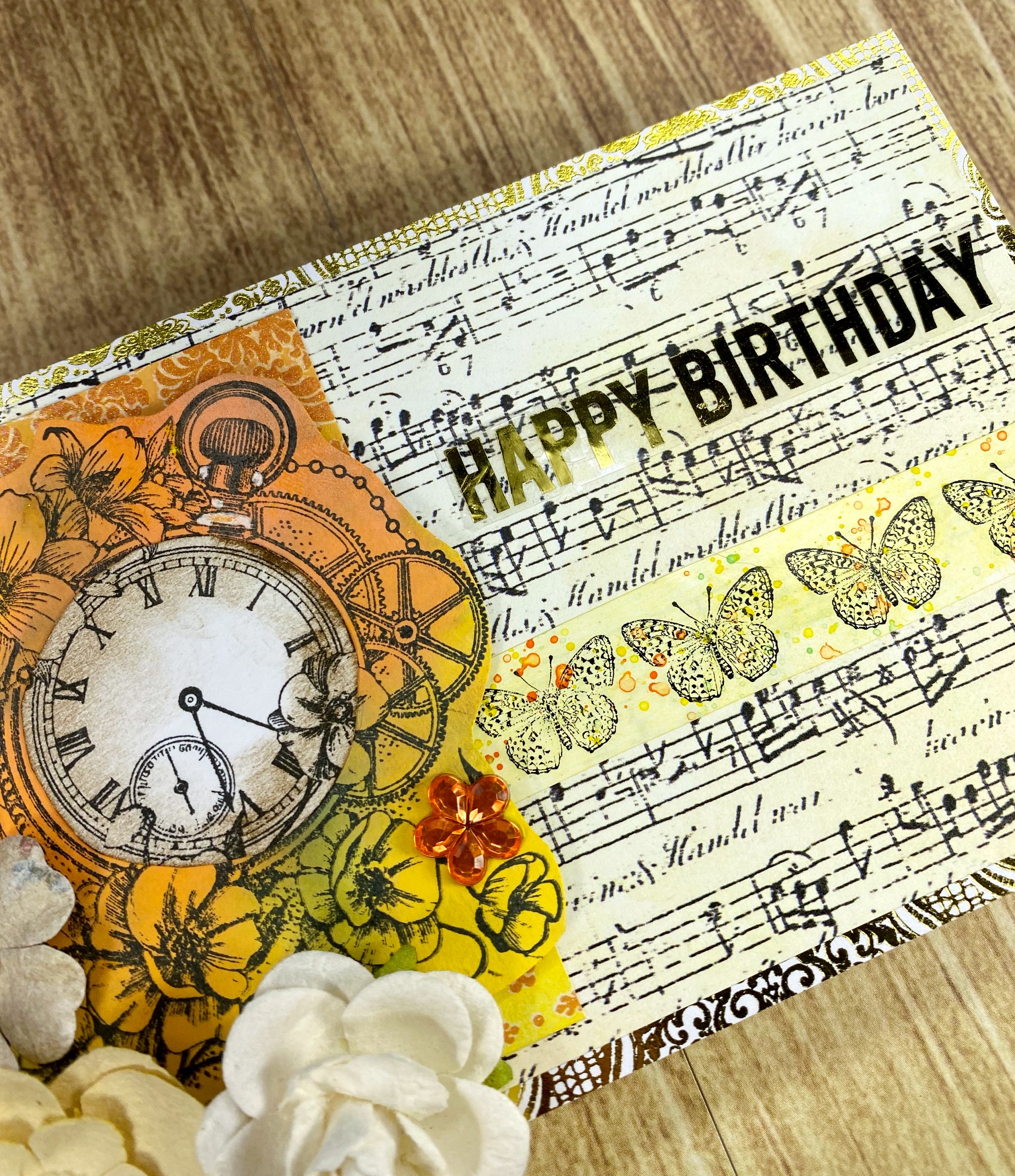 For the birthday card example above, I stamped the butterfly border in black StazOn ink. Using a water color brush and watercolor paint, I splattered ink drops onto the strip. Hint: hold your left index finger above your paper and gently tap the water color brush (neck of the brush) against your finger. This creates a nice "splatter" pattern of paint onto your surface.
Once the watercolors dried, I applied yellow Memento Dew Drop ink with a sponge dauber onto the surface of the tape.
Also, featured above is our Blossom Time Rubber Stamp.
Above is a dragonfly border tape strip place onto a recipe card. The dragonfly border was stamped in black StazOn ink. Then Walnut Stain Distress Ink was added on top with a sponge dauber to match the vintage recipe card background.
Also, featured above is our Strawberries Rubber Stamp. This card is ready for a Strawberry Shortcake recipe!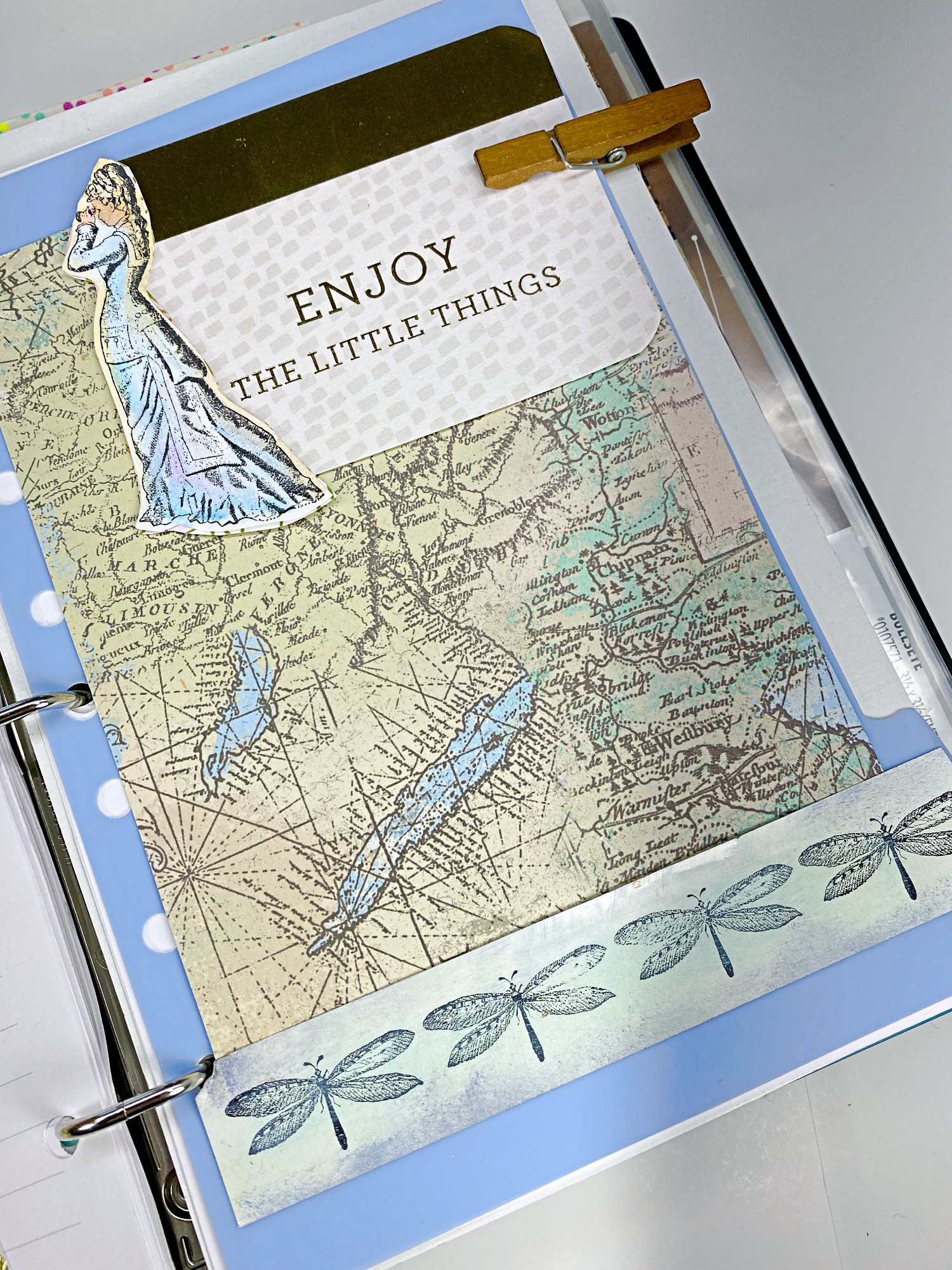 Above is a journal page that also features a strip of dragonfly tape. Distress oxide ink was added to the surface after stamping the dragonfly border.
The vintage girl in the top corner is our Victorian View Rubber Stamp.
Making your own tape out of label paper creates beautiful embellishments that you can add to almost any paper project, even a handmade card!