Posted by Susan J. Deep Red Stamps on Dec 5th 2022
In addition to the many dog stamps we have for the Christmas Season, we also have cat rubber stamps! We have a cute cat dressed in a postal uniform, called "Litter Carrier". We have a stamp called, "Meowy Christmas" where the cat is wearing reindeer ears. Here are some handmade cards that have feature an adorable cat as the focal point.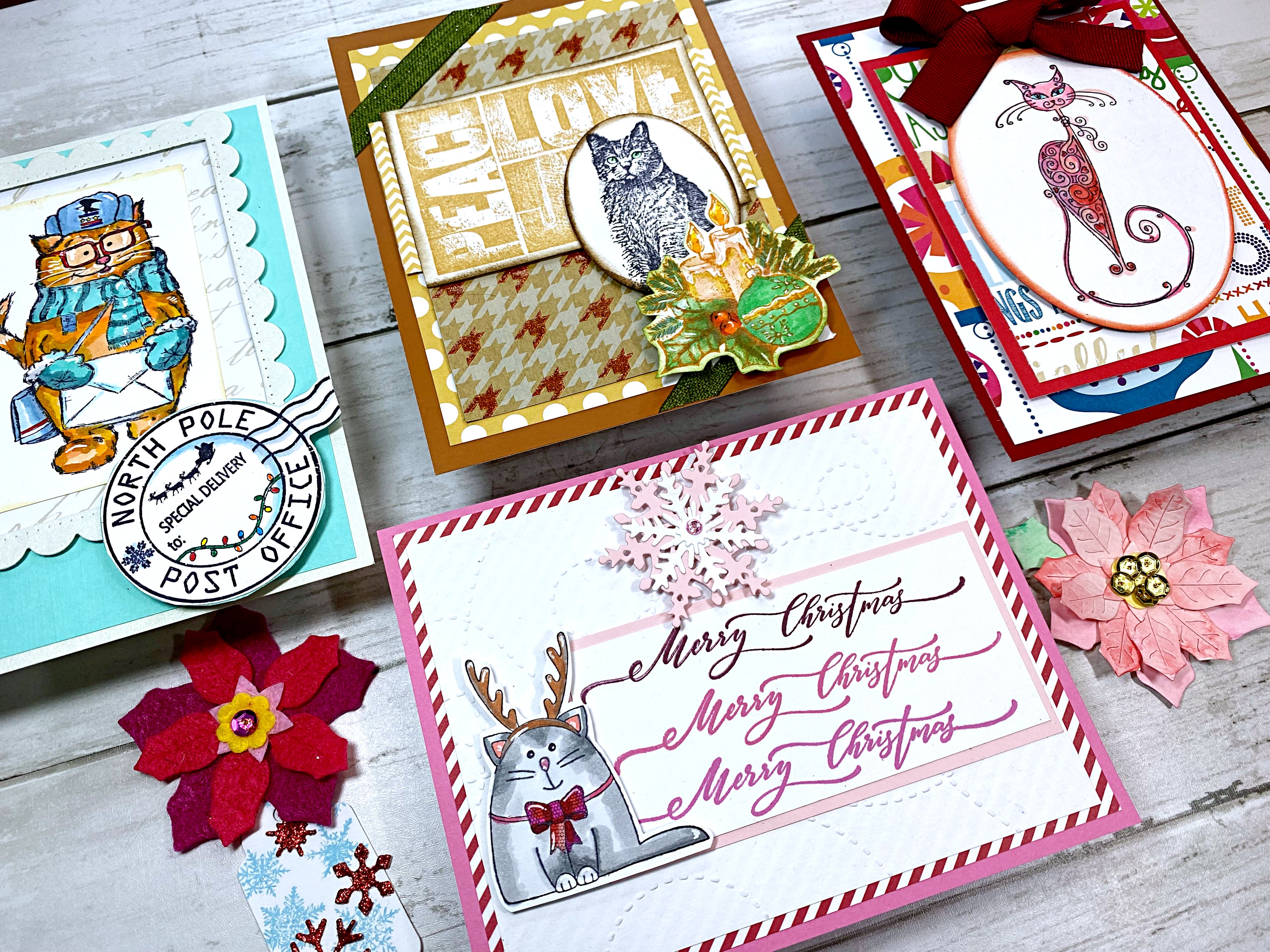 With the right coordination of colors, Christmas cards can be any color theme. You don't have to stay with traditional reds and greens. We use pinks, turquoise and browns in the cards featured below.
1. Meowy Merry Christmas Card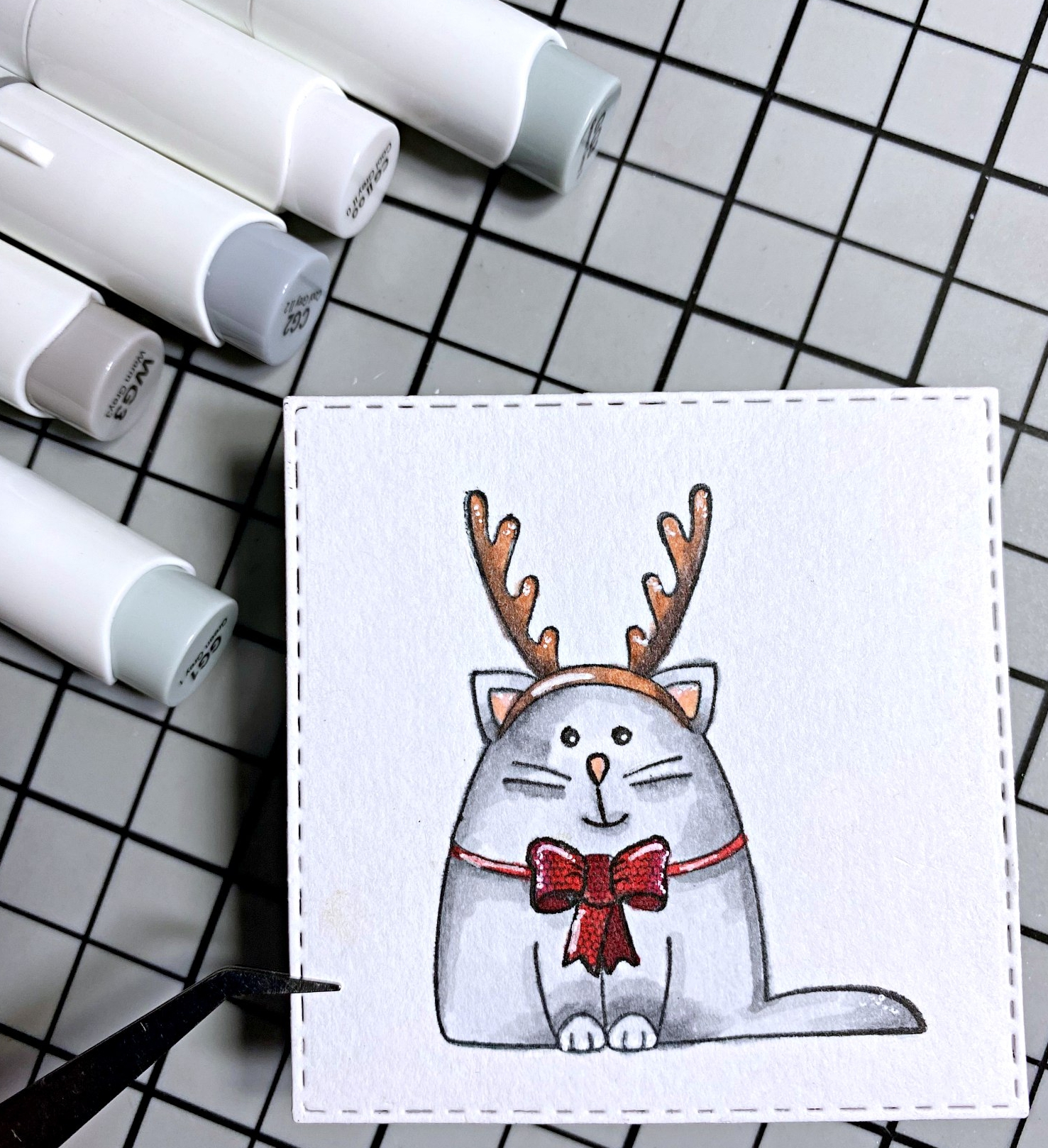 Above is our Meowy Christmas Rubber Stamp colored in grey shades because grey cats are super cool.
The words, "Merry Christmas" are stamped 3x in various pink shades. The text stamp is from our large collection, Jolly Christmas. As you can see, I had an assistant with these cards. (When I say 'assistant', I mean one who naps and purrs nearby).
---
2. Litter Carrier from the North Pole Card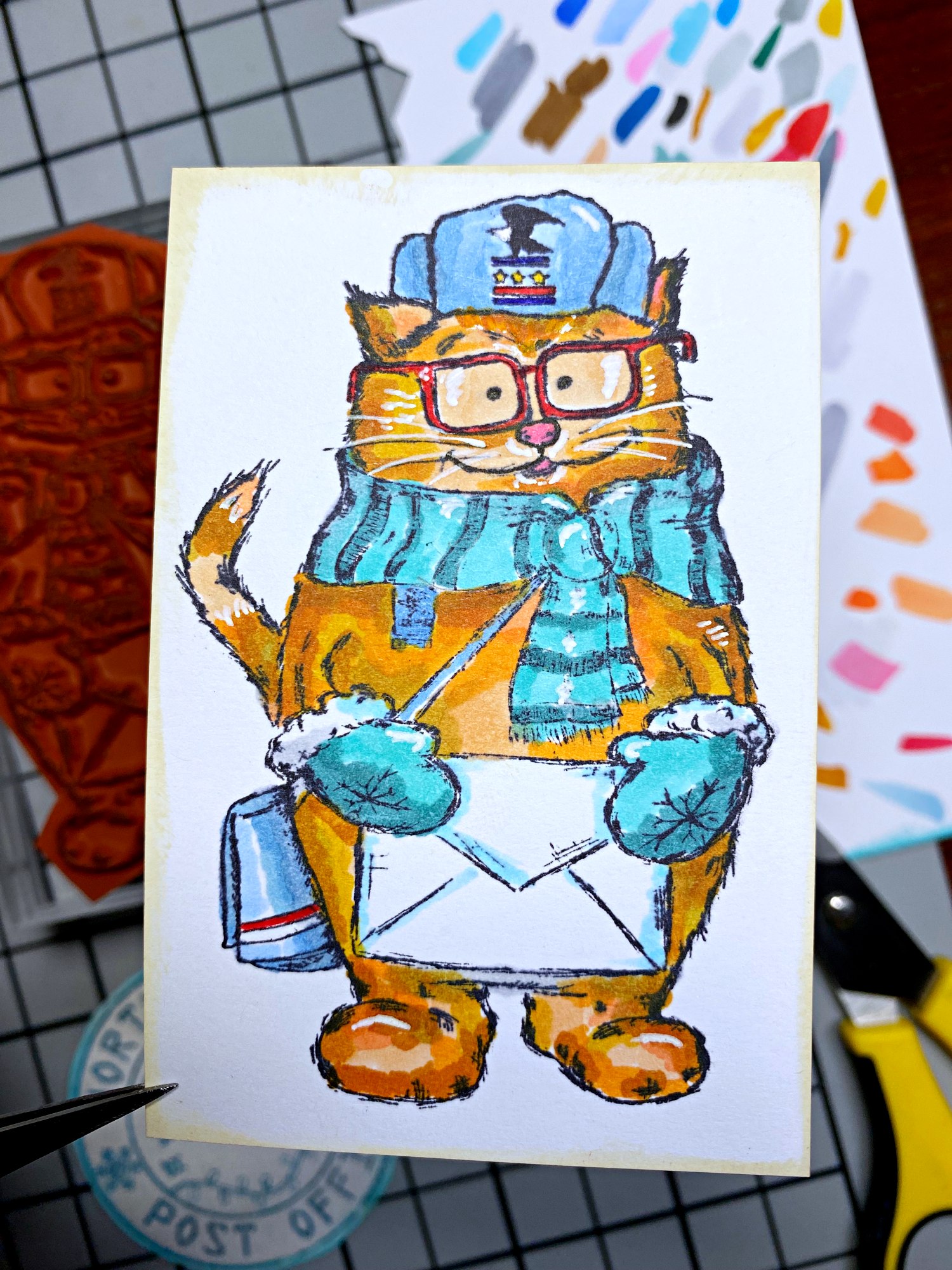 Our Litter Carrier Rubber Stamp is such a fun stamp to color. I made him an orange kitty since they are known to be super smart cats. This stamp features the official Post Office logo hat and he/she is wearing mittens, glasses and a scarf.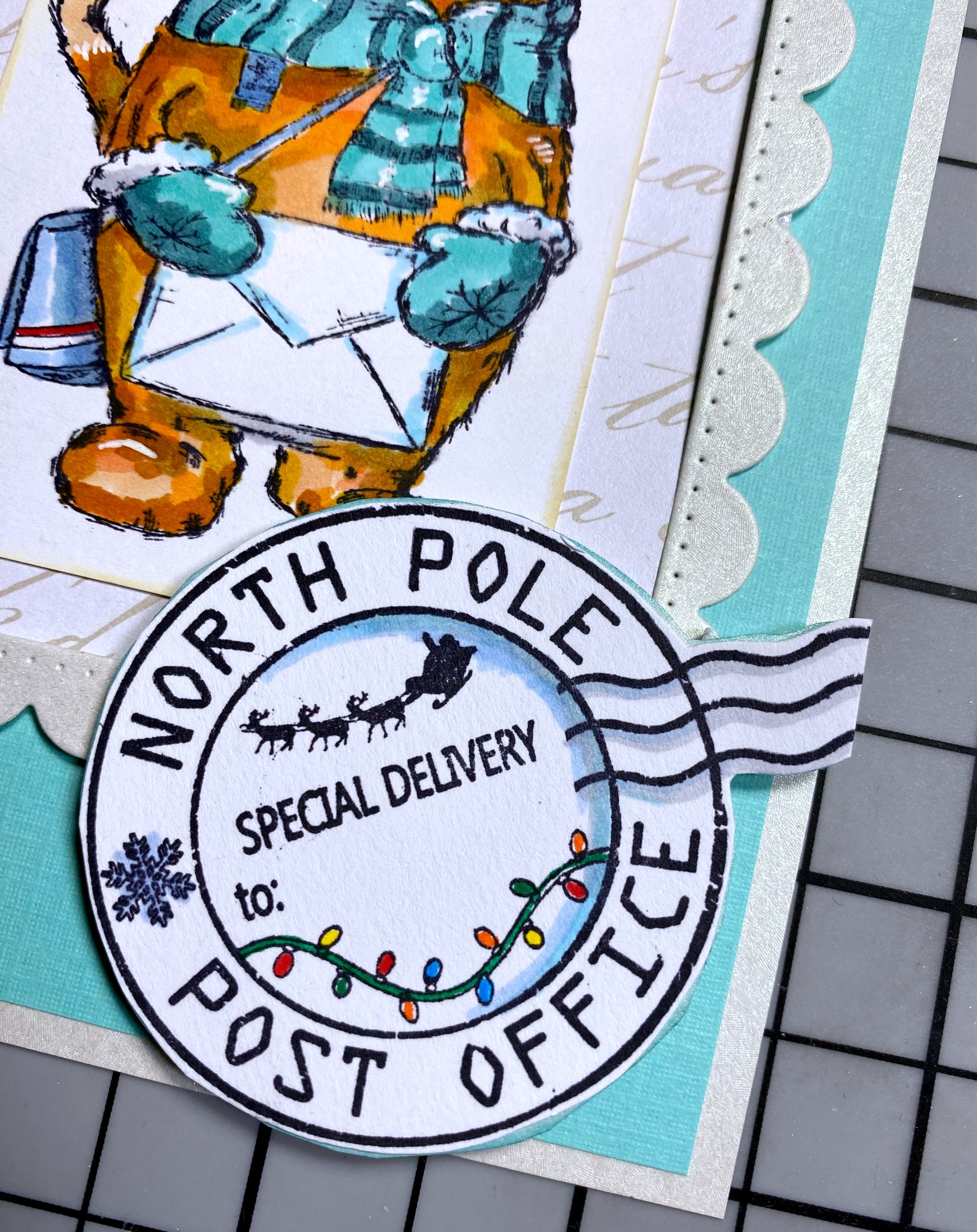 In the corner, I placed our North Pole Postmark stamp which is also in our large collection, Jolly Christmas.
---
3. Fancy Cat Christmas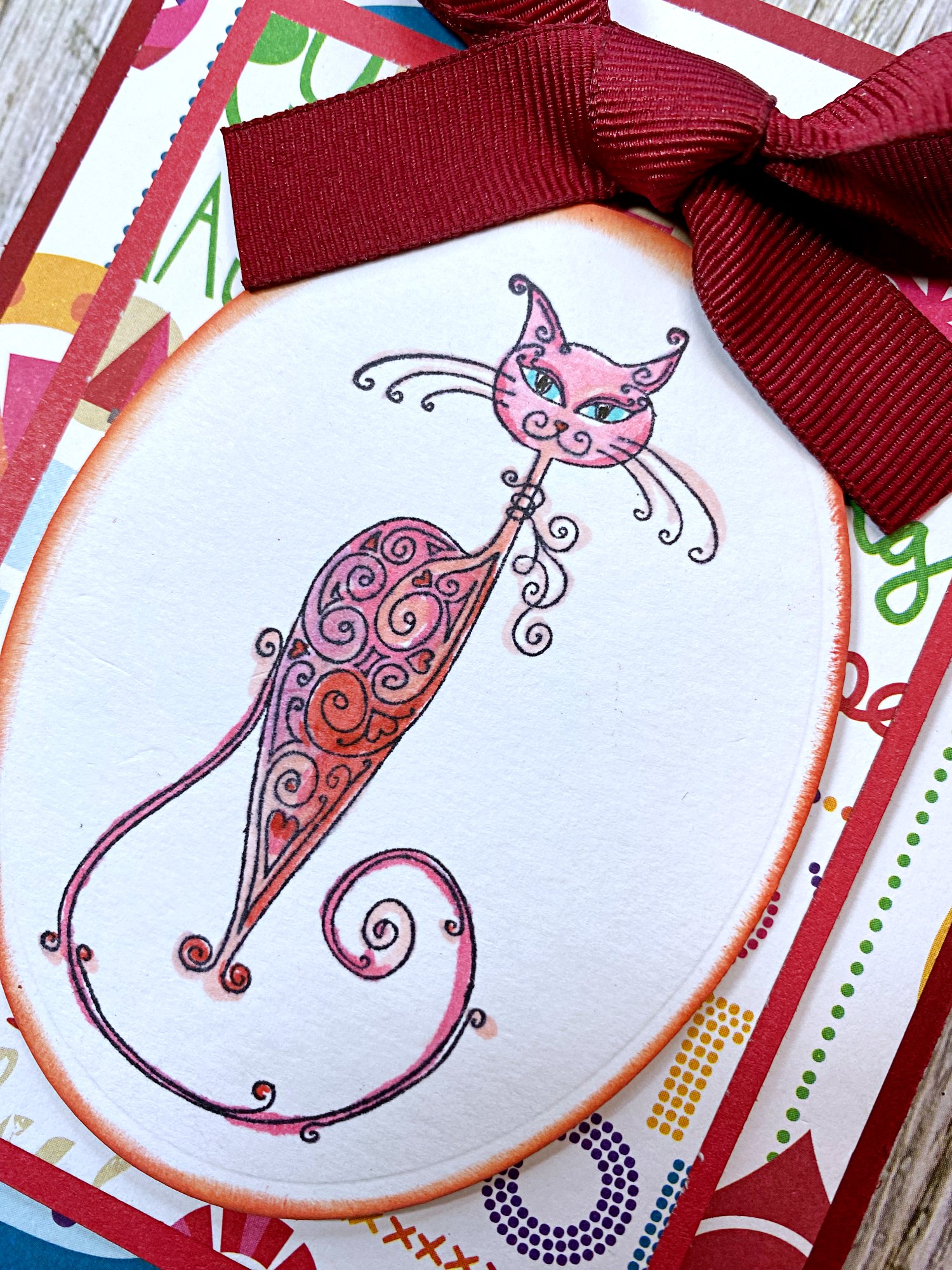 Our Fancy Cat Rubber Stamp can be used for any occassion and it looks fantastic on Christmas themed papers. I colored the design in pinks and reds to match the matte colors.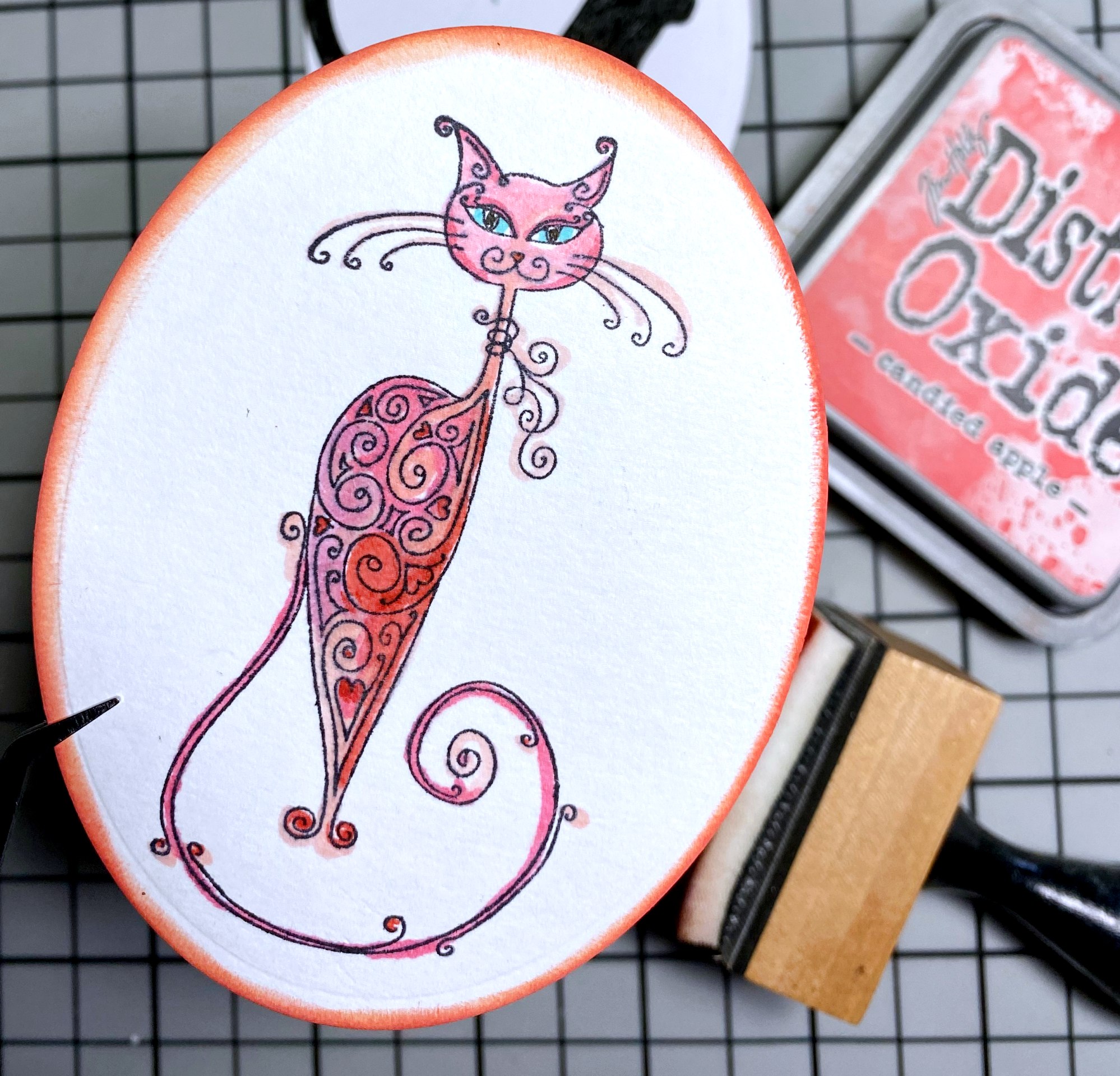 The edge was burnished with Distress Oxide, Candied Apple ink. A red grosgrain ribbon was added to the top center. Tip: Ribbons are an item that I like to purchase in person whenever I visit Michaels or Hobby Lobby.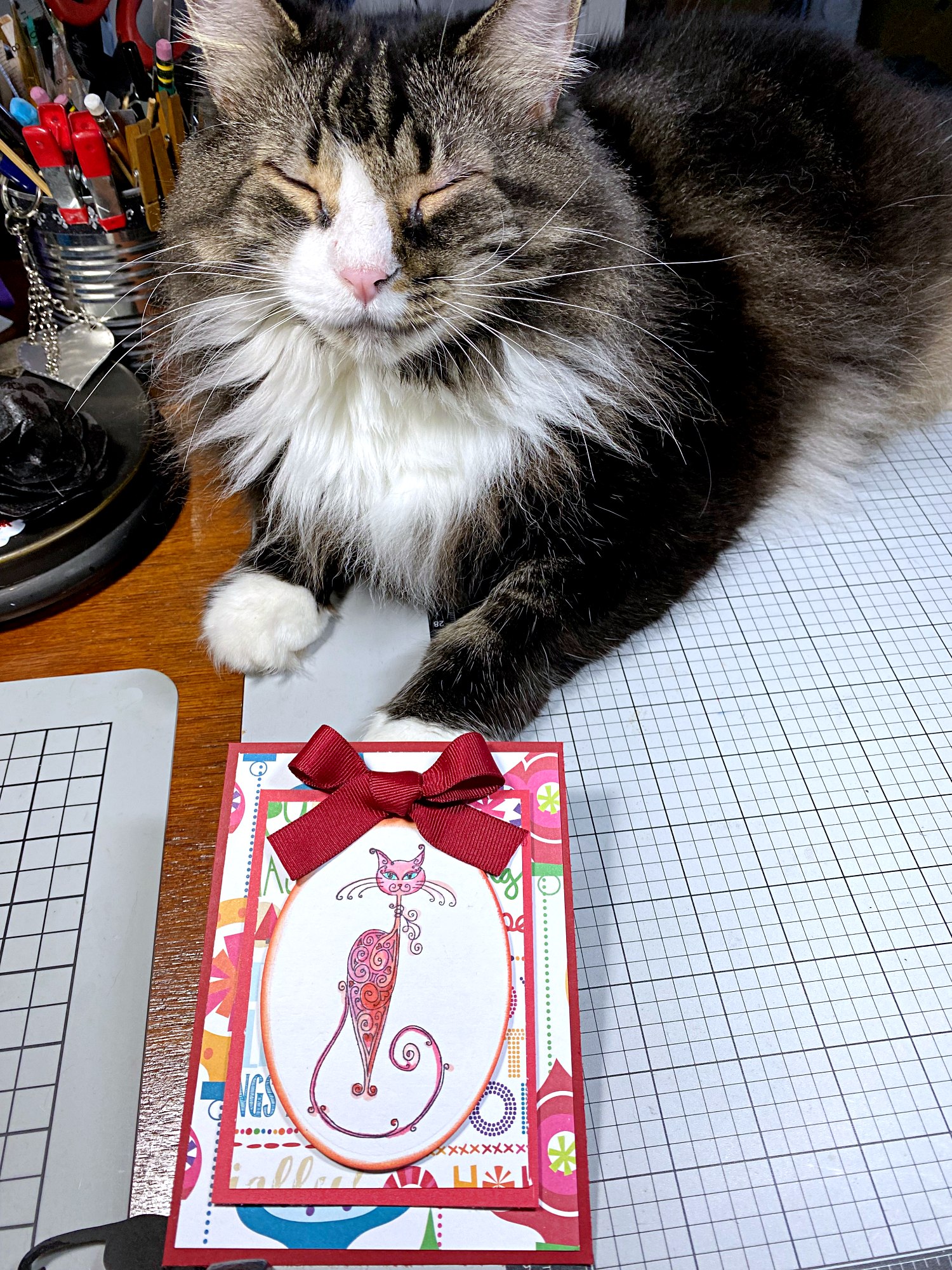 ---
4. Peace, Love, Joy Cat Card
Here is another A2 card, this time featuring a black cat.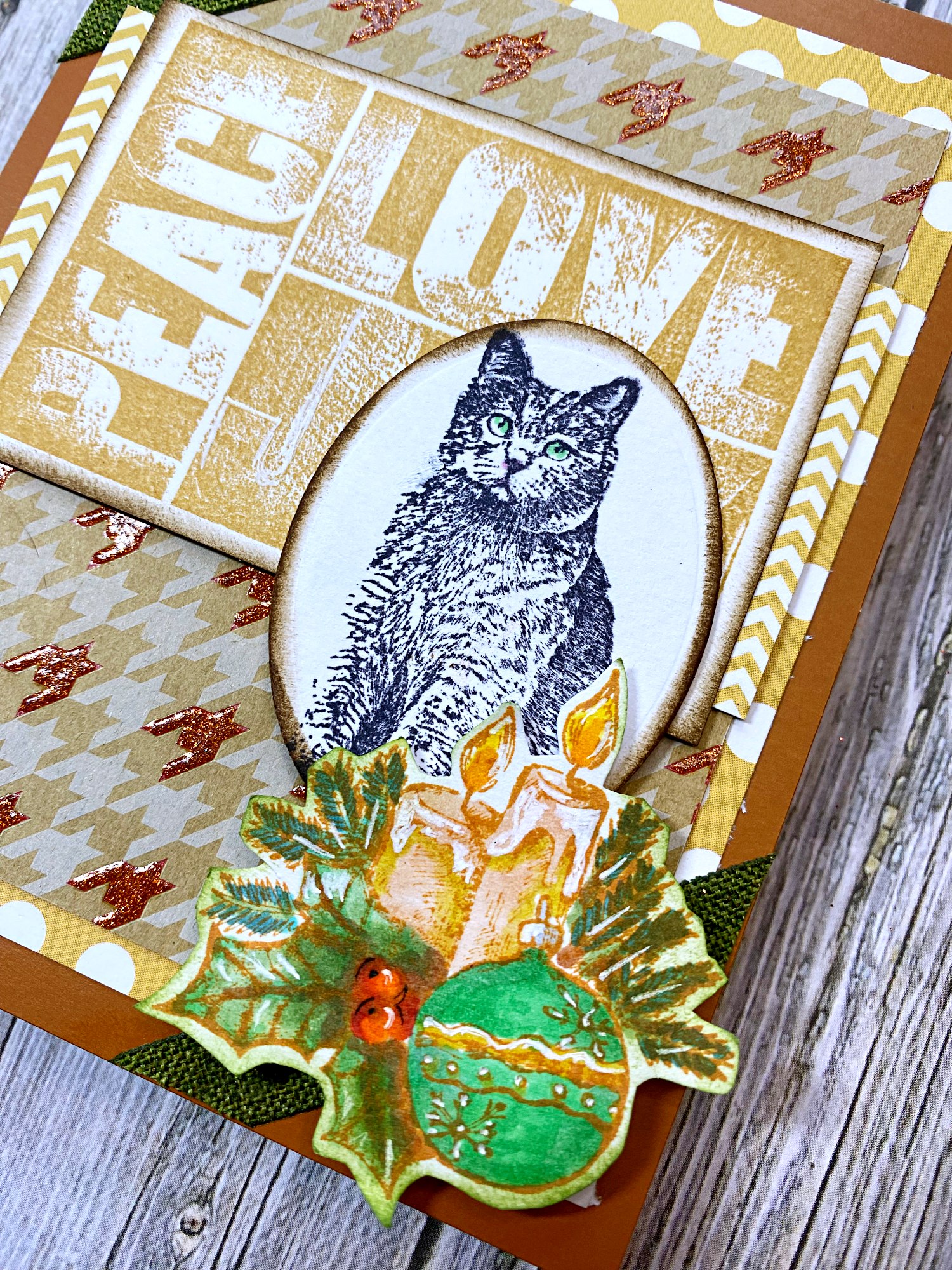 The cat stamped above is half of our Furry Friends Rubber Stamp (the other part is a dog). It is a bit tricky to cut apart the rubber stamps on this one. Instead, you can stamp it and cut out the paper or mask it with tape before stamping.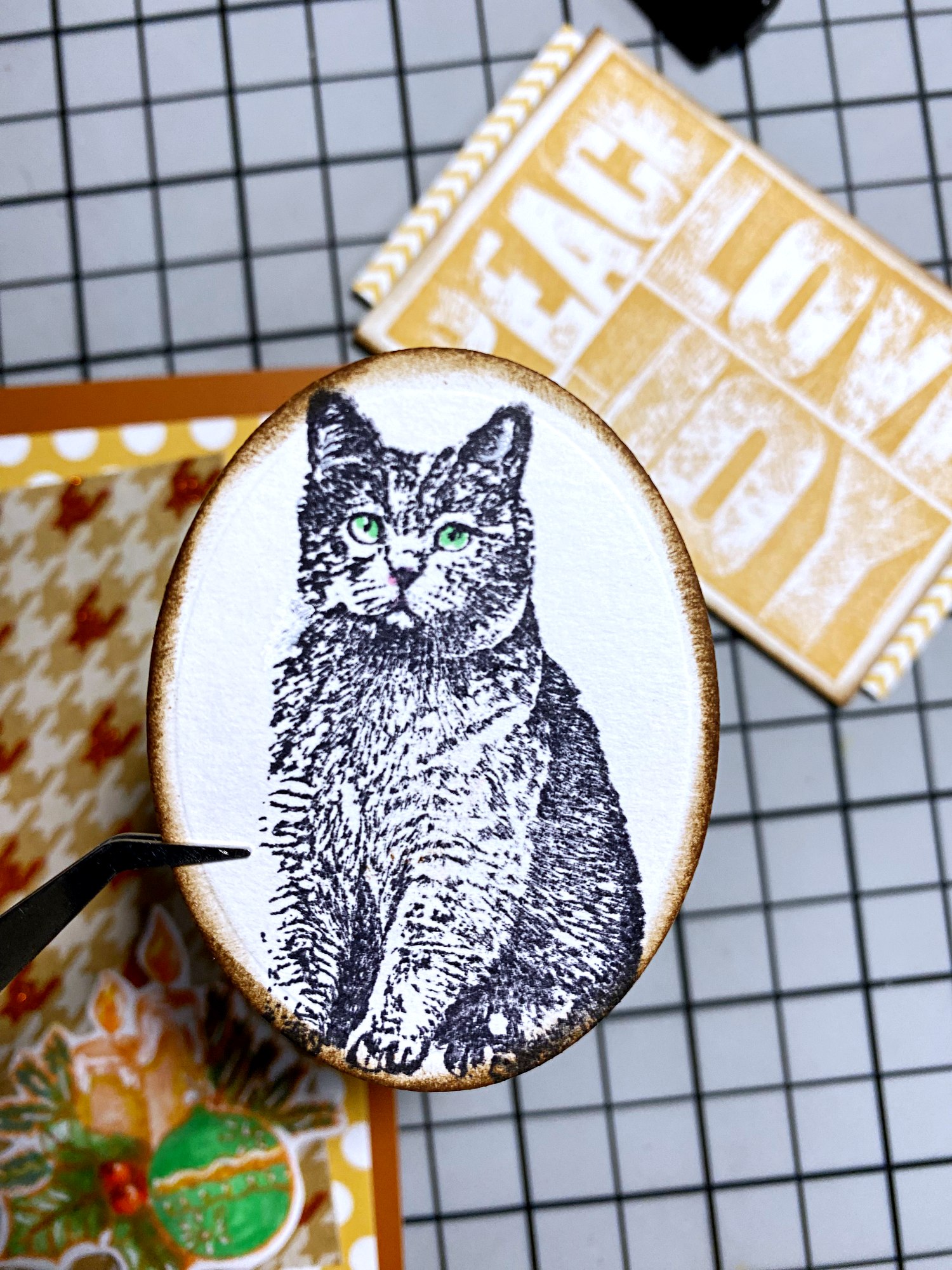 I colored the eyes a light green on the cat and made sure to use black ink to stamp with. Black cats are some of the coolest cats in the world, IMO.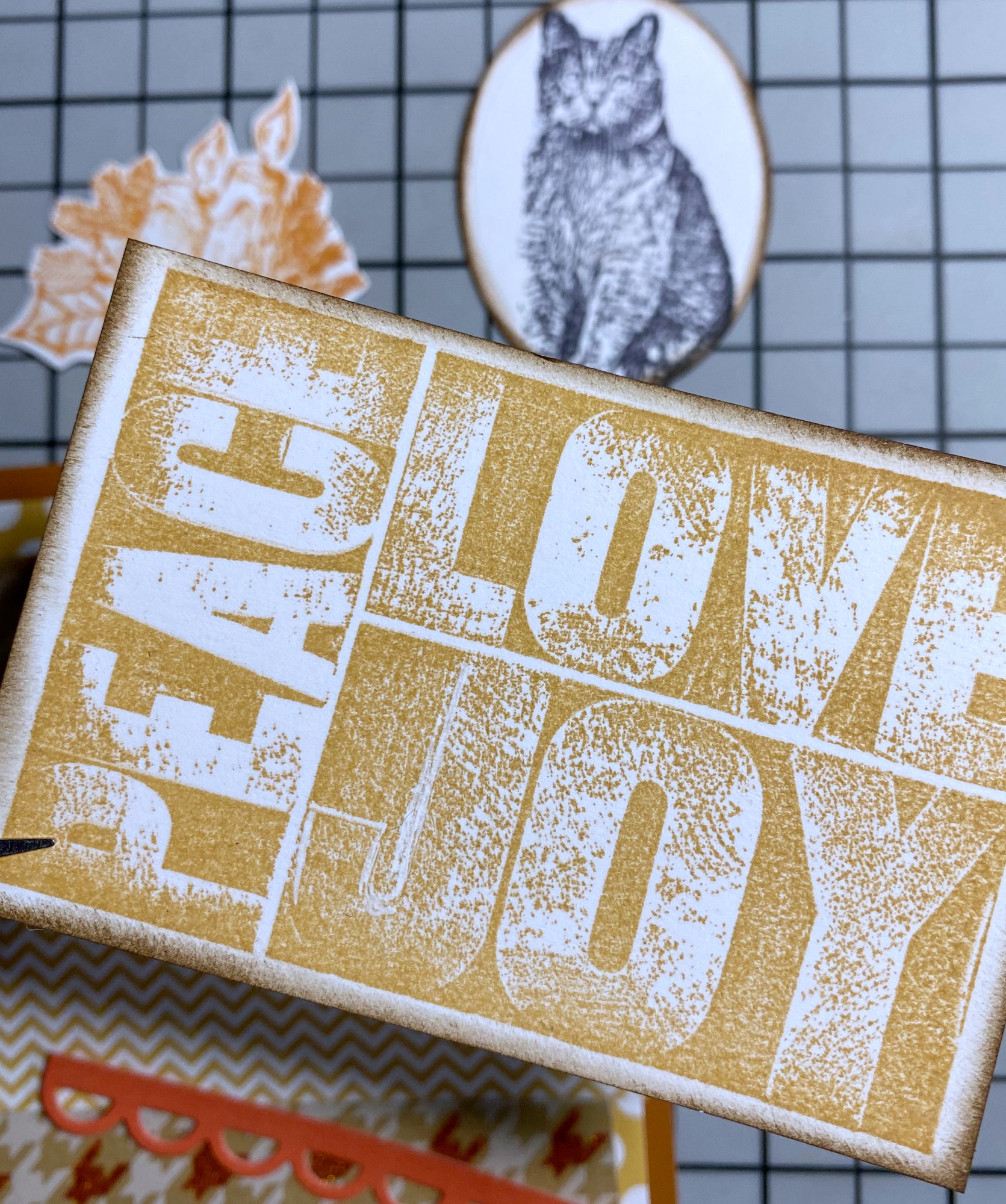 For the background center, I used our Peace Love Joy stamp from one of our other large collections, Season of Joy.
This stamp is cool and has a wood look, so it was perfect for this brown & green color theme.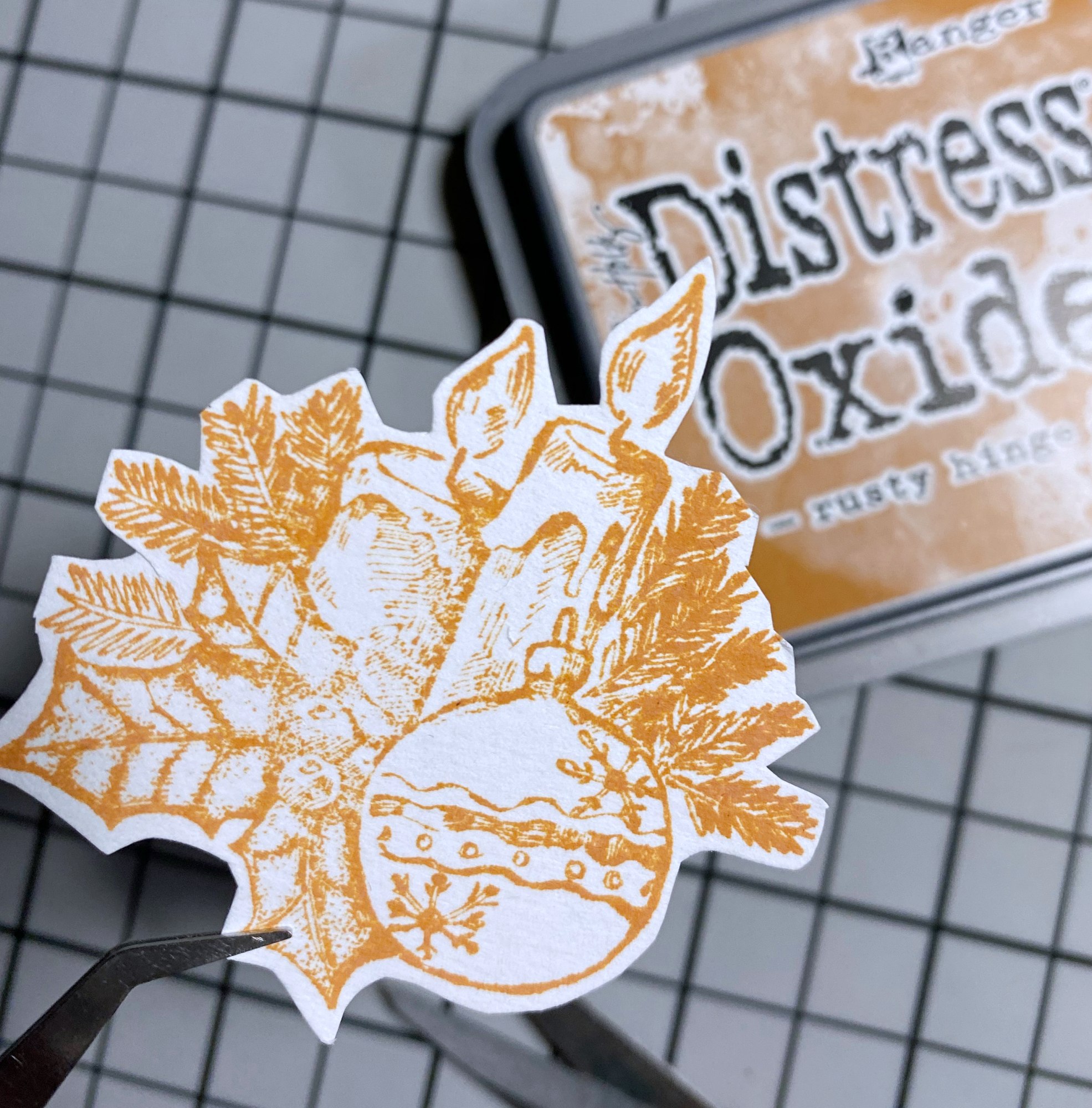 In the corner, I used our Holly Candles Rubber Stamp.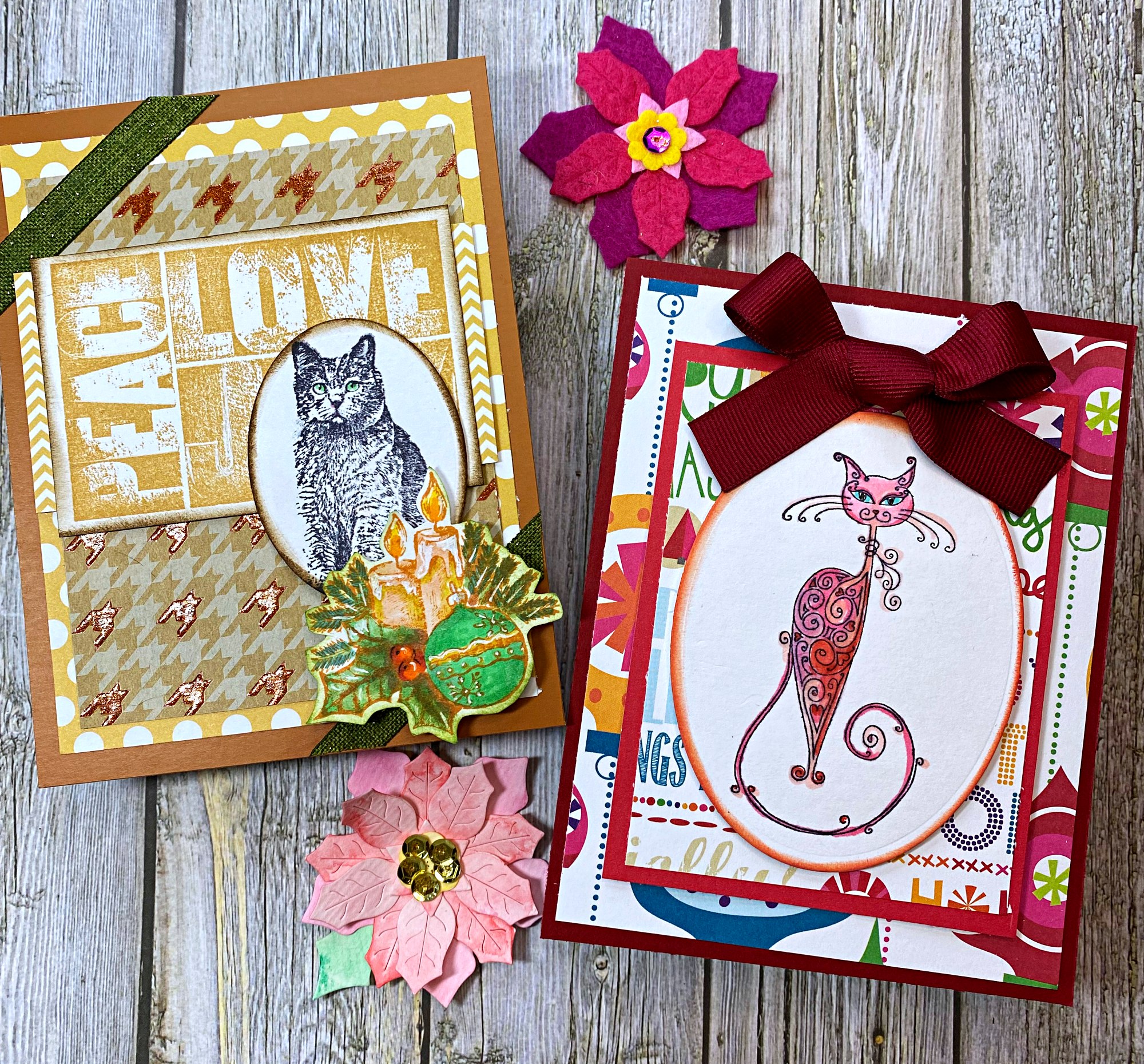 I hope you have as much fun as I did when you make your Cat Christmas Cards.