Posted by Susan J. for Deep Red Stamps on Jan 13th 2021
For those book-lovers out there that still like to go to the library or purchase books that you have to flip the pages, a bookmark is something you must have. Digital reading is convenient, but some of the most treasured items in your 'collection of stuff' end up being books that you purchased throughout your life. Using sticky notes or creasing the page to mark your place is not as much fun as having a cute piece of handmade art.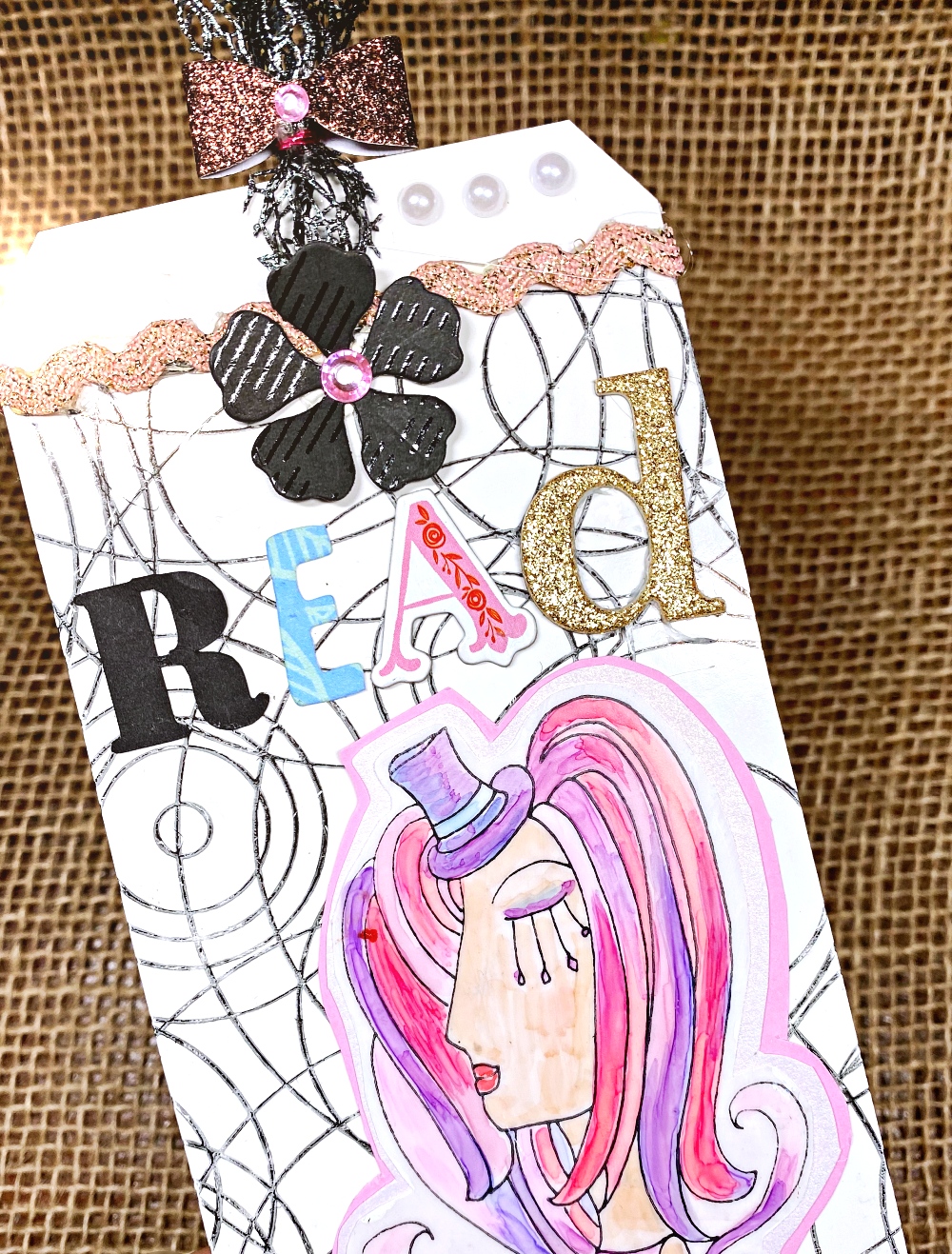 A bookmark is an awesome 'blank canvas' to create a theme. Imagine a sunflower themed bookmark or one for a music lovers that features our Spring Compilation Rubber Stamp or our Music Swirl Rubber Stamp. Use the search term, 'music' in our store and it will bring up so many beautiful designs...Music of the Heart Rubber Stamp is another gorgeous stamp for this project, it mentions both music and literature! Make your bookmarks out of chipboard or card stock, recycled packaging. You will find that almost anything goes with this project which makes it so much fun to create!
A bookmark fits perfectly in a book while you're reading and it's there for you when you need to stop and hold your place. Here is a free downloadable template that I created to make the three most common sized bookmarks, which are 2 inches wide by 6 inches tall, 2 inch x 7 inch and 2 inch x 8 inches. Also, you can always use a No. 8 tag (or any sized tag) to make a unique bookmark and it works wonderfully as well. Another reason to stamp onto something handmade, yes!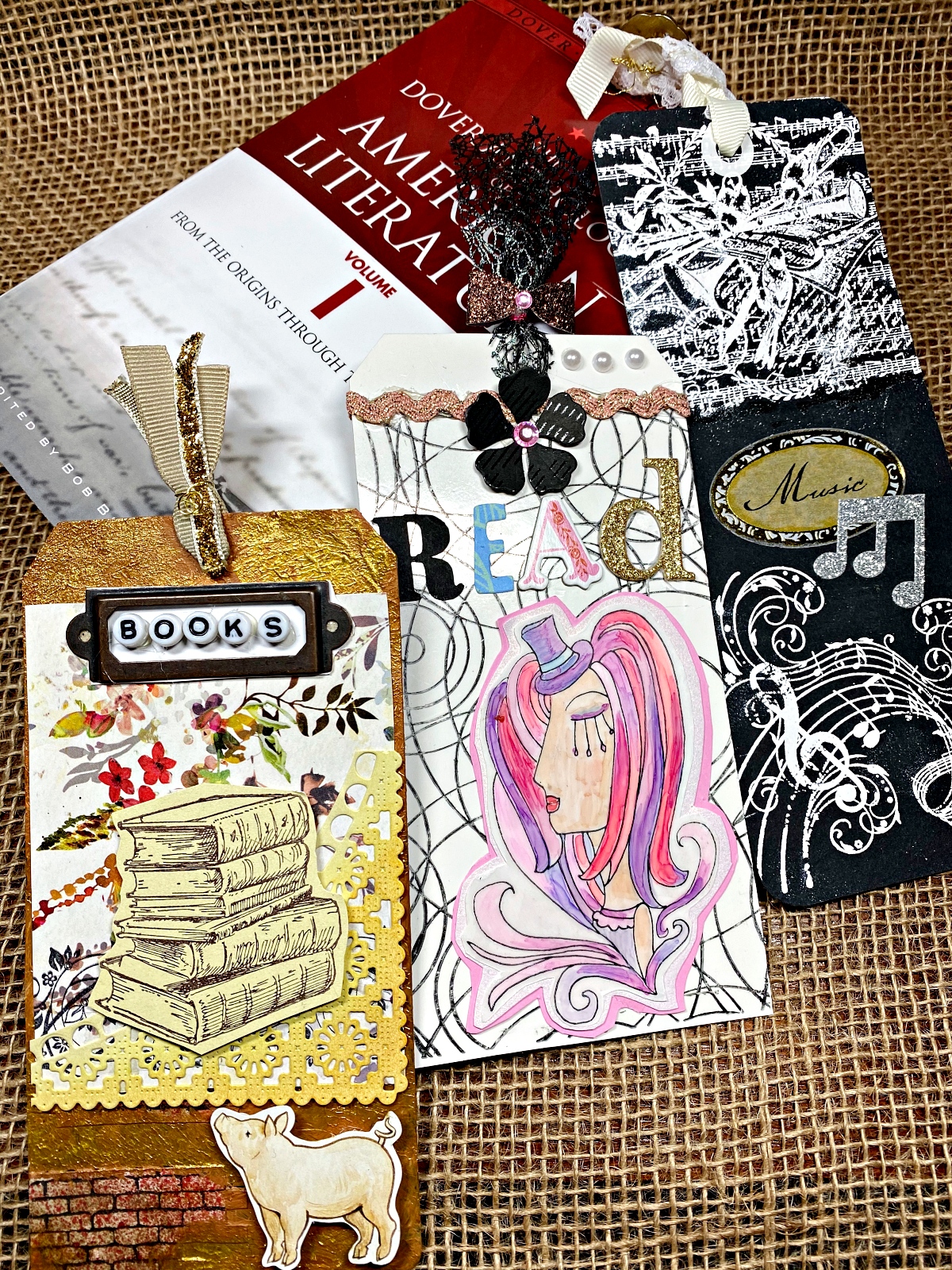 Our Library Books Rubber Stamp (seen above)or Old Books Border Rubber Stamp are excellent designs for bookmarks if you wish to make a book-like theme. Some of our larger stamps, such as Circles Background Rubber Stamp make an excellent pattern on a bookmark. Use inks such as StazOn for an instant dry on glossy cardstock or chipboard. Embossing white onto black cardstock, like in the music themed bookmark above gives it an awesome effect!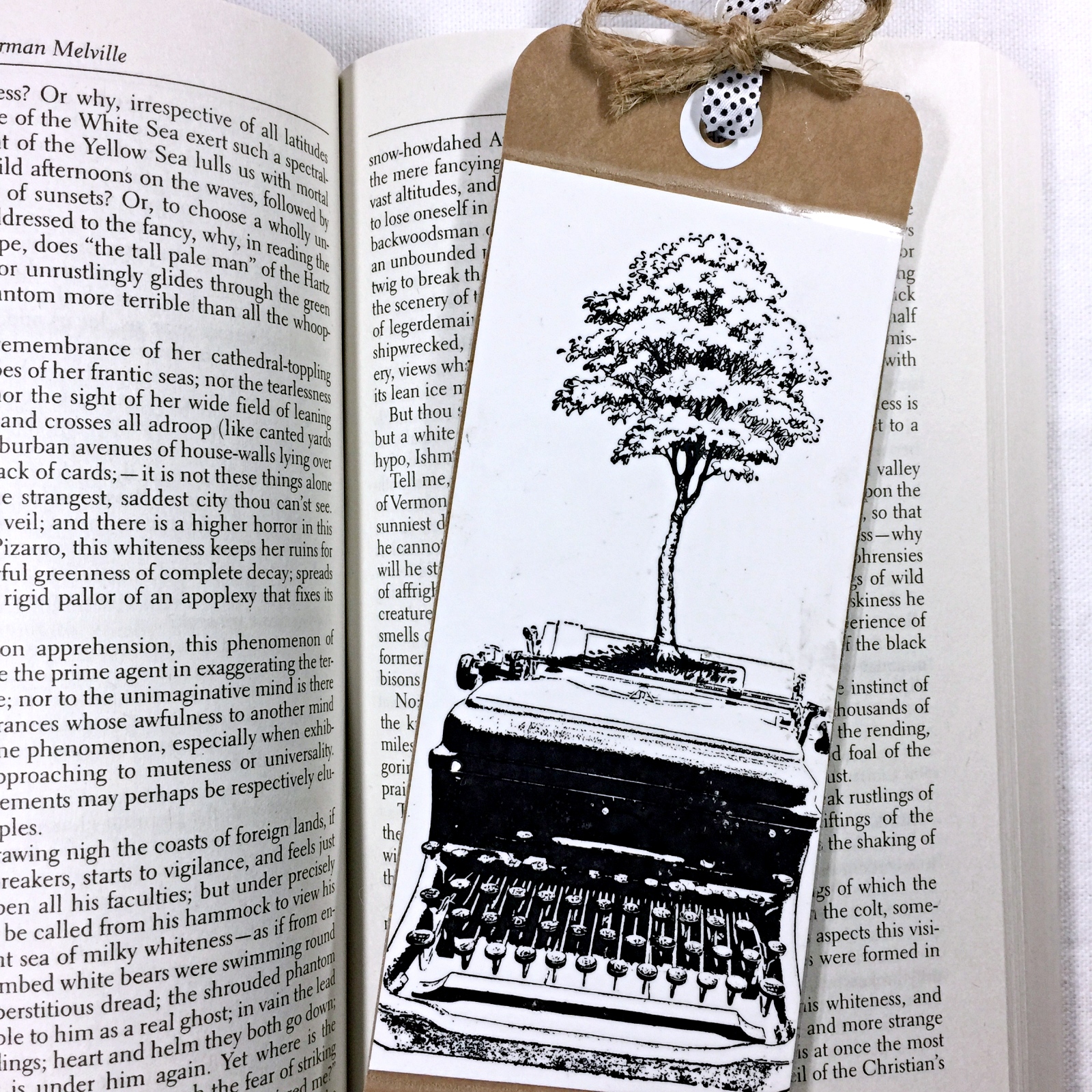 The bookmark above measures wider, at about 3 inches so it's a tag sized bookmark. Creating a neat, unique combination of stamps to make something fun with our Classic Typewriter Rubber Stamp and Cottonwood Tree Rubber Stamp. Another typewriter stamp that is smaller is our Manual Typewriter Rubber Stamp (not shown) which measures about 2 inches wide and would fit a thinner bookmark nicely.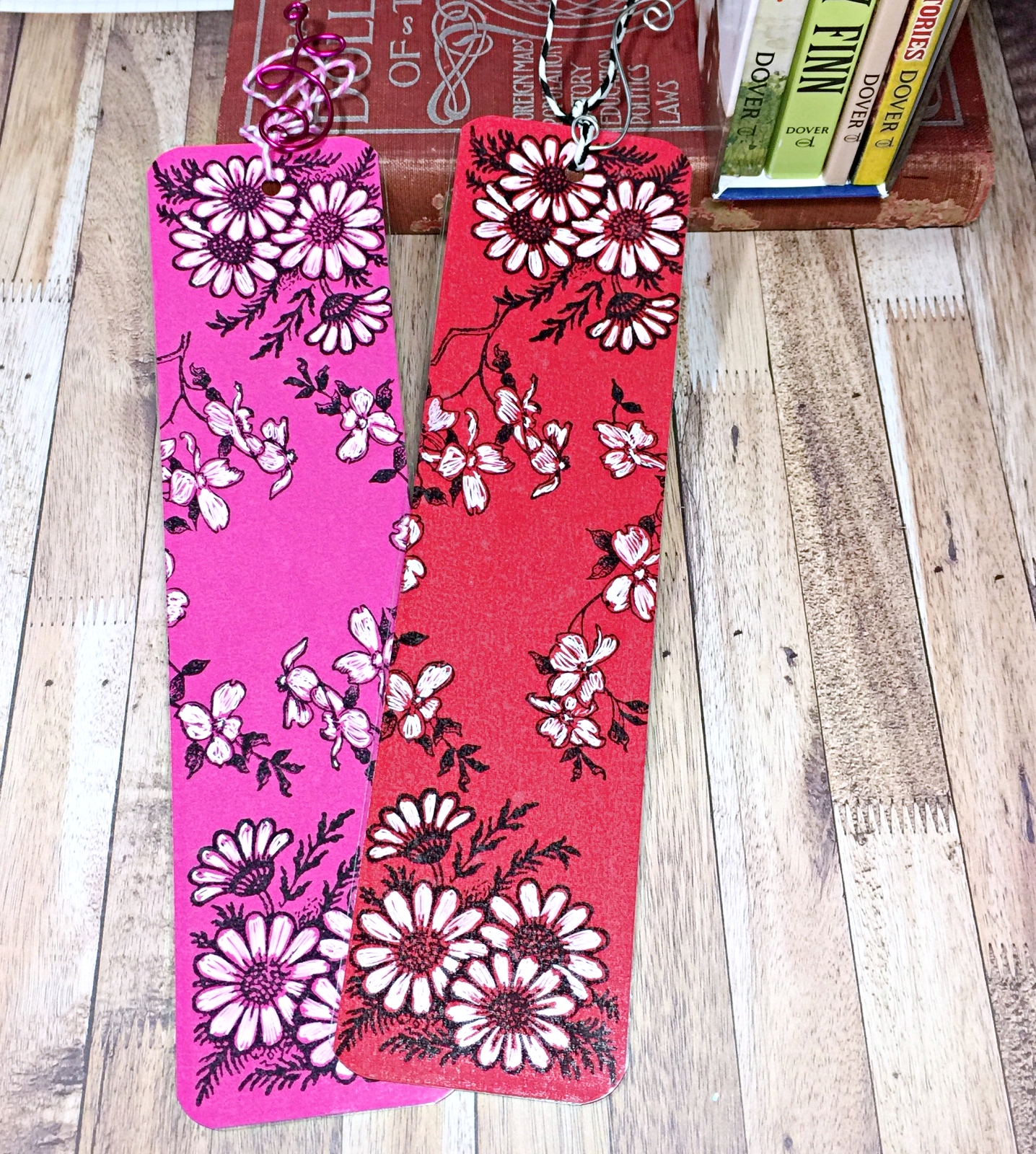 Our free template for bookmarks are sized the traditional 2 inch wide. The photo above shows 2 bookmarks that are stamped with our Wild Sunflowers Rubber Stamp and Cherry Blossoms Rubber Stamp. Stamp onto a brightly colored cardstock and color in the flowers with a white gel pen for a neat effect. If you have access to a laminator (either hot or cold), your bookmarks with have an everlasting feature.
Hint: keep thick embellishments towards the top of the bookmark so the reader can leave that part sticking out of the top of the book.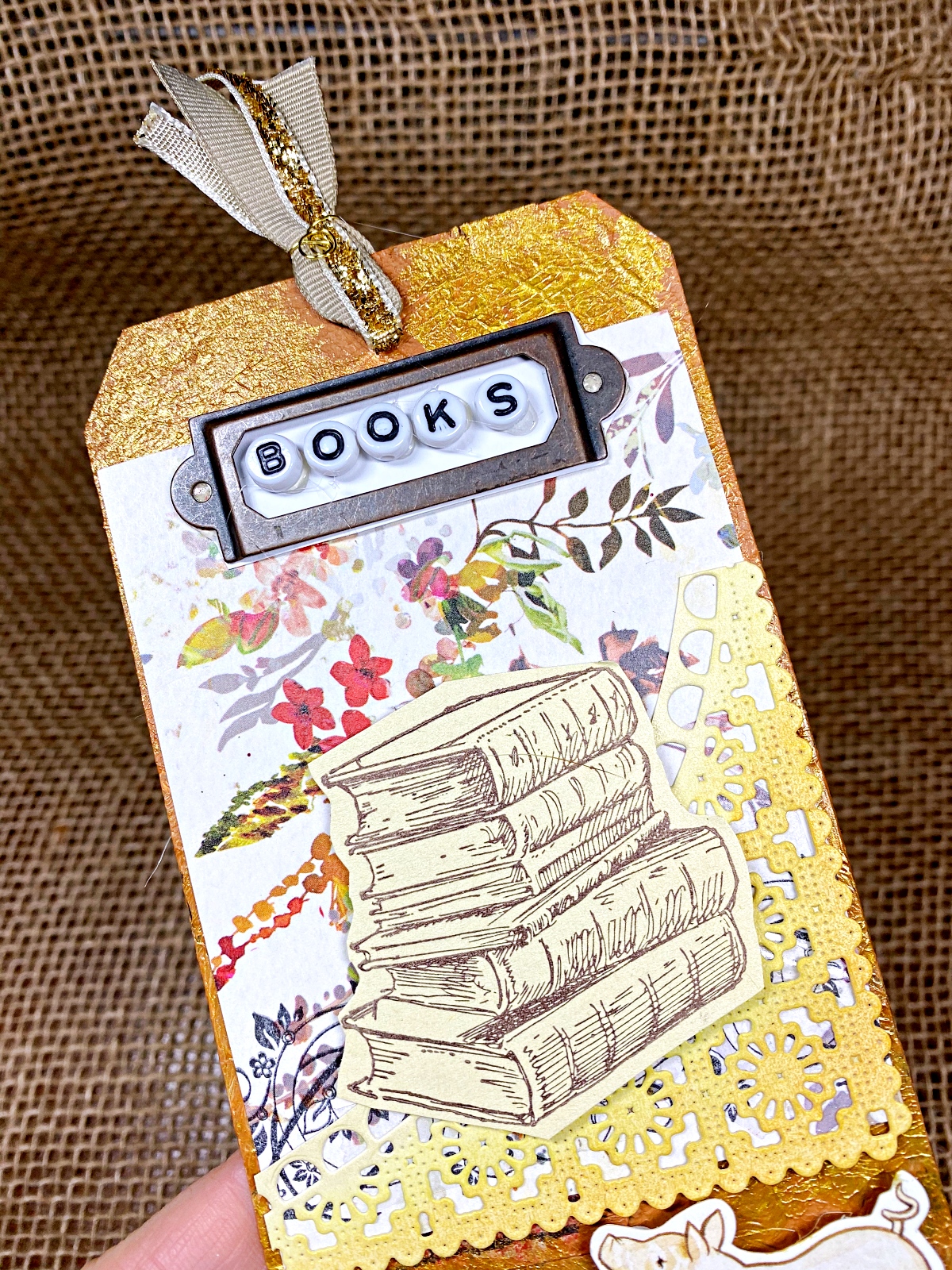 I hope you have fun creating bookmarks. Other uses for bookmarks could be to have several for a cookbook to mark your favorite recipes or make some to give to your friends. Be sure to make some for yourself so you'll never feel guilty folding a page corner again!