Posted by Susan J. Deep Red Stamps on Nov 7th 2021
Our many animal stamps include several that are perfect for a safari themed project. We created a printable template of the continent of Africa that you can stamp the African Elephant, Lion, Gorilla, and of course, our Safari stamp.
The beauty of the African Continent can be seen in movies like, Out of Africa (1985), Gorillas in the Mist (1988), Love on Safari (2018), and Holiday in the Wild (2019). There's something special about the nature and atmosphere in Africa that makes planning a trip there seem extra exciting.
Below is a link to download the free template which includes other fun graphics like vintage binoculars and safari hat.
Now, let's create a few projects that will bring you closer to the Lions in the Sahara, Giraffes in the Serengeti and Gorillas in the Congo Forest from the comfort of your home or classroom!
https://www.jpsdigital.com/deepredstamps/downloads...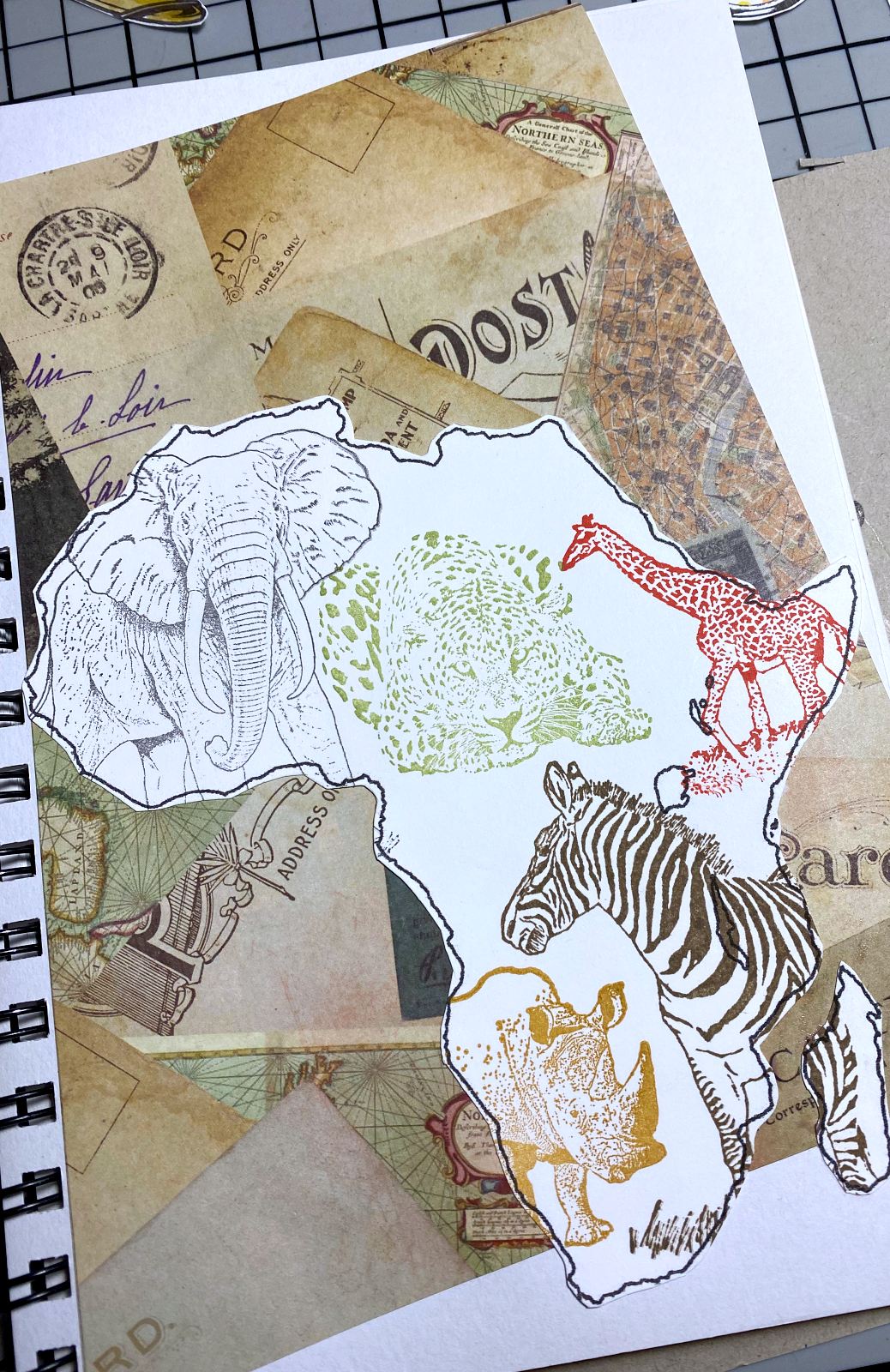 Print out the template from your home computer. Do not cut anything out yet. You will be stamping first, then cutting later.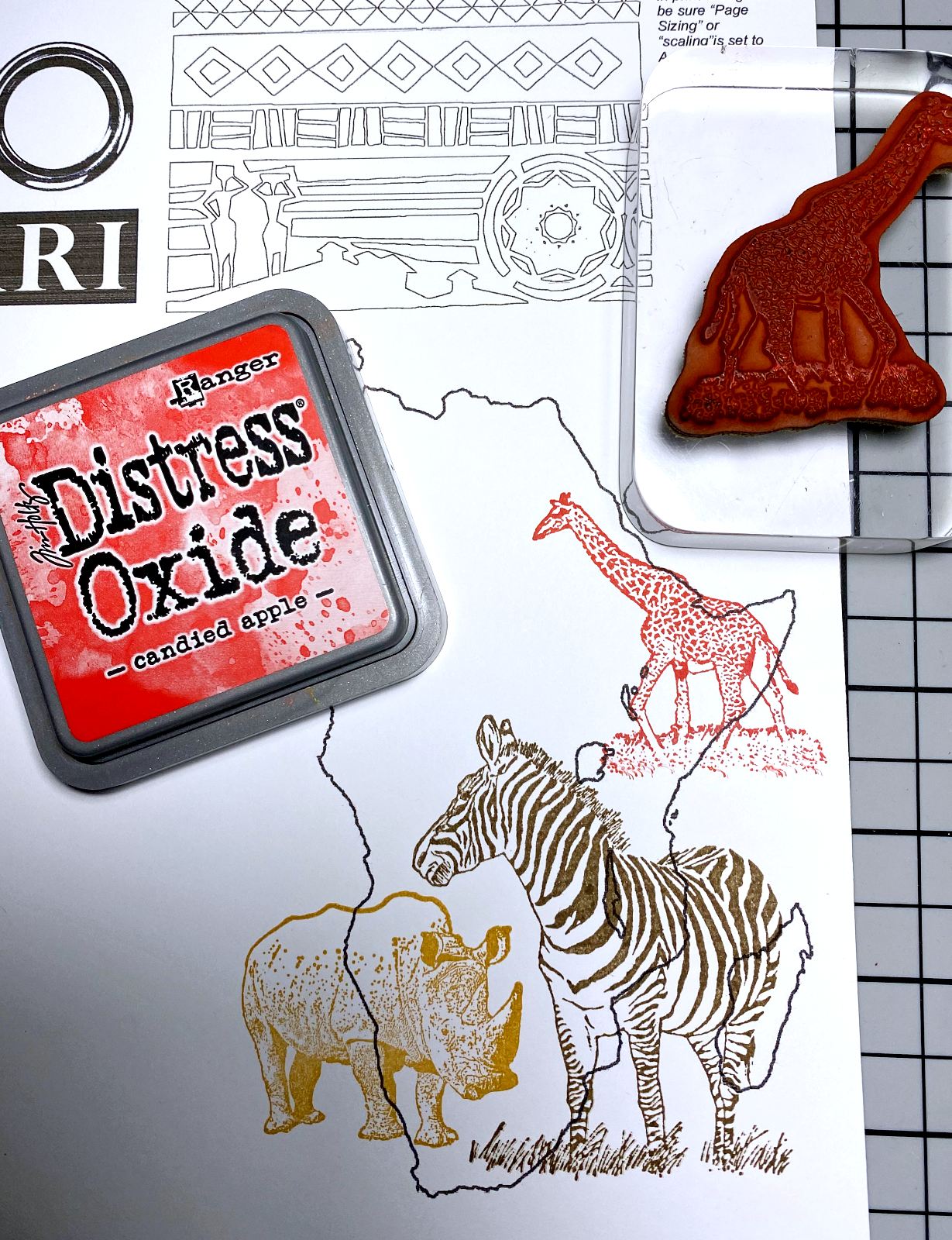 Starting at the bottom of shape of Africa, stamp the
Zebra Rubber Cling Stamp, then
Rhinoceros Rubber Cling Stamp, and then
Giraffe Rubber Cling Stamp. Use different colors for each or the same...it's up to you!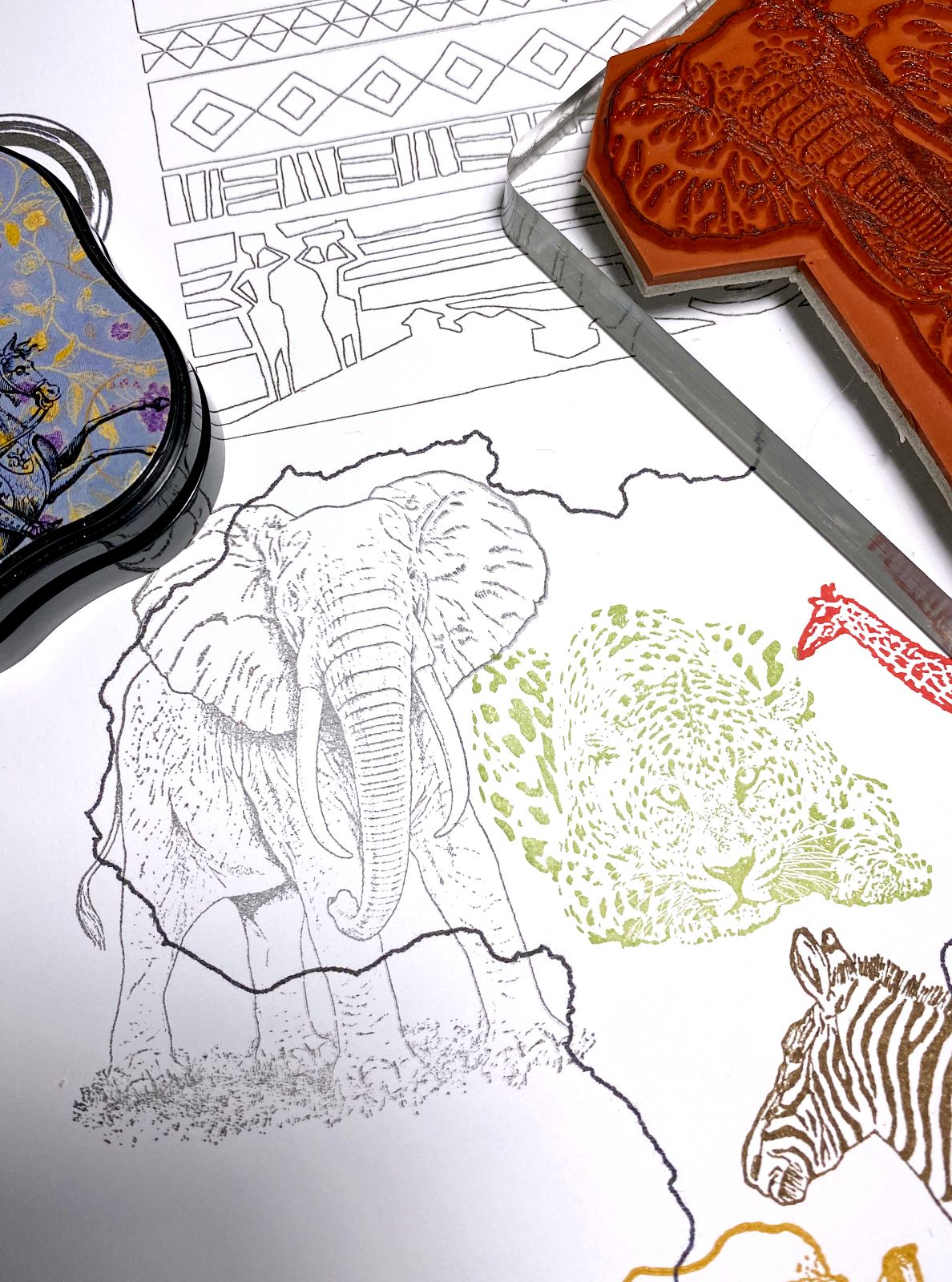 I then stamped African Elephant Rubber Stamp and Leopard Rubber Stamp to fill in the rest of the top part.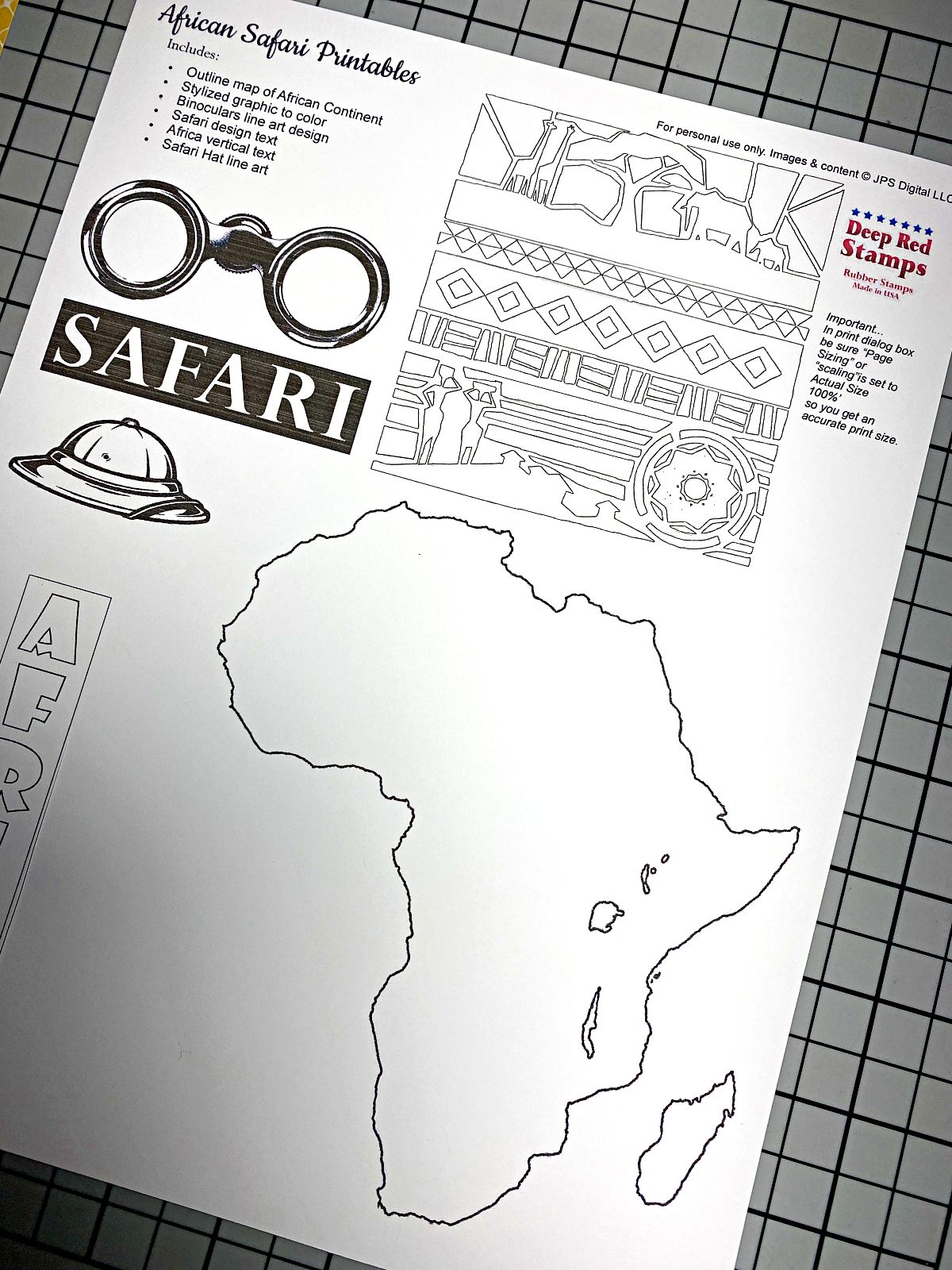 Click on the photo above to download the free printable template. Extras include several text blocks, vintage binoculars, and a tribal artistic background to color and use in your projects.
Once you have stamped which animals you want on there, cut out the shape of Africa.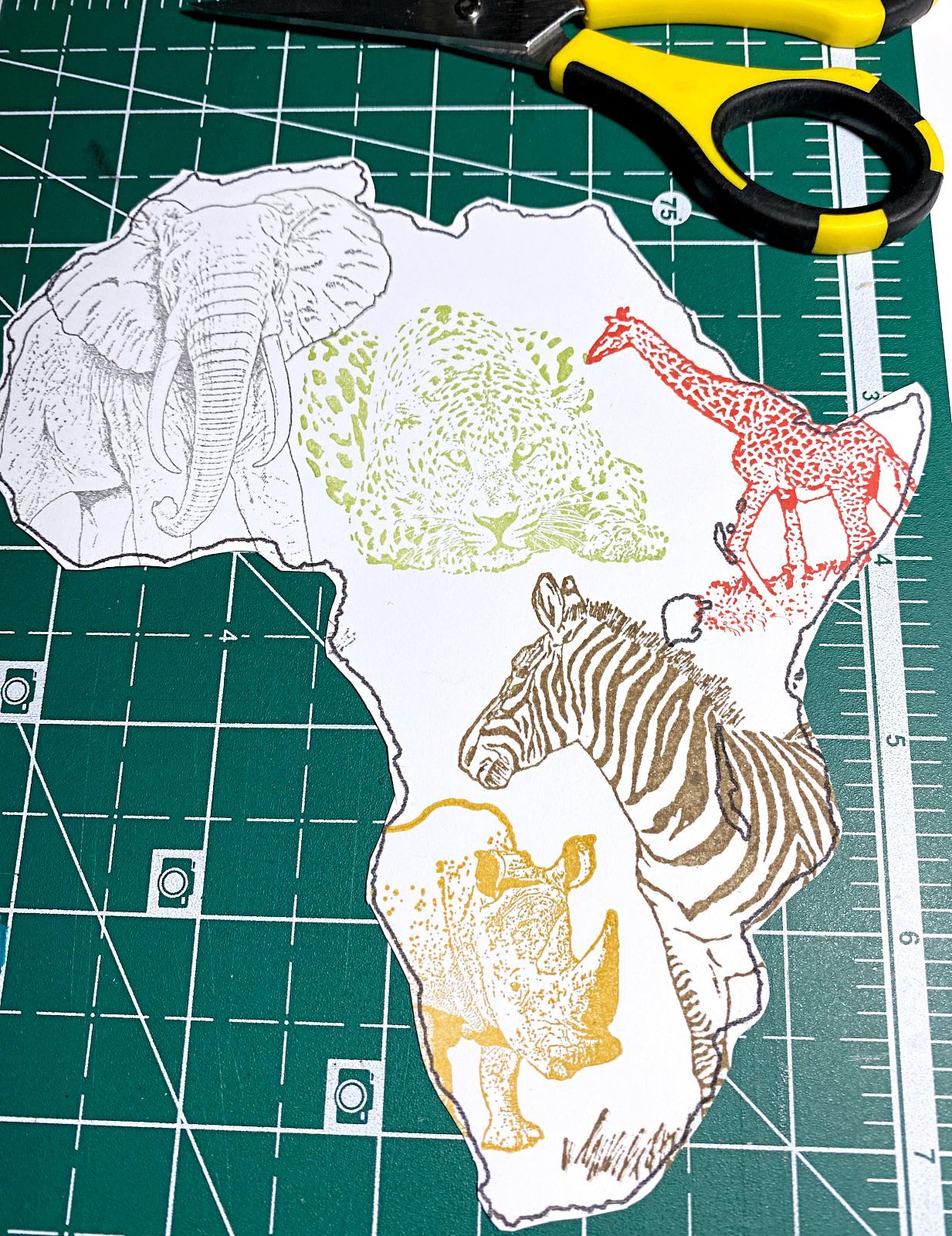 Now you are ready to place this onto a card, journal page, etc.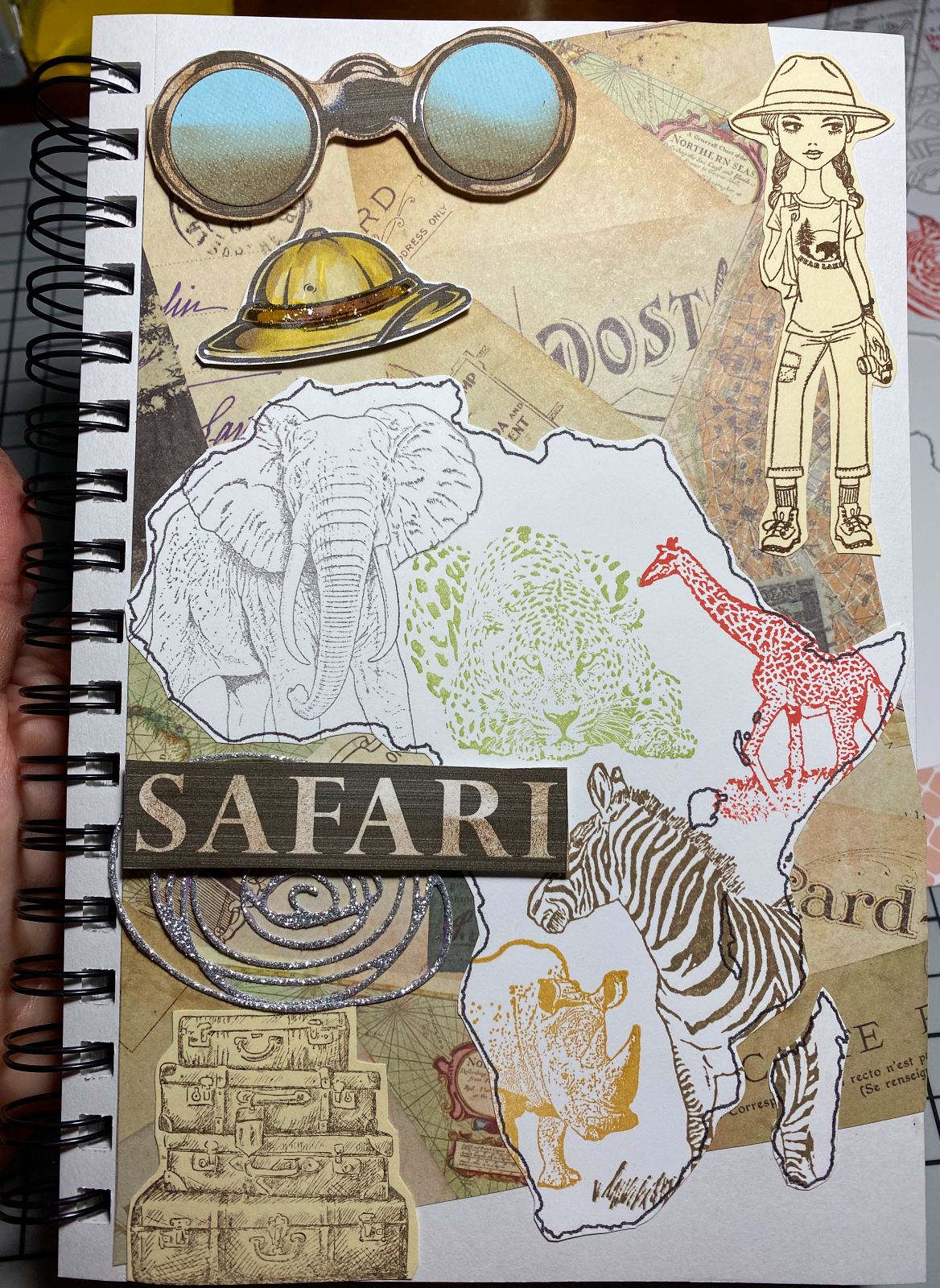 The Luggage Rubber Cling Stamp and one of the City Girls from Traveling in Style (upper right) go perfectly with the safari theme. For the binoculars print, I die cut 2) 1 inch circles out of blue textured cardstock and added brown ink with a sponge in the bottoms portions.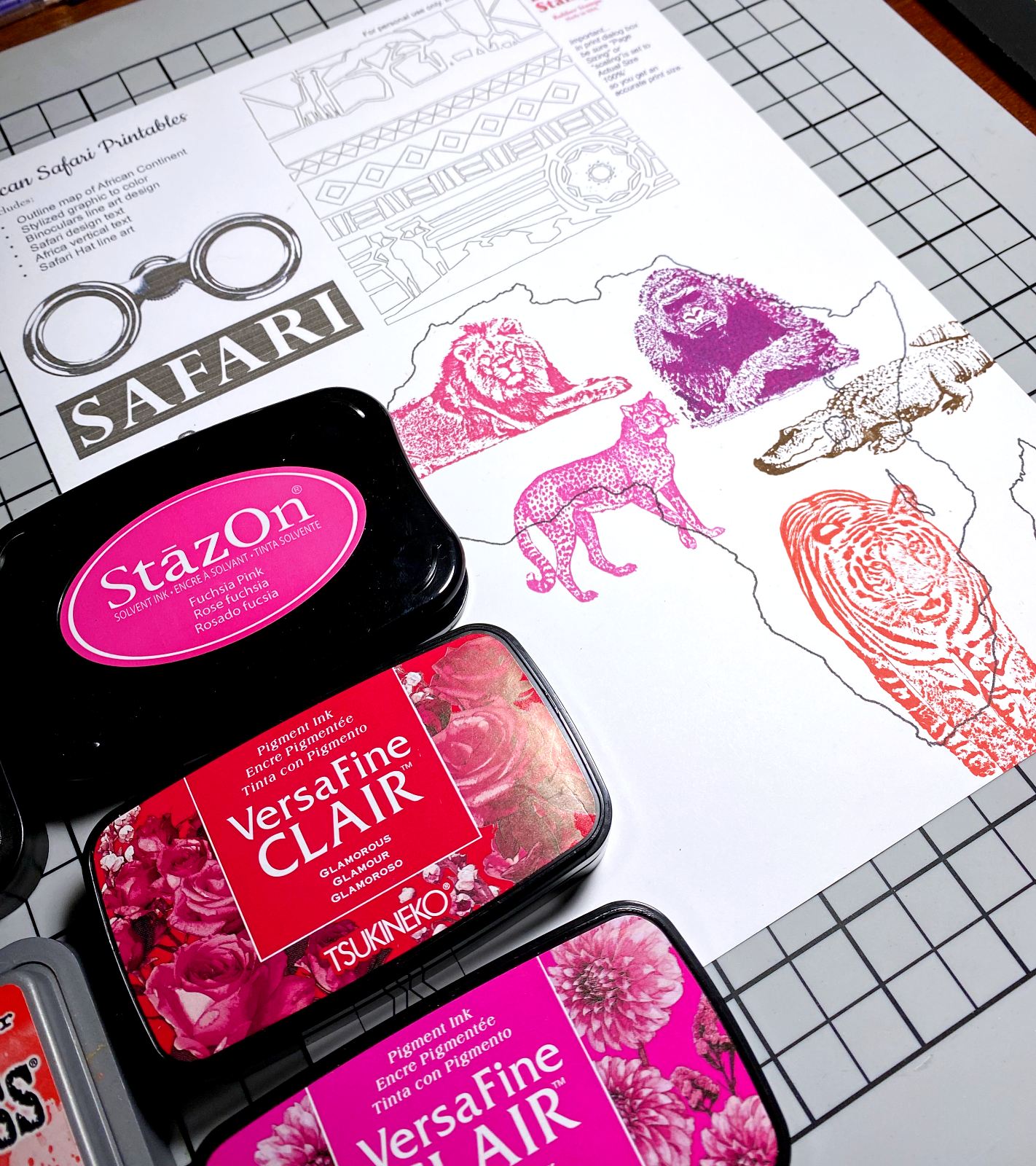 We have so many animal stamps, above is another version of different animals you can use too, like:
Cheetah Rubber Cling Stamp,
Bengal Tiger Rubber Cling Stamp,
Alligator Rubber Cling Stamp (Let's pretend it's a Crocodile for this project),
Lion Rubber Cling Stamp and
Gorilla Rubber Cling Stamp
Another project uses our Safari Rubber Cling Stamp which measures, 3 inch x 4 inches and fits perfectly across the top part of the continent.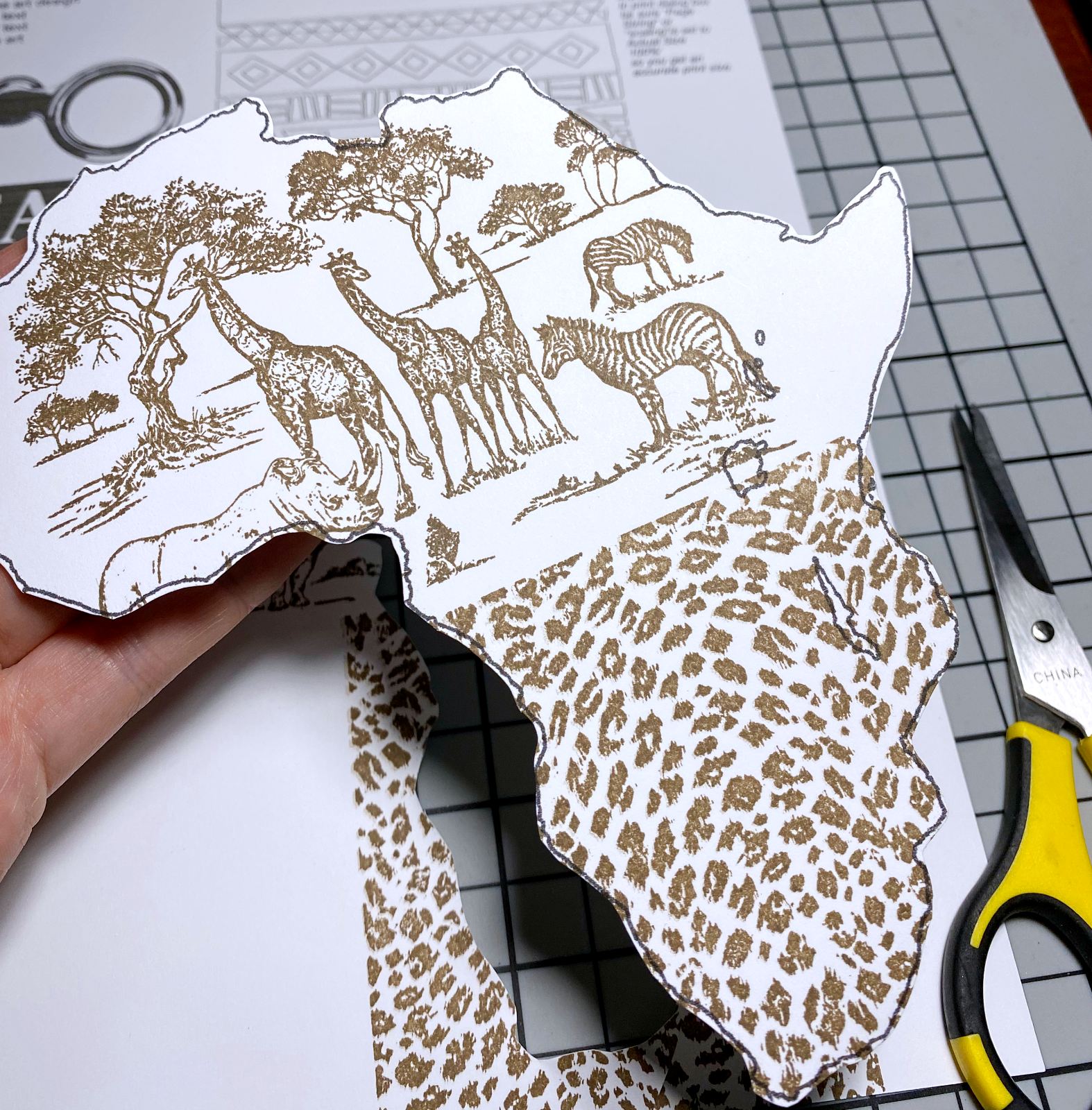 For the bottom half, I used our Leopard Print Rubber Cling Stamp which also measures 3 inch x 4 inch in size.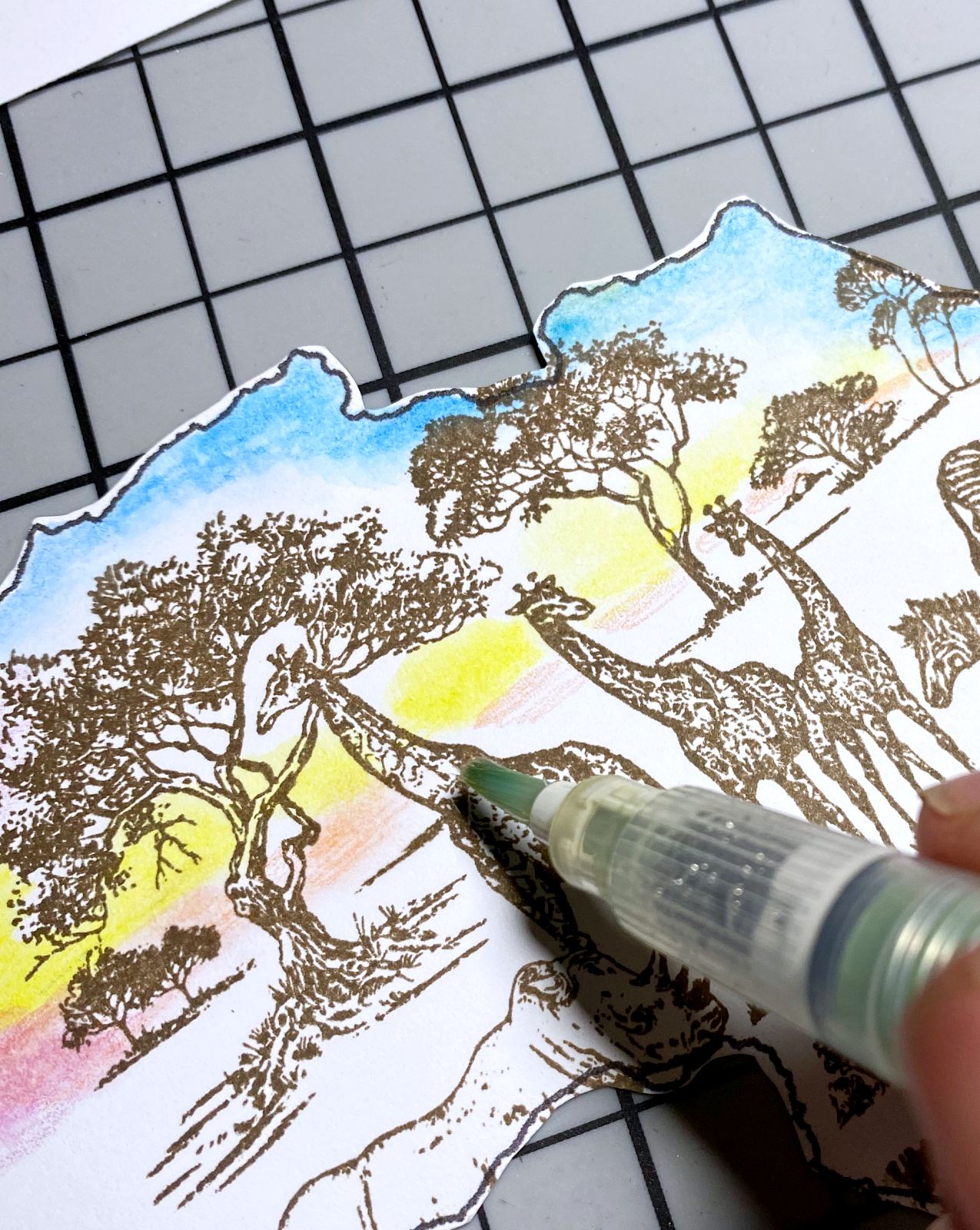 Using watercolor pencils and a water brush, I colored in a pretty sunset sky.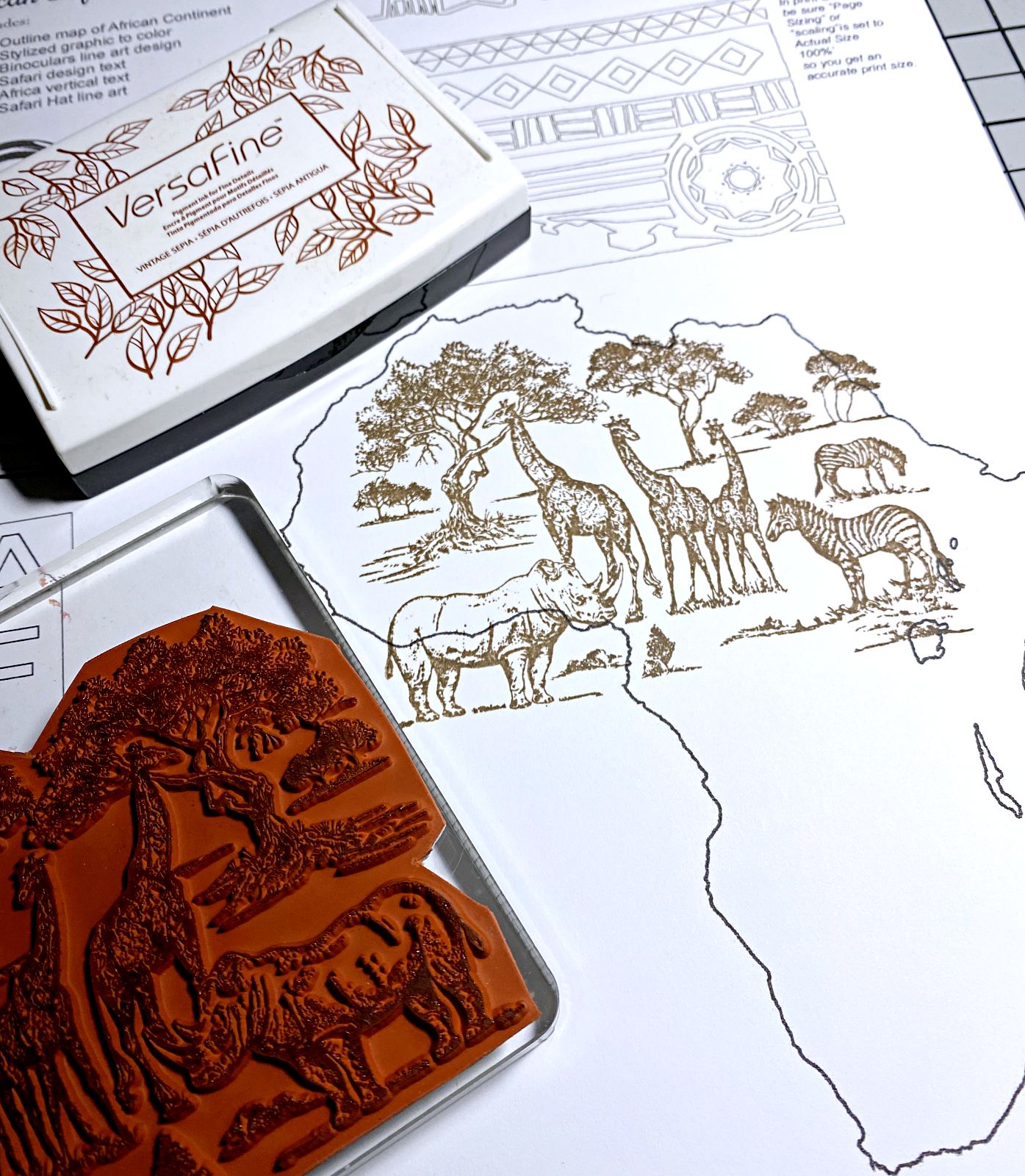 Remember to stamp first, then cut later.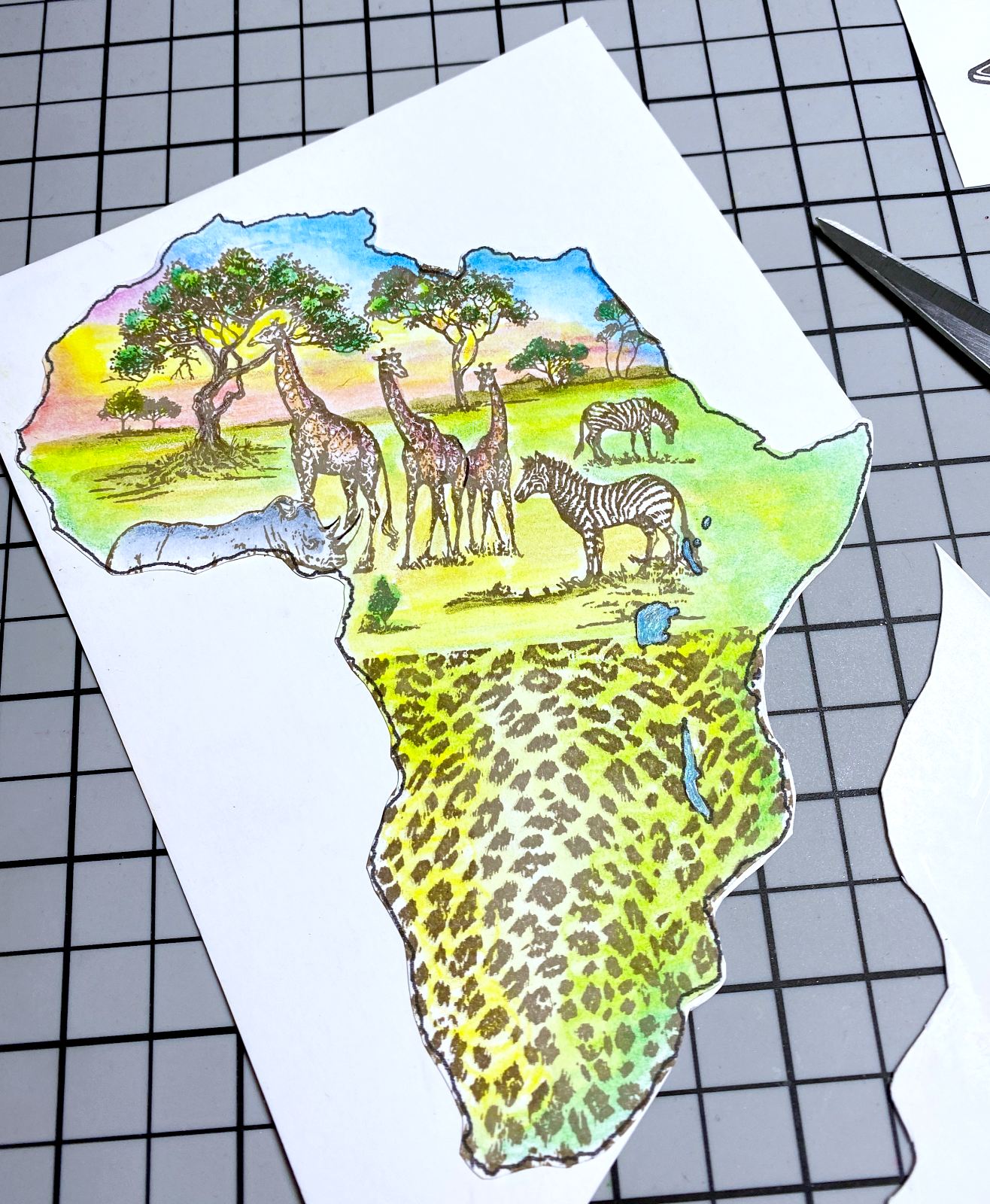 Tip: After using water colors on card stock, it may curl a bit. Here is a fix: Reinforce your paper by gluing onto a chipboard (I often save retail packaging for this purpose). You don't see the backing and it makes your stamped project sturdy.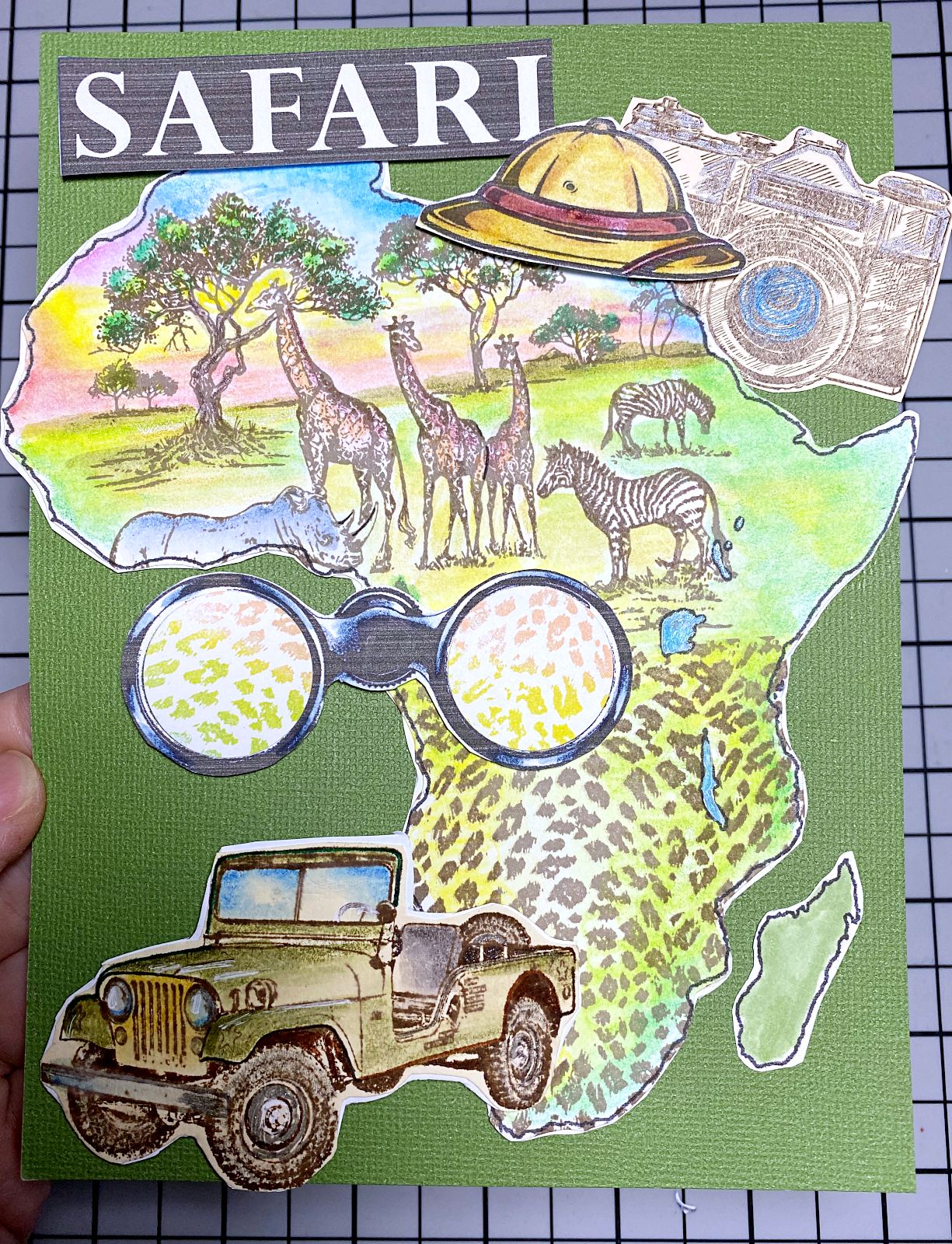 I placed this one onto green textured card stock. Also, our Military Jeep Rubber Cling Stamp fits nicely with this theme as well, who knew!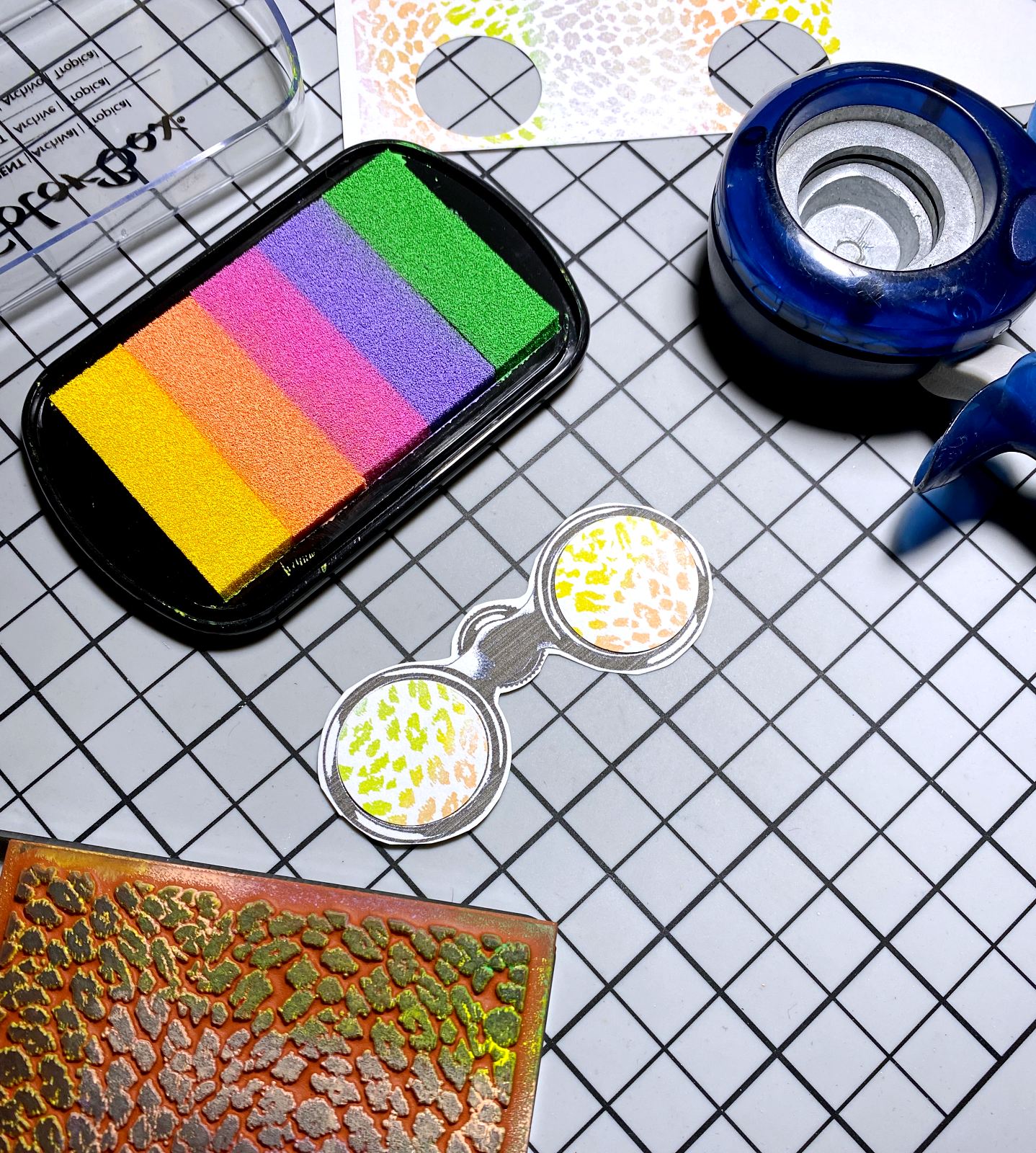 I used our Leopard Print Rubber Stamp several times making these projects, like above it was stamped onto white card stock and die cut. The circles are glued onto the vintage binoculars print as a fun embellishment.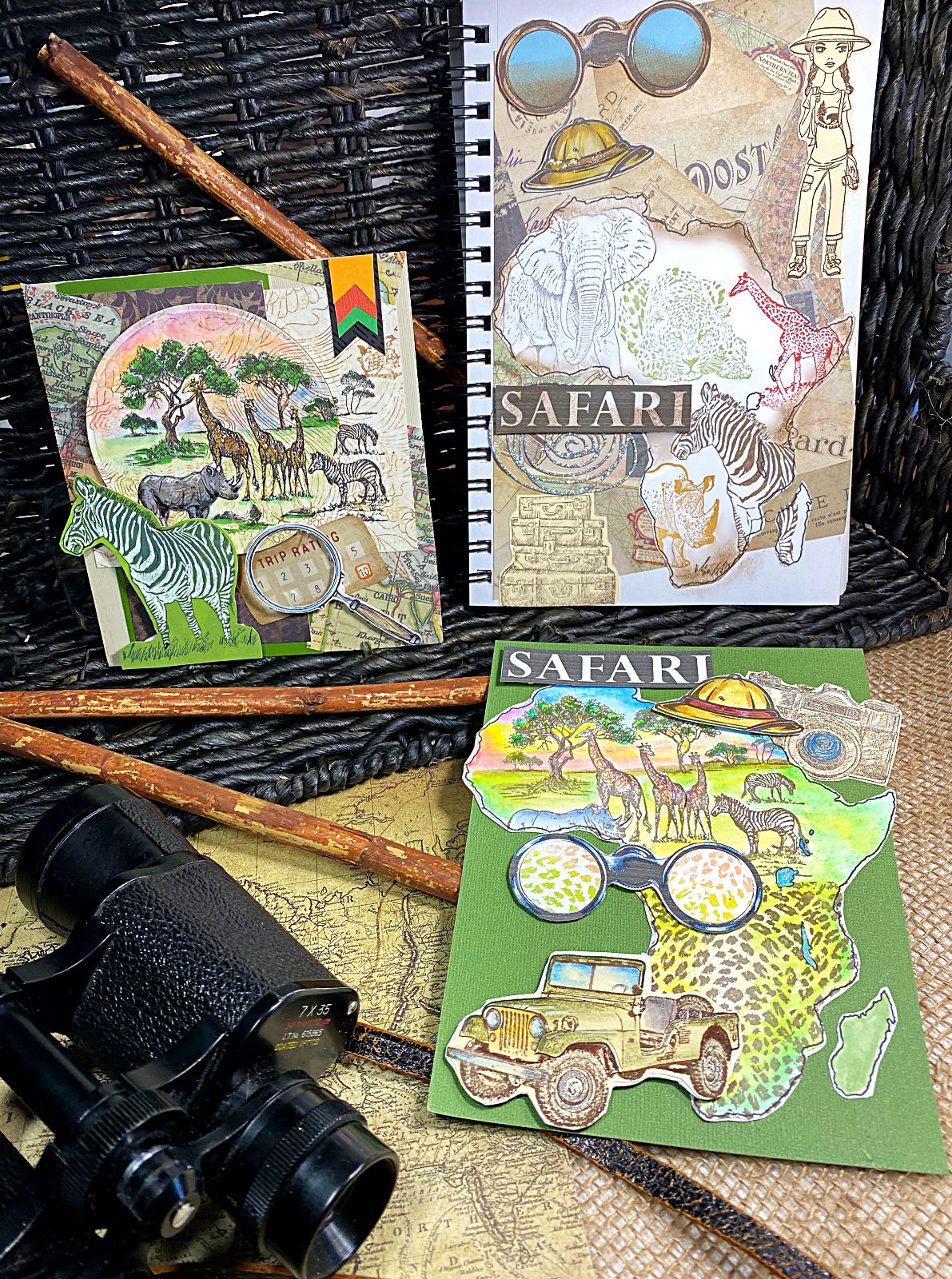 I hope you find inspiration in creating your own African Safari themed project using our Deep Red Stamps whether you're at home or in the classroom!
Other stamps used were:
Vintage Camera Rubber Cling Stamp
Magnifying Glass Rubber Cling Stamp